Can we talk about ice cream? (Is that even a question?) Ice cream is such an easy, perfect treat for so many occasions. Whether you're out with your kids running errands, hanging with your girls, or just curling up to your fav Netflix show at the end of the night, ice cream is a go-to.
As a personal trainer, I usually advice my clients against choosing ice cream. It's full of sugar and fat that you just don't need in your diet if you're trying to lose weight. I wanted to provide you guys with a delicious substitute that won't stop you from reaching your goals. Indulgence that fits into your meal plan is my favorite kind of indulgence!
Here's the recipe for my favorite Chocolate Coconut Ice Cream. Try it out and let me know what you think, I'm so excited for you to have a yummy treat!
Chocolate Coconut Ice Cream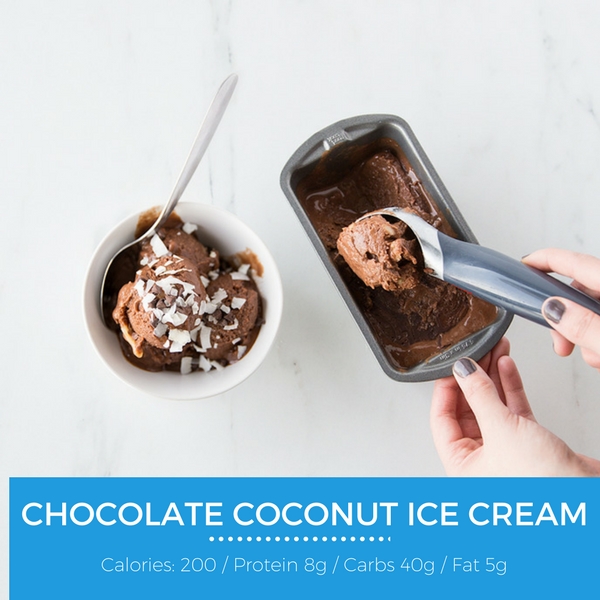 1/4 cup unsweetened almond milk
2 medium bananas
1 scoop Chocolate Coconut IdealShake
1 tbsp cocoa powder
1/4 tsp coconut extract
1 tbsp dark chocolate chips, melted
Directions
Blend almond milk, banana, Chocolate Coconut IdealShake, cocoa powder, and coconut extract until smooth.
Poor into loaf pan and drizzle melted chocolate chips on top. Freeze until solid, at least 2 hours.
Remove from freezer and let thaw for 10-15 minutes before scooping. Enjoy!
Serves 2. Serving size: ½ of the ice cream. Calories per serving: 200 / Protein 8g / Carbs 40g / Fat 5g
Grab the Ingredients & Treat Yo'Self!
Use the Chocolate Coconut IdealShake to make this delicious ice cream. You won't regret it!