"I don't have time for breakfast in the morning."
"I'm not hungry when I wake up."
"I want to save my calories for later."
There are a ton of excuses you can make to skip breakfast… but the truth is, there are more reasons NOT to. I bet you can guess which benefit is my fave. That's right, weight loss!
You can diet and exercise all day long, but eating breakfast is one thing you can do that will make a big impact on your goals.
A study conducted by the University of Massachusetts Medical School found a positive correlation between eating more meals per day and a lower risk of obesity. In particular, they identified eating breakfast as a way to jumpstart change in order to avoid weight gain.
Here are three fat-blasting benefits that come with eating breakfast!
Free Fat-Blasting Meal Plan
Knowing what to eat to lose weight can be complicated, we've got you covered. Click the link below to get your very own weight loss meal plan in addition to metabolism boosting workouts that you can do at home in 30 minutes or less.
You Feel Full All Morning Long
Maybe you think skipping breakfast is a good idea because you're trying to cut calories. Well even though it might seem like a "good" idea at the time, it's not. Why? Hunger.
Hunger is the biggest enemy of weight loss. When you skip out on breakfast, you wind of feeling hungry (or hangry!) mid-morning, which leaves you vulnerable to all sorts of sweets, snacks, and treats that you might find lying around the house or office.
That box of leftover doughnuts in the break room starts to look pretty good around 10:30 if you decided to skip out on breakfast. I know you know what I'm talking about 🙂
Study after study has shown that hunger leads to high-fat cravings, snacking too much, and reliance on convenience foods.
So maybe you don't eat breakfast because you're trying to cut calories (or maybe you were just trying to make it out the door in time) but either way you wind up eating even more calories than if you had just snuck in some morning grub before getting on with your day.
Eating breakfast and feeling full all morning long, however, will naturally help you cut calories and lose weight.
For your breakfast to keep you full all morning, I recommend including fiber and protein in your meal because they're slow digesting.
You can pair a serving of protein and fiber together for a very filling and delicious breakfast.
Here are a few protein and fiber options:
Protein
Fat-free cottage cheese
Fat-free, plain Greek yogurt
Eggs
Egg whites
Turkey bacon
Fiber
Oatmeal
Fruit
Low-sugar cereal
Whole-wheat toast
Whole-wheat English muffin
You Start Your Day Off on the Right Foot
Never underestimate the power that your mind has over your body.
By choosing to eat a healthy breakfast you're starting off on the right foot. You're putting yourself in a healthy frame of mind for the rest of the day. That's important.
When I miss my breakfast in the morning not only do I feel hungry (and a little grumpy) I just feel off my game. I end up snacking all morning long on whatever's on hand or overeating at lunch time.
The power of breakfast is real. Just ask Kelly, changing her breakfast habit helped her lose almost 200 pounds!
You Get the Fuel You Need to Stay Energized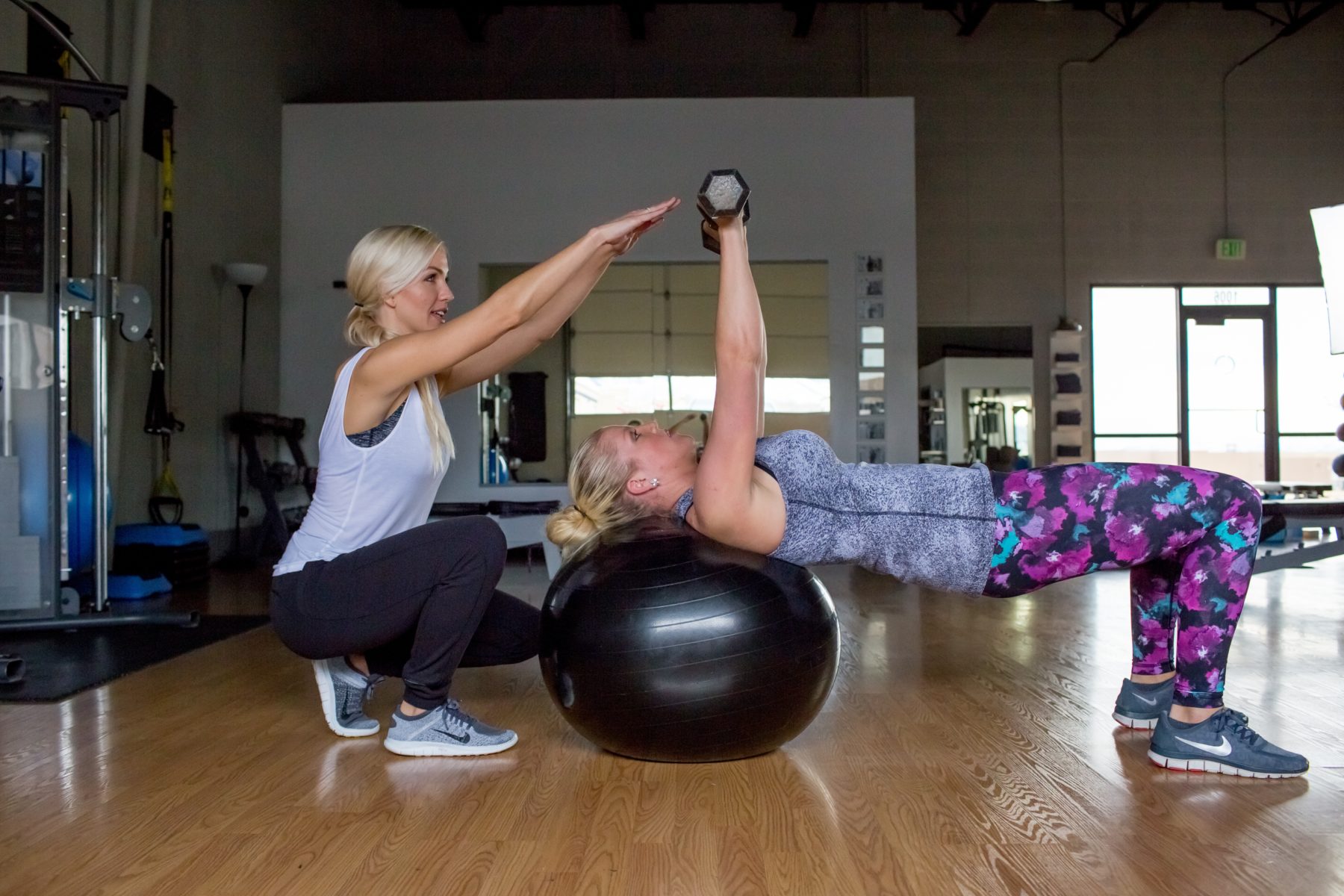 Starting the day with fuel stabilizes blood sugar levels, contributing to energy, clear thinking, and better mood… which play a bigger role in weight management than you might realize!
Feeling low on energy in the morning can result in you consuming extra calories when you try to "boost" your energy later in the day. Grabbing a coffee drink or energy drink might seem like a quick, harmless solution, but those drinks contains hundreds of calories and don't even fill you up!
When you eat a balanced breakfast (like I mentioned before) you will get calories that digest at different speeds. Not only will you feel fuller longer, you'll be getting a continuous supply of energy as your body breaks down your food.
Grabbing a coffee drink or energy drink on the other hand will give you a quick burst of energy that won't last long. The simple sugars in most coffee drinks and energy drinks digest quickly, which results in a spike and crash leaving you feeling fatigued.
A major bonus of feeling energized from your breakfast is you have the willpower and motivation you need to stick to your healthy weight loss goals. Getting your workout in is a heck of a lot easier when you feel energized and ready to sweat!
(Click here for a great weight loss workout program that you can do from the comfort of your own home!)
4 Fat-Blasting Breakfast Recipes to Try This Week
Of course, all breakfasts aren't created equal. What you need is a low-calorie breakfast that contains a good balance of macronutrients (proteins, carbs and fats) for maximum energy, and that won't leave you feeling over-stuffed.
Don't worry though, breakfast doesn't have to be a big production. Not every day needs to be fresh protein pancakes or an oven baked frittata (although both of those sound delicious!).
Here are three, quick and easy breakfast recipes that will kick-start your weight loss every morning!
1. IdealOatmeal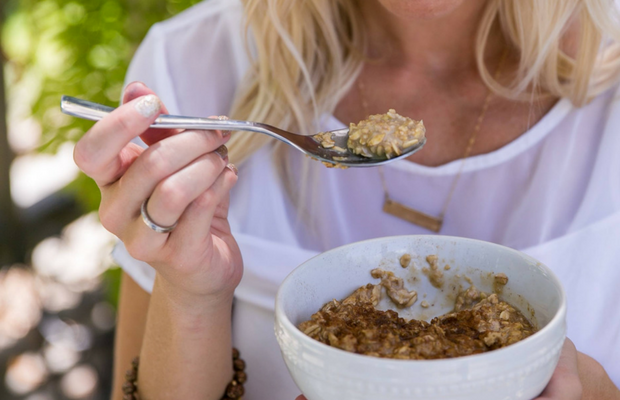 Prepare your oatmeal according to the directions on the package. You can pair this with a serving of IdealShake or some fruit if you want even more hunger blocking power!
Note: IdealOatmeal contains 15g of protein and 4g of fiber per serving. It mixes up in seconds and tastes delicious! You won't miss all the sugar from traditional oatmeal either. IdealOatmeal is naturally sweetened and low in sugars! It's the perfect start to any morning.
2. Whole Wheat Bread and Peanut Butter With Eggs and Fruit
2 whole eggs
2 slices whole wheat bread
1 tbsp. peanut butter
1 serving of fruit (ex. medium apple)
Prepare your eggs however you would like (scrambled, hard boiled, etc.). If you have time, feel free to add whatever veggies you want to your eggs. Toast your bread and spread it with peanut butter. Enjoy your fruit on the side.
Note: This healthy breakfast standard trumps cereal every time. You've got fruit for fast-carb energy, grains for slow-carb energy, and peanut butter or an egg for protein and healthy fat. It'll give you steady energy and keep you full until your next meal. Not that hungry? Save the fruit for a snack between breakfast and lunch.
3. Lemon-Berry Greek Yogurt Parfait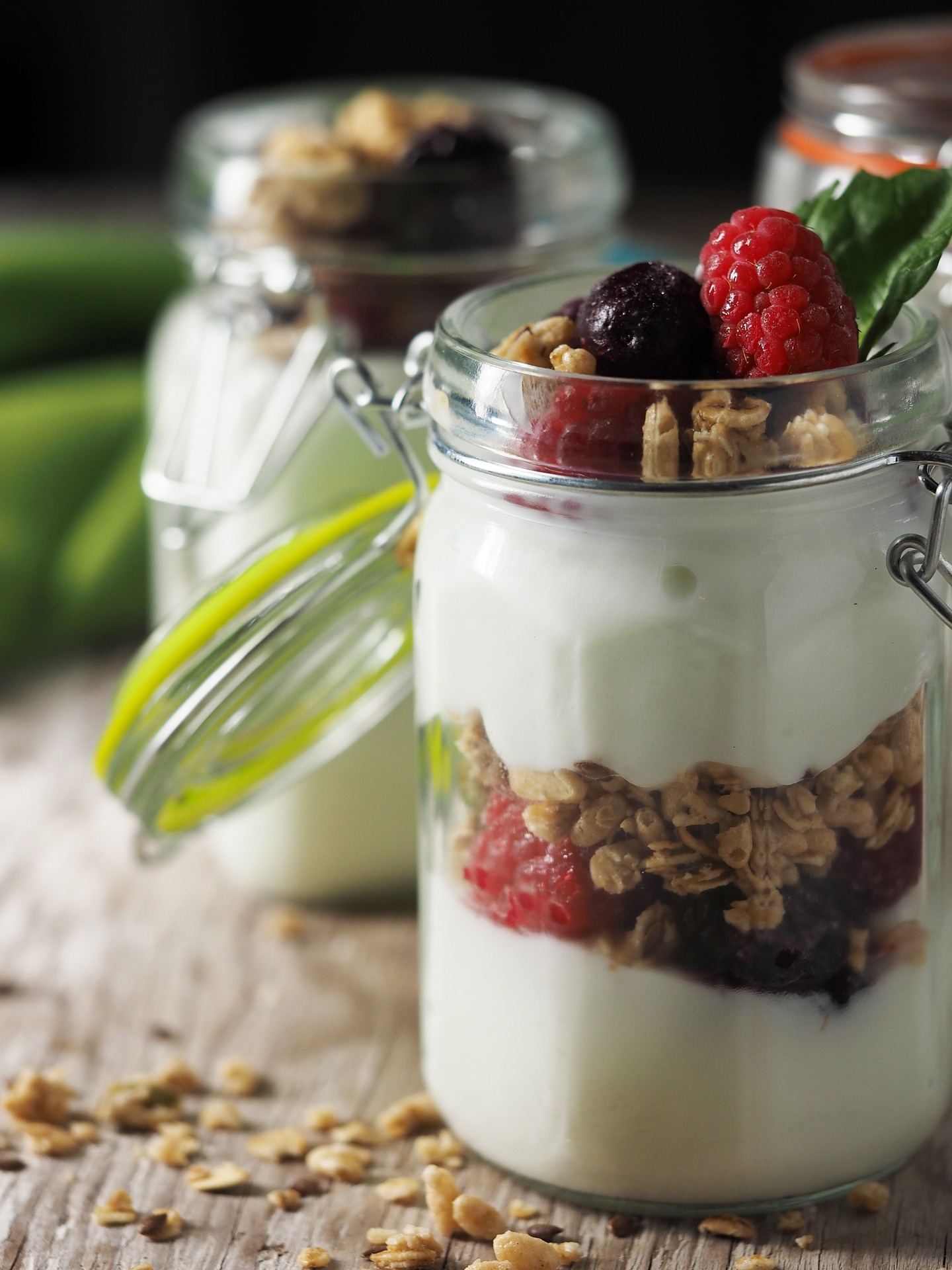 1 1/4 c nonfat Greek yogurt
3/4 c fresh raspberries
Truvia® (stevia) to taste
lemon juice to taste
1/4 c granola (approx. 85 calories)
12 almonds
In a bowl, mash fresh raspberries (or any berry), then add Greek yogurt, Truvia®, and lemon juice, and mix it all together. Top with granola.
Almonds can either be chopped and added to yogurt for an extra crunch or eaten on the side.
Tip: You can make these ahead of time and store them in the fridge for a super yummy breakfast that is perfect to just grab and go. I will make a bunch of these parfait cups at the beginning of the week and pull them out of the fridge come breakfast time.
4. Creamy Mocha Weight Loss Smoothie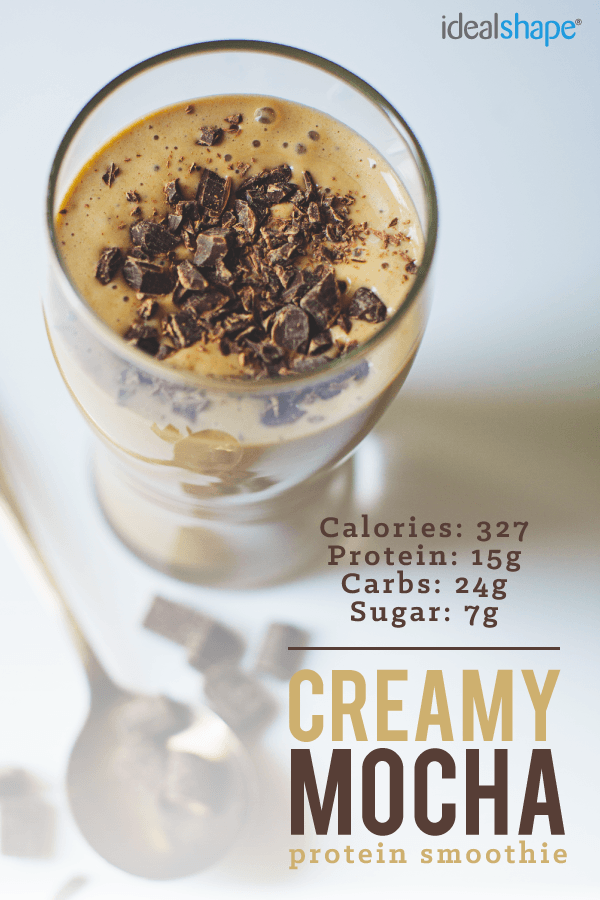 1 scoop Mocha IdealShake
1 c unsweetened almond milk
1/2 of an avocado
1 tsp. vanilla
1 tbsp. dark chocolate chips
Add ice, blend, and enjoy!
Note: A smoothie is the fastest breakfast there is!
I always include a scoop of IdealShape meal replacement shake in my smoothies. It's a good source of protein and carbs and it's just 110–120 calories, plus it has a hunger-blocker to keep you full for up to three hours.
If your mornings are just too crazy, keep a shake tub of IdealShake at work and make yourself a shake when you get there.
The Weight Loss Breakfast Wrap-Up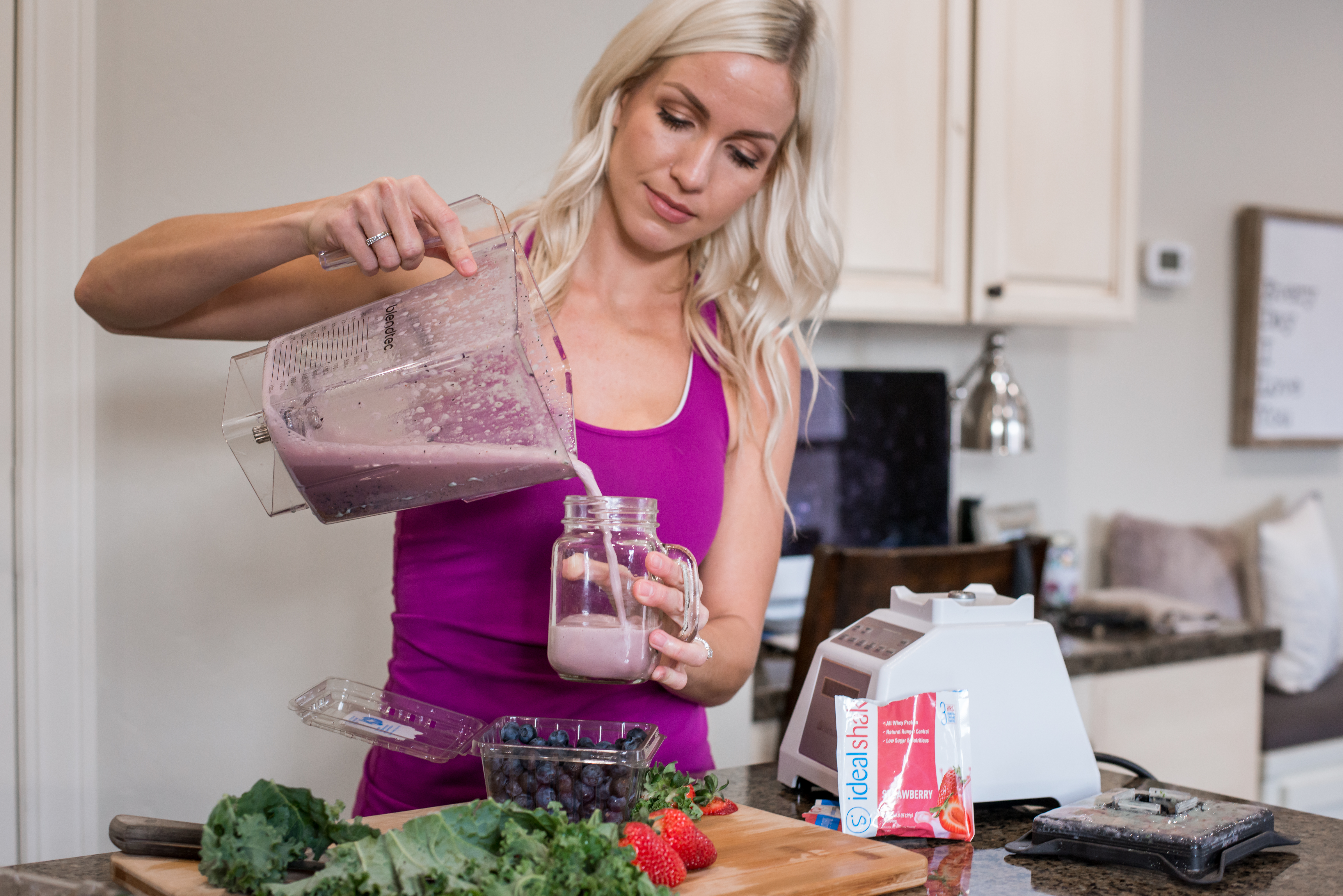 Breakfast is so important for weight loss! Especially getting the right breakfast. Eating a low-calorie, balanced breakfast will help you feel full and energized all day long, which will keep you burning fat all day long!
Try one or all of these recipes this week and see what a difference it makes. I can't wait to hear what you think!
And for more fat-blasting weight loss recipes like these, sign up for my free 15 day IdealShape for Life Challenge. It comes with workouts, recipes, online coaching, and social support.
And trust me, all the recipes are not only fat-blasting, they're delicious! Even my picky eaters love it.
Click here to join my challenge and get more recipes!