Fruit is packed with vitamins, minerals, and other slimming nutrients, and fresh fruit contains the most. That's why I like to use fresh fruit in my meal plans and in my IdealShakes.
The hardest part of picking the best fresh fruit is knowing how to spot it. How many times have you picked up the perfect looking watermelon only for it to taste super bland?
As a nutritionist and fresh fruit enthusiast, I've learned a few ways to pick the best fresh fruit and how to incorporate it into my diet.
1. Don't pass up the imperfect pear.
Ever bite into an odd-shaped or blemished piece of fruit, only to find it surprisingly flavorful and juicy? Well, you shouldn't have been surprised! It's the perfect-looking fruit you should be suspicious of. Chances are it's been "bred" to appeal to the visual squeamishness of produce shoppers and to withstand the long haul from farm to supermarket, says Men's Health. This tampering is often at the expense of flavor and can disguise the fruit's true quality.
Fruit that's been grown naturally, and especially that has had a chance to ripen on the vine tends to look a little irregular. Avoid squishy, wrinkly or moldy fruit, of course, but remember that fruit doesn't have to be symmetrical or even-toned to be a good pick. When in doubt, sniff it out: many fruits smell fragrant at the stem when they're ripe. Peck marks from a bird are another sign of sweetness.
Free 51 Smoothie Recipe eBook
Get more amazing weight loss smoothie recipes when you download our free recipe eBook! With 51 delicious weight loss smoothie recipes weight loss has never tasted so good!
2. Skip dessert and buy organic.
A common complaint about organic food is that it's so expensive, but if you can afford it, it seems to be worth the splurge. Organic farmers go through a rigorous process to sell certified-organic produce, so you're getting more than just a fancy sticker – you're biting into fruit grown without synthetic chemicals or toxic pesticides. Isn't a bag of fresh, organically-grown, nutrient-packed peaches worth taking something else out of your basket? (Plus, it can double as dessert!)
If you're on the fence about organic, there's an interesting article in response to the New York Times about why organic food is safer.
3. Have fun at farmer's markets.
Here in Utah, there are quite a few farmers markets that sell delicious fresh fruit. I love taking my family and picking out the best!
Many grocery store chains now sell locally-grown fruits, but sometimes the farmer's market is still worth a special trip. You can load up on a variety of local fruits, and buy fruit that's fresh enough to eat that day. You also get the chance to ask the farmers directly about how they grow their fruit, and even sometimes sample it before you buy.
Know that not all local farms are organic: some use pesticides and other chemicals. But many smaller farms do grow their produce organically, and simply aren't "certified organic" because it can be expensive to get the certification.
4. Take advantage of "in-season."
Used to seeing some fruits year-round at the supermarket, we might forget that fruits are seasonal. Only a handful of fruits are really in-season all year. Fruit with fewer "food miles" tends to have higher nutrition quality so buying local, in-season fruit is a great way to cash in on fruits' nutrients. It also forces you out of your apple-and-banana comfort zone, so you can get the full spectrum of nutrients that different fruits have to offer.
As we approach the intersection of summer and fall, so many fruits are in season right now! Here's a list of fruits by season, and a tool to find what's grown in your area.
5. Make weight loss smoothies.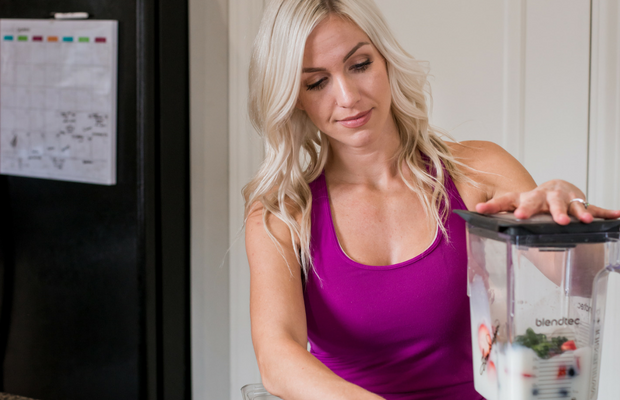 Fresh, ultra-ripe fruit often has a short shelf-life, so smoothies are a great way to make use of an overflowing fruit basket. Frozen fruits still contain a significant amount of nutrients, so you can load up on fresh, in-season fruit when it's at its prime (and often cheapest) and then freeze it for smoothies later.
Want More Fun Ways to Eat More Fruit?
What I love about IdealShake is that you can customize it with fresh fruit to your liking! For example, one of my favorite combos is vanilla IdealShake fresh berries and a handful of kale.
If that sounds amazing to you, or if you want to try other fruit infused weight loss recipes then check out our Smoothie eBook!
It has 51 recipes that will fill you up and leave you craving more. Plus It's 100% free!
Get it here or click the banner below!