If your current goal is getting fit and losing weight, we want to help.
Our mission at IdealShape is helping you achieve your ideal shape; not just for your wedding, your vacation next summer, or your 25 year high school reunion, but for life!
We believe meal replacement shakes are one of the easiest and most effective ways to help you achieve your weight loss goals.
But, we're not the only company out there who's created shakes, recipes, and other means of support to get you into the shape you've always wanted to be in.
Get Results. Guaranteed.
IdealShake meal replacement shake tastes delicious and keeps you full. Replace 1–2 meals each day and lose weight — or your money back!
Since our main goal is helping you, that's exactly what we're doing with this post. We've done our homework and have compared ourselves with Shakeology, another meal replacement shake company.
We're not going to tell you which to choose — we're going to let the facts do the talking, and hope that once you see them laid out you can decide which path is the straight and narrow one leading you on the way to your ideal shape.
Dare to Compare
For this comparison, we will look at what each one has to offer in the following areas: products, flavors, nutrition, craving control, non-edible extras, and price.
Products
The types and number of products a company offers is huge, so let's start off with what products each offers.
IdealShape
We offer 7 different products:
IdealBar-Weight loss snack bar
IdealBoost-Water enhancer to increase energy and block hunger
IdealBlock-Supplement to convert carbs into energy
IdealTrim-Supplement to help control appetite
IdealBurn-Supplement to increase metabolism and burn fat
Shakeology
You get 2 products:
Boosts-Supplements for energy, digestive health and vegetable intake.
Product Type
IdealShape
Shakeology

Meal Replacement Shake Powder

✓

✓

Powder Boosts

✓

 

✓

Snack/Protein Bars

✓

✗

Energy Water Enhancer

✓

✗

Weight Loss Supplements

✓

✗
Shake Flavors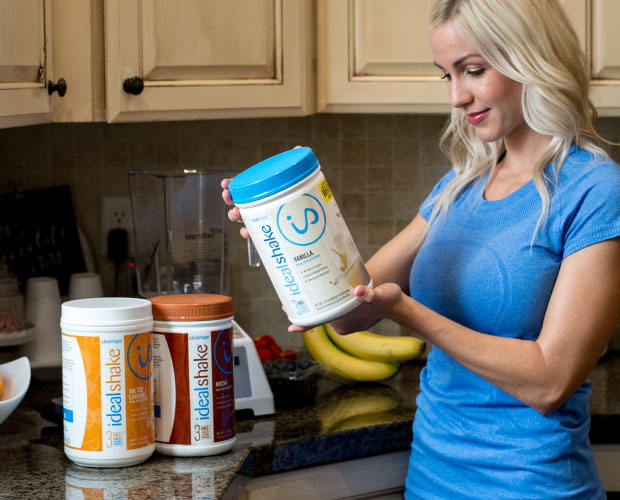 A good company gives you options. If you're going to have a shake every day, you want to switch it up and rotate different flavors.
IdealShape
IdealShape offers several flavors, like in traditional IdealShake
Chocolate
Vanilla
Strawberry
Mocha
Chocolate Cream Pie
Orange Cream
Mint Chocolate
Salted Caramel
Chocolate Cream Pie
And a delicious flavor in IdealShake Super: