Written by: Marlee B
The seasons are changing, and it's an exciting thing! I love everything about it.
The colors, flavors, comfy sweaters, crisp air, steamy beverages, Jack-O-Lanterns, haunted houses, corn mazes, costumes, crunchy leaves, caramel apples.
But how many of us give in to Halloween being the unofficial beginning of the "loosen the belt" or "wear sweatpants every day" season?
Then allow the snacking habits and cravings to spill into the rest of the holiday season? I know I'm guilty!
Even though Autumn is my favorite season (and not just because it's my birthday season), I have really had to practice self-control when it comes to the holidays and keeping in line with my fitness goals.
To help you, here are 6 tips for mindfully enjoying your Halloween candy stash all while managing the excess!
1. Throw Away the Gross Stuff!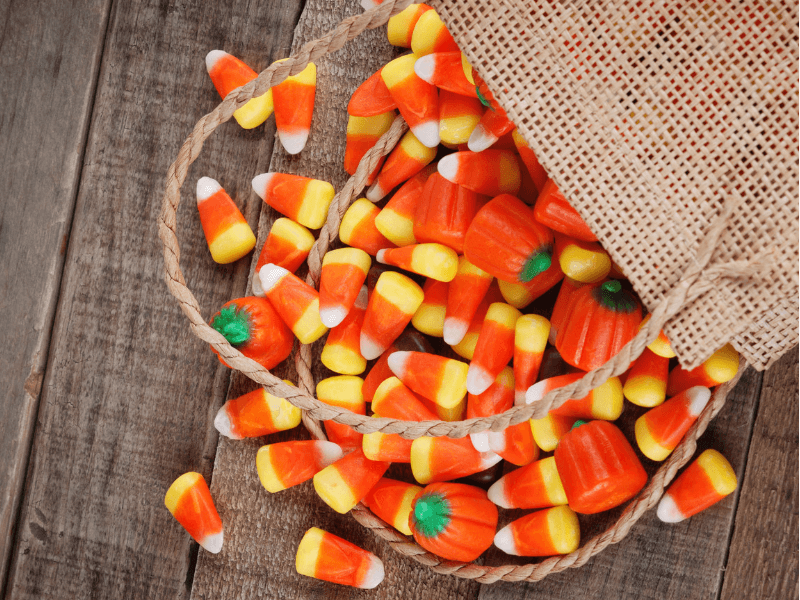 As parents, we easily give into those jumbo-size variety bags of candy. You know, the ones with the mysterious black-and-orange wrapped candies that we've never seen before? Personally, my go-to treats are anything with chocolate.
Candy such as gummies, jelly beans, etc. don't appeal to me very much but I have noticed that if it's around, but chocolate isn't, and the sweet-tooth fairy casts her spell on my taste buds, I bury my hand deep down in that bag and begin my Halloween binge fest.
What you need to do if this happens is know what you intend to eat.
Being selective with your stash and indulging with intention is a great way to prevent the "Halloween Hangover" and trail of candy-coated tears.
So, if you don't like it, get rid of it! Or, more simply, just don't buy it!
After all, there is no calorie refund for things that didn't taste as good as you expected.
2. Make a Treat Free Zone
If you're serious about staying on track this Halloween, this is the way to go.
Having the willpower enough to resist temptation when it's there isn't easy for everyone, so why allow it into your life in the first place? Whether it's your car, your desk, your kitchen, your bedroom, wherever you spend the most time, swap the treats out with something healthy instead. Some ideas include a box of raisins, trail mix, or mandarin oranges.
If your co-workers are torturing you with tempting treats, ask them to put the candy in a covered dish so it's not as easily seen.
3. Count your Candy Wrappers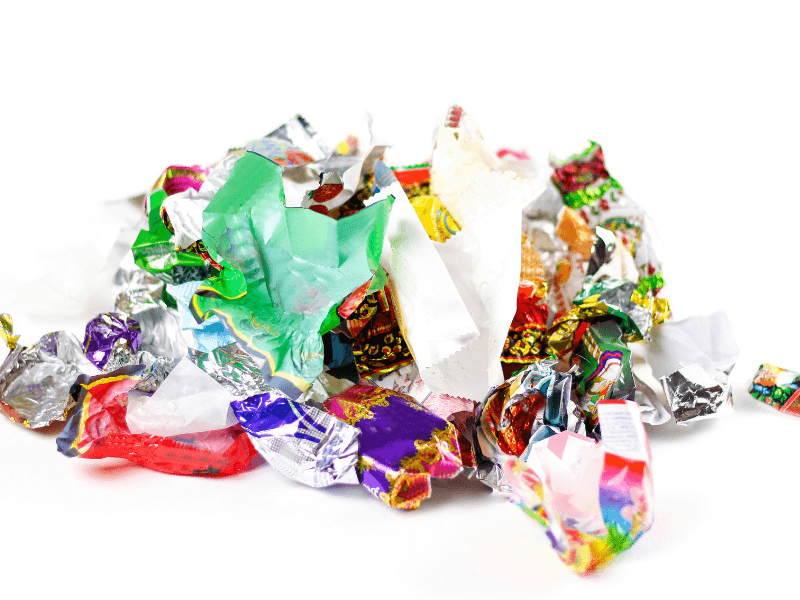 Okay, so there's candy in your workplace and you eat some. That's not the worst case scenario.
Enjoy those melty, gooey, or tangy bites! However, keep your wrappers in a Ziploc baggie so you can visually see how many you have enjoyed. This is a good deterrent from mindlessly eating 10 candy bars in one day!
4. The ever cliché, yet super helpful tip: Drink LOTS of Water
Pretend it happened; you caved. You didn't eat just one piece of candy, you ate all of the candy (or at least that's what you feel like).
Following a candy-bar-binge, you might feel a little bloated or too full to even think about wanting to guzzle down water, but it is for your own good! Staying hydrated can aid in digestion and fight bloat.
It also supports a healthy metabolism and satiety, making candy-bar-binge recovery more manageable for your body. Although we can't erase calories, drinking extra water can actually help flush out some of the extra sugar eaten.
Many might turn to coffee or Gatorade, but considering the amount of sugar already consumed through candy, H20 is where to go!
5. Freeze your Faves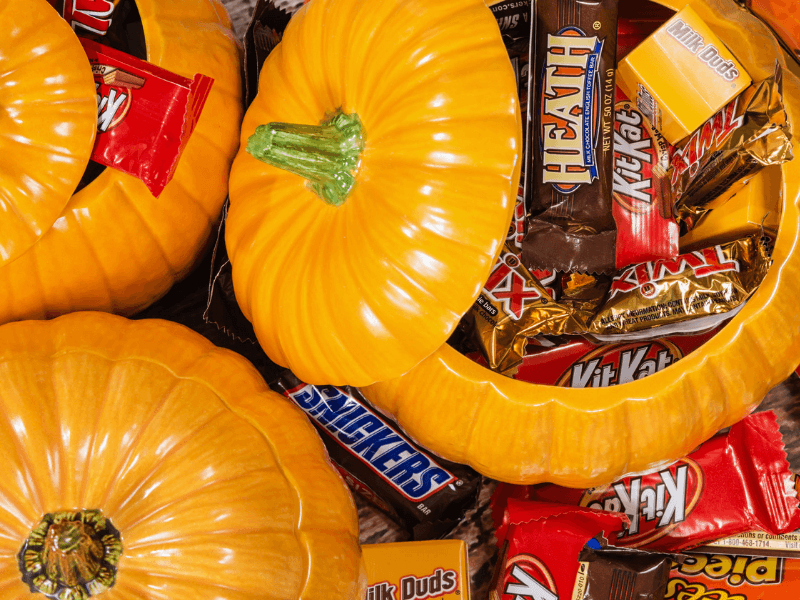 Snickers, Reese's, Twix, Baby Ruth, Butterfinger…oh my! At room temperature, all these are sure to satisfy, but even just a few degrees cooler, the nuts are crunchier, the chocolate is sharper, and the caramel more buttery than syrupy.
A frozen candy bar is an easy, cheap way to appease any sweet tooth.
If your teeth are sensitive to temperature though, wait for the chocolate to thaw and that will give you time to think about what you're truly hungry for!
6. Keep your Goal in Front of You
Just because we aren't celebrating New Year's yet doesn't mean we can't make a goal. My advice to you is to set a goal and make a plan to keep it throughout the holidays.
Personally, my goal is to maintain my weight…all the way until Valentine's Day. Yep, you heard me! It's four months away, but there are a lot of celebrations in between! Halloween, Thanksgiving, Christmas, New Year's Eve and New Year's Day, and of course Super Bowl Sunday.
Typically there are parties associated with each of these holidays, and that's where I am triggered to overeat.
My plan is to have a healthy snack beforehand and a glass or two of water to keep my appetite and cravings in control so I am less likely to gorge myself on pigs-in-a-blanket, seven-layer-dip, or pumpkin pie.
Whatever your goal and action plan is, I encourage you to write it down. Put it on the fridge, the bathroom mirror, your nightstand, your day-planner, wherever you need a reminder of why you are doing what you're doing!
Jumped Off the Weight-Loss Wagon? Here's How You Can Get Right Back On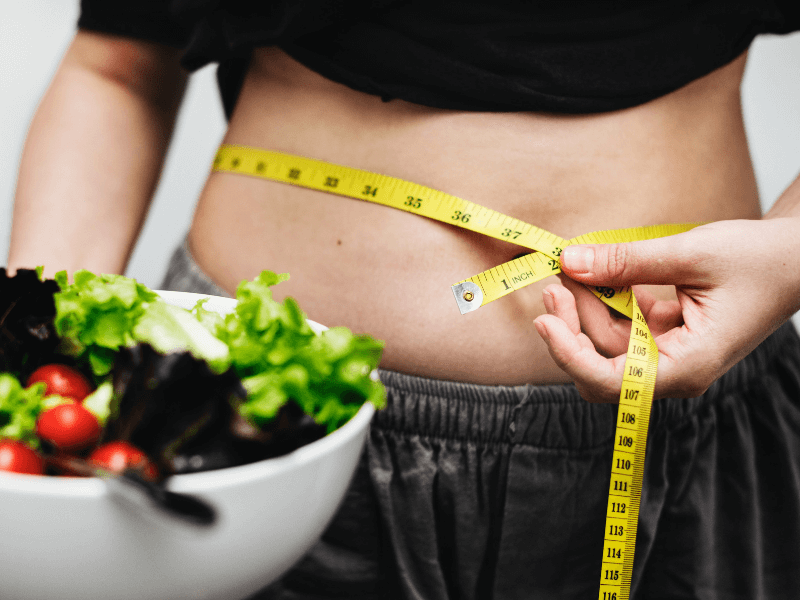 Let's fast forward a few weeks. All of the food and festivities have come and gone, and you are left with nothing but tight pants and low energy.
You might look back feeling like you enjoyed your indulgences, maybe too many slices of pie, or you succumbed to the pile of cookies and sweetbreads on the countertop from your gift-giving neighbors. That is OKAY!
But it is important to not come down harder on yourself than necessary.
Instead of saying to yourself, "Oh well, I already ruined my diet!" and grabbing a pastry on the way to work, or ordering Chinese food for lunch, don't let the days pass away without consuming anything healthy.
Take things one meal at a time, incorporating your favorite health foods, managing portion size, and being mindful of caloric value.
It will also be helpful if you track your calories and macros. Not everyone is a fan of taking the time to do this, but I promise it makes a difference over what (and how much) you eat! Thanks to technology, we have the ability to track our every intake which will give us a sense of control and help us stay focused.
Last but not least, don't tell yourself you will start next week. Start now, and jump right in!
We all fall off the weight-loss wagon at times, but we can't undo it. All we can do is forgive ourselves and get back on track!
Conclusion
Kick off the holiday season in your favorite sweatpants because you WANT to wear them, not because you have to! But if your cravings get the best of you and you find those elastic pants to be your best friend, these strategies above can help you recover quickly and resist future temptations.
Lose Weight the Healthy Way!
Fad diets won't help you live a healthy lifestyle, but with the IdealPlan, you will be well on your way to the health you've always dreamed of. Lose weight & keep it off with healthy meal plans, workouts designed for weight loss, and a supportive online community to keep you motivated.