Let's face it, the fourth of July is the Best! Who doesn't love BBQs, sunny weather, and fireworks? We want to help you make the most out of your holiday while staying on track with your goals.
We know how tempting all the treats can be, so we made a healthier version of fruit pizza! Such a fourth of July classic, am I right? This tasty dessert is something you can enjoy with friends and family but it's not packed with tons of sugar and carbs. Check out this recipe below, and don't forget to get the main ingredient, IdealShake, on sale! Click here for more details.
4th of July Fruit Pizza

Ingredients
Crust
1/2 cup oats
2 tbsp French Vanilla IdealShake
1/4 tsp vanilla extract
1/4 tsp cinnamon
2 tbsp unsweetened apple sauce
1 tbsp unsweetened almond milk
Frosting
1 tbsp non-fat plain Greek yogurt
1 tbsp French Vanilla IdealShake
1.5 tbsp fat-free cream cheese
1/4 tsp vanilla extract
Instructions
Preheat oven to 350 degrees and line baking sheet with parchment paper.
Combine all crust ingredients in a bowl. Blend well and form into a round crust shape on a cooking sheet lined with parchment paper. Bake for about 10-12 minutes.
While crust is cooling, mix the frosting ingredients and spread on cooled crust.
You can refrigerate the frosting for a few minutes to set so it's not so runny.
Top pizza with whatever fruit you like. We used raspberries and blueberries.
Calories: 263, Protein=25g, Carb: 33g, Fat: 3g, Sugar: 5g (Nutritional info only includes the pizza and frosting, not the fruit.)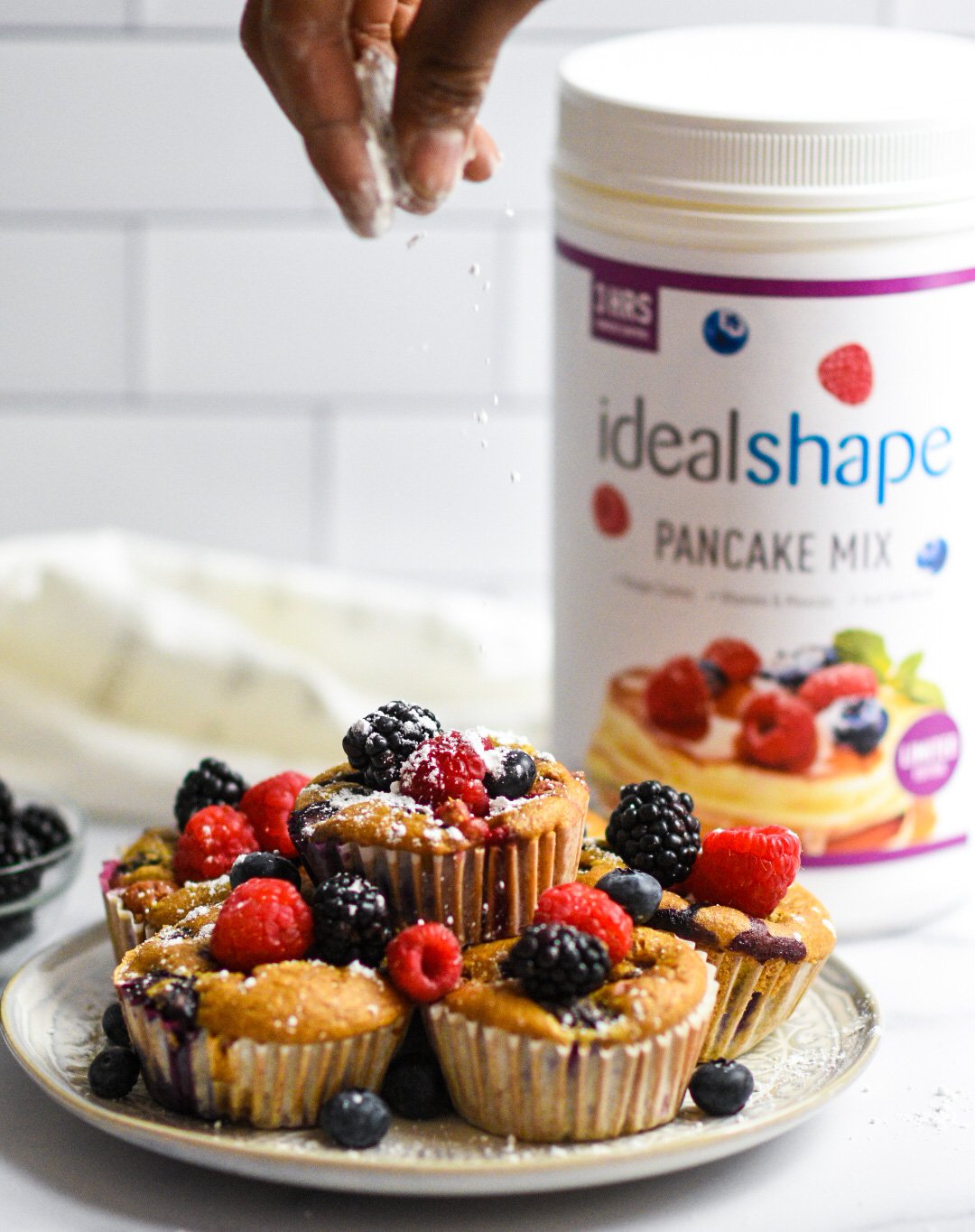 Ingredients
1/2 cup mixed berries
1 cup Idealshape Pancake Mix
1/4 tsp baking soda
1 egg
1/3 cup almond milk
2 tbs greek yogurt
1 tsp vanilla extract
1 1/2 tbs honey
1 1/2 tbs coconut oil
powdered erythritol *optional*
Instructions
Preheat oven to 350. Whisk together Idealshape Pancake Mix and baking soda. In a separate bowl whisk greek yogurt, egg, vanilla extract, and almond milk.
Heat the honey and coconut oil and stir together.
Add the yogurt mixture to the dry ingredients, mix together. Then add coconut oil mixture. Fold in berries.
Scoop into greased muffin pan. Bake for 15-20 minutes. Enjoy!
We know it's totally possible to have the foods you love and stay on track. We hope you enjoy this recipe and don't forget to check out our 4th of July Sale. Click the banner below to shop now!