At IdealShape, we're grateful for recipes that let us satisfy that sweet tooth without the guilt!
This Thanksgiving, forgo the pre-made desserts filled with artificial junk and more sugar than you'd ever imagine, and craft one (or all three) of these scrumptious desserts instead!
Coconut Truffles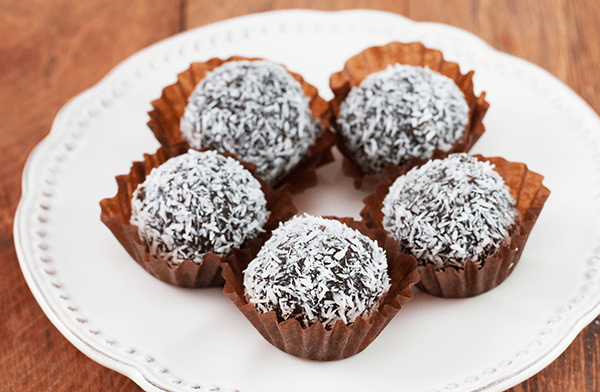 Ingredients:
1/4 c toasted old fashioned oats
1/2 c natural peanut butter
2 tbsp. unsweetened cocoa
1/4 c chopped bittersweet chocolate
1 tsp. vanilla
3 tbsp. honey
2 tbsp. unsweetened coconut flakes
Directions:
Toast oats in a skillet on medium heat for 10 minutes. In the meantime, combine the rest of the ingredients except for the coconut. Mix really well with a fork. When the oats are finished toasting, chop them a little in a food processor or blender. Put into the mix and combine well.
Put coconut into a bowl for rolling onto the balls.
If your mix is too sticky to handle, set in the fridge for 30 minutes or so. Make small balls about 3/4 of an inch across, roll in your hands and then roll in the almonds. Voila! Store in fridge in an airtight container.
Why it's healthy: oats, peanut butter, chocolate, honey, vanilla and coconut all pass the "naturally sweet" test! 
You can also add cinnamon, oats or peanut butter to your IdealShake!
Pumpkin Bars

Ingredients:
1 c oat flour (1 ¼ c. oats, blended)
2 scoops Vanilla IdealShake 
1/8 tsp. allspice
1/8 tsp. nutmeg
2 tsp. cinnamon
1/2 tsp. baking soda
1/4 tsp. salt
4 egg whites
3/4 c Splenda or another sugar-free sweetener
8 oz pumpkin
4 oz water
Frosting:
4 oz low-fat cream cheese
1/2 c Splenda or another sugar-free sweetener
1/2 tsp. vanilla extract
Directions:
Mix dry ingredients well. Mix wet ingredients. Combine. Pour into an 8×8 pan and bake at 350 degrees for 20-30 minutes. Spread frosting over cooled pumpkin bars.
Why it's healthy: you can't go wrong with spices, egg whites, pumpkin and the sweetener of YOUR choice! 
"Apple Pie" Baked Apples

Ingredients:
4 large apples
3/4 c whole oats
3/4 c chopped pecans
1 tsp. cinnamon
1/4 tsp. ginger
1 pinch allspice
3 tbsp. sugar-free maple syrup
3/4 c water
Directions:
Preheat oven to 350 degrees. In a bowl combine oats, pecans, cinnamon, ginger, allspice, and maple syrup and mix thoroughly. Remove the apple cores without cutting through to the bottom of the apples and scoop out a little flesh. Fill the apple centers with the oat mixture.
Place apples in a small baking dish and add water to the bottom of the dish. Bake for about 30-40 minutes, depending on the size of the apples. You want them to be tender but not mushy. If a knife easily slides through, then they are done. Remove from oven and serve warm.
Why it's healthy: fruits, oats, and nuts are all nutrient-rich, and a perfect blend of spices keeps things low sugar… so you can justify a little dollop of cream or ice cream! 
Got a healthy holiday dessert recipe? Share it with us on Facebook 😉