Pumpkin patches, jumping in leaf piles with the kids, and football are fun, but they're not number one.
Everybody knows that one of the best things about fall is the food that you get to eat. Fall food is way tasty, but many popular seasonal foods this time of year also tend to be packed with calories.
But guess what? When you're on a weight loss journey (or just trying to slim down a bit) enjoying fall doesn't mean you have to give up on tasty, seasonal foods.
There are plenty of healthy, low-calorie fall foods to enjoy. Not only are these healthy fall foods good for you (and your waistline) they're also good for your wallet -does it get any better?!
Shopping for foods that are in season usually makes them more abundant and accessible which also mean they're pretty dang cheap.
If you've ever bought berries in the dead of winter, you know that not only is the flavor and quality sub-par, you pay an arm and a leg, and no one's got time for that!
So I've put together a list of 10 healthy fall foods that you can chow down this season that will help you lose weight!
That's right!
Read this blog, and prepare your taste buds for some good eatin' and awesome results.
1. Pumpkin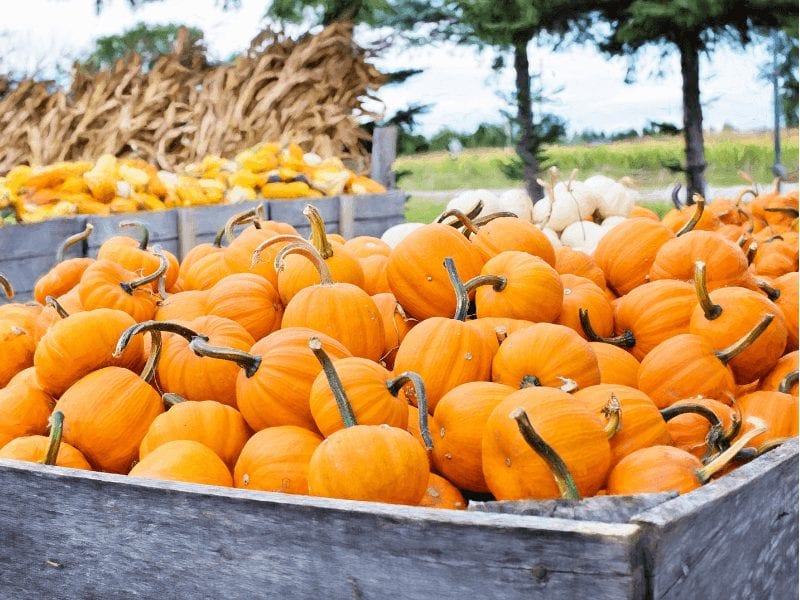 Fall isn't fall without pumpkins. And over the past few years, it seems like the pumpkin craze has exploded. There's no way to avoid them, even if you wanted to! Each time fall rolls around we see a whole new supply of pumpkin foods and products. From cereal and soda to coffee and cream cheese: pumpkin takes over.
While pumpkin treats are very popular this time of year, most of the time they're pretty unhealthy and just downright terrible for your weight loss goals, which is ironic since pumpkin is a healthy weight loss food. It's naturally low in calories and high in fiber (as well as vitamins). One half cup serving of pumpkin is only 50 calories, but it contains 200 percent of your recommended daily amount of vitamin A.
It's when you turn pumpkin into pies and other treats that things go wrong… and I mean really wrong! All the extra calories added (cream cheese, whipped toppings, chocolate syrup, etc) to pumpkin treats can easily derail your weight loss goals.
So, how can you enjoy a delicious pumpkin treat without packing on all the extra calories?
Instead of buying a snack from the store that's packed with extra calories, try whipping up a tasty pumpkin treat of your own. It's a lot easier than you may think!
We recommend a pumpkin shake or smoothie. You get all the flavor to satisfy your cravings without all the sugar and fat.
This pumpkin latte smoothie recipe is one of our favorites. It's made with IdealShake meal replacement shake.
Replace breakfast or lunch with this yummy, pumpkin meal replacement shake and you'll feel full for up to three hours because of the hunger-blocking ingredient in each serving of IdealShake.
2. Spaghetti Squash
If you've never had spaghetti squash before, you're in for a surprise. Spaghetti squash is a great replacement for real spaghetti noodles when you're trying to cut extra calories, and when it comes to losing weight, reducing your calorie intake is huge!
A cup of run-of-the-mill spaghetti will run you about 220 calories. While one cup of spaghetti squash is only about 42 calories. That's a total savings of 178 calories! See what I mean?
Not only is spaghetti a great weight loss fall food because it's low in calories, it's fiber content can help you feel full on fewer calories! Both of these factors are super important for a healthy weight loss plan, more on this later!
To prepare it, cut your squash in half lengthwise and arrange it in a 13×9 baking dish cut side down. Add a half cup of water to the dish and bake at 375 for 30-35 minutes or until the squash is tender.
When your squash is done, just use a fork to scrape up the strands of squash, and you're done! You'll have yourself some tasty veggie noodles.
Nutrition for 1 Cup of Spaghetti Squash
Calories: 42, Protein: 1g, Carbs: 10g, Fat: .4g
3. Salted Caramel Pumpkin Latte

1/2 c coffee (cooled)
1/2 c unsweetened almond milk
1 scoop Vanilla IdealShake
2 tbsp. pumpkin puree
1-2 tbsp. Torani sugar-free caramel syrup
pinch of sea salt
Add ice and blend. Top off with fat-free whip cream! (Note: this would also be really tasty with Salted Caramel IdealShake!)
Makes 1 Shake
Calories: 146, Protein: 12g, Carbs: 13g
Be sure to get your own IdealShake today and try this smoothie at home! And guess what? We have an awesome IdealShake offer running right now. When you buy IdealShake now you get 6 FREEBIES with your order. Click here to get this special IdealShake offer.
4. Apple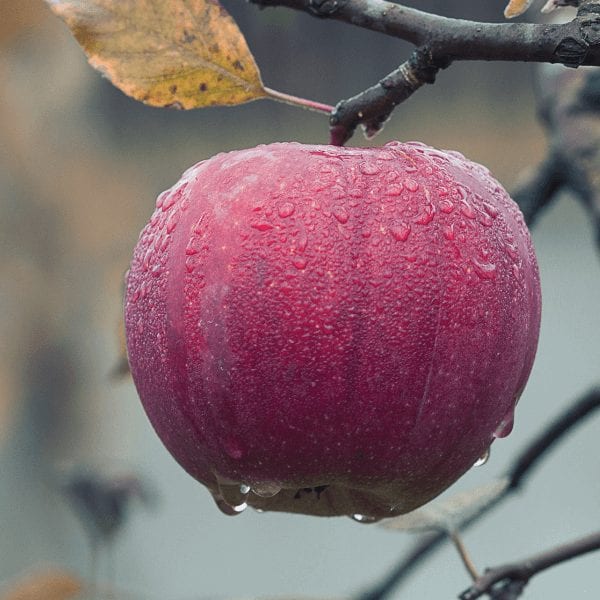 An apple a day keeps the doctor away and now that they're in season, you can have apples for days! Apples aren't anything new, but they're a classic healthy stand-by for a reason: they're low-calorie and high fiber.
Like I mentioned before a high-fiber diet is proven to aid in weight loss because you'll feel full and you'll be able to cut calories successfully.
Apples are particularly good at this because they contain a type of fiber called pectin. Pectin is the stuff that helps jams and jellies gel. In your stomach it will help fill your stomach to help you feel satisfied.
You can eat them fresh, or for a fun and healthy treat bake them up with a bit of cinnamon and stevia or Splenda®. It will satisfy your sweet tooth without adding an excessive amount of calories to your day.
1 Cup of Chopped Apple
Calories: 65, Protein: 3g, Carbs: 17g, Fat: .2g
3. Asian Pear
Like I mentioned before, eating seasonally is a great way to try different fruits and vegetables and find your favorites. The Asian pear is just one of those new and different pieces of produce that you might not have tried before.
They're big and round with dark yellow/beige colored skin. The flesh is very crisp and has a light, sweet, almost melon-like flavor. Sounds delicious, right?
Even though these pears are very juicy, they will last a long time when properly stored in a cool, dark area.
Slice one up and pear… I mean pair it (see what I did there?) with a high-protein food, like low-fat cottage cheese, for a balanced, filling snack. One small Asian pear only has about 50 calories but it packs a whopping 4.4 grams of fiber!
If you didn't know, fiber and protein are both very filling which is important when you're trying to lose weight. Feeling full is key to avoiding overeating and falling victim to snack attacks. When you can do that you can cut calories and successfully lose weight.
Nutrition for a Small Asian Pear
Calories: 51, Protein: .6g, Carbs: 13g, Fat: .3g
5. Turnips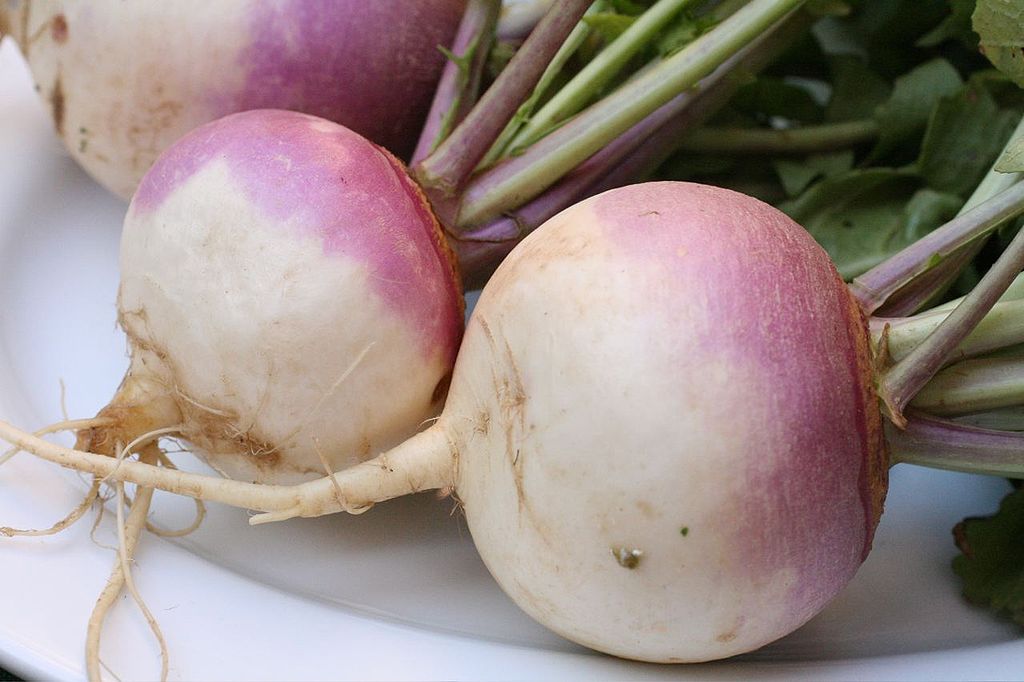 Turnips are kind of an odd vegetable. They look a little like big, purple radishes but you can cook them just like potatoes.
Turnips are much lower in calories and carbs than potatoes. Pound for pound, turnips have about a third of the calories as potatoes.
A cup of mashed turnips is only about 50 calories while 1 cup of mashed potatoes is 150 calories. That's even before you mix in milk or other add ins. This kind of easy swap will save you hundreds of calories. Or from a different perspective, with turnips you get a lot more bang for your buck.
And I know I keep coming back to this, but when you feel full and satisfied, losing weight is much easier. Instead of option for a very small portion of high-calorie potatoes, you can go for a larger, more filling portion of low-calorie turnips.
Nutrition for 1 Cup of Mashed Turnip
Calories: 51, Protein: 1.6g, Carbs: 12g, Fat: .2g
6. Collard Greens
I know that kale is all the rage, but it's not the only dark leafy green out there. Collard greens might seem like some kind of southern, comfort food but they're much more than that. Dark leafy greens like collard greens share a lot in common. They all tend to be:
Low-calorie
High-fiber
High in vitamins and minerals
The added benefit of collard greens is that they're also relatively high in protein with four grams per cup. When you roast or saute it, collard greens turn into an awesome, delicious side dish that supports healthy weight-loss habits.
Nutrition for 1 Cup of Collard Greens
Calories: 49, Protein 4g, Carbs: 9g, Fat: 1g
7. Cauliflower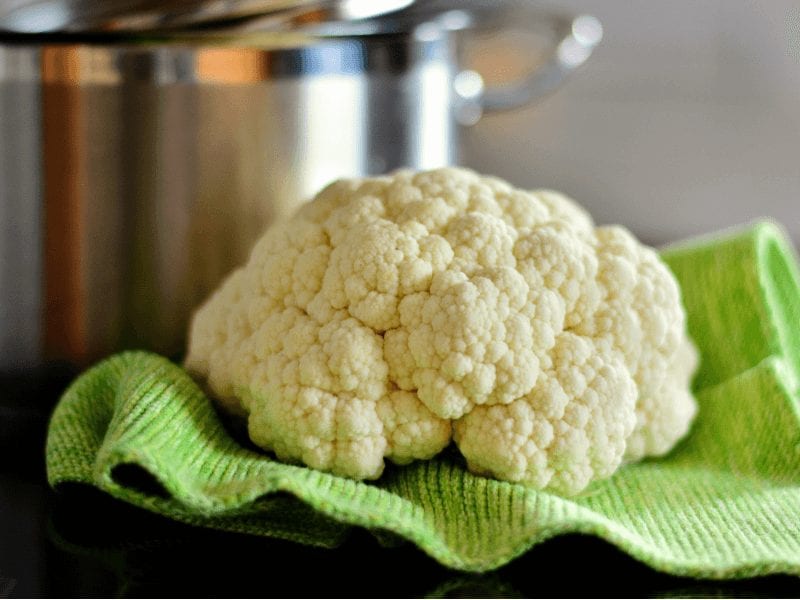 Even though cauliflower is available year round, it's actually in season during the fall. Which also means that this health-food staple is much cheaper during this time of year.
It's quick and easy to prepare making it a great low-calorie side dish. But steamed cauliflower night after night is a sure-fire way to turn yourself off to healthy foods. Just like turnips, cauliflower is an extremely versatile vegetable. That's right, you can even make it into healthy pizza crust!
If you've written off cauliflower, give it a second chance this fall by trying it in a new and different way. A boring bland diet can kill your weight loss goals. Adding variety into your healthy diet will help you to stay on track as you continue to enjoy healthy foods in a delicious way.
Nutrition for 1/2 Cup of Cauliflower
Calories: 14, Protein: 1.1g, Carbs: 2.5g, Fat: .3g
8. Ginger and Garlic
Kind of like cauliflower you can get ginger and garlic pretty much anytime of the year but it's actually in season in the fall. Ginger and garlic are low in calories, and you don't need to use much, so don't have to worry about altering the nutrition of your dish.
If you're trying to eat healthy to lose weight you won't get very far if you hate the food you're eating, and that's where ginger and garlic can come to the rescue.
Although garlic and ginger aren't going to be a low-cal dish on their own, they can make a low-cal dish much tastier, and good tasting food is king when it comes to eating healthy for weight loss.
9. Salted Caramel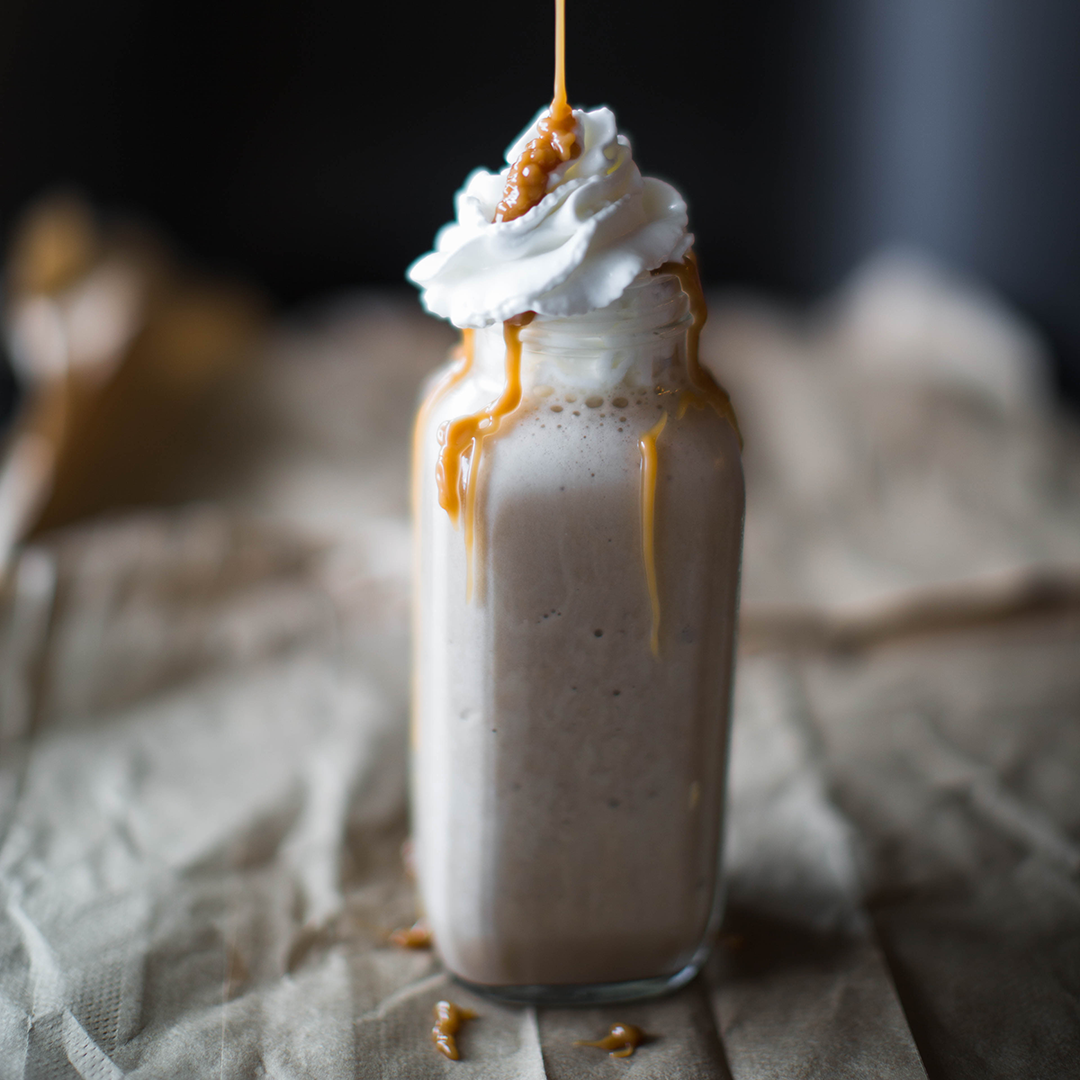 Salted caramel is just one of many popular fall treats, and it's one of my favorites. I'll go for pretty much anything salted caramel: salted caramel hot chocolate, salted caramel sauce, salted caramel ice cream. I'd probably eat cardboard if you put a little salted caramel on it.
But I know that even though it's my favorite fall treat, it won't give me the results I want. Take a look at the nutrition facts on some of the salted caramel treats I just mentioned and you'll see that these foods definitely won't help with weight loss. In fact, they'll most likely sabotage results.
Achieving long-term weight loss is about balancing healthy foods with tasty foods. And Salted Caramel IdealShake meal replacement shake nails it! IdealShake is a healthy meal replacement shake that supports weight loss through hunger and cravings control. It's low-calorie but high-fiber and high-protein and also formulated with a special hunger-blocking ingredient so you can feel full for hours.
Salted Caramel IdealShake is the perfect replacement for your favorite fall comfort treats. You'll be able to lose weight deliciously!
Nutrition for 1 Serving of Salted Caramel IdealShake
Calories: 100, Protein: 11g, Carbs: 10g, Fat: 2g
(Want to see some irresistible Salted Caramel IdealShake recipes that will make your mouth water? I'm talking Caramel Macadamia Coconut Ice Cream, Salted Caramel Fruit Dip, and more! Click here to see how you can use Salted Caramel IdealShake to whip up delicious treats to maximize weight loss.)
10. Pomegranates
They might seem a bit strange at first, but you'll come to love them. Pomegranates are filled with individual seeds wrapped in a juicy flesh.
Even though they're a bit on the higher end of this list as far as calories go, it's balanced with a ton of fiber! A medium sized pomegranate has 6.2 grams of fiber. This is all thanks to the little seeds at the center of each aril.
You'll find lots of pomegranate products out there including juice. Don't be fooled into grabbing a bottle of the juice instead of the fruit. When you just drink the juice you're cutting out a big reason this healthy fall food is so beneficial for weight loss, and that's the fiber.
Without the fiber and many of the other nutrients, it's just as bad as every other sugary juice drink.
Nutrition for Medium Sized Pomegranate
Calories: 128, Protein: 2.6g, Carbs: 29g, Fat: 1.8g
The Takeaway for Healthy Fall Foods
A big part of enjoying fall, other than football every week, is being able to chomp down on some tasty foods with family and friends. Usually, these foods are big, heavy calorie bombs. But with the 10 fall foods, we just talked about you can enjoy all the bounty of fall and still lose weight!
It's all about keeping the flavors of fall but losing the calories. Weight loss can and SHOULD be delicious. When you hate what you eat, you'll eventually fall off the wagon. So find some new favorites this fall or reinvent a favorite recipe with one of these healthy alternatives.
One way to really see results this fall is to drink a meal replacement shake one or two times a day. I recommend IdealShake because it works! With a combination of protein, fiber, and the proven hunger-blocker Slendesta®, you'll feel full for up to three hours even when you're cutting calories.
And of course, with flavors like my favorite Salted Caramel or Chocolate Cream Pie, you'll be able to stick with IdealShake to see short-term AND long-term results. Fall is a great time to re-examine your goals and commit to a healthier lifestyle. IdealShake is the tool you need to find the success you want!
Don't take my word for it though. Experience the delicious taste and hunger-blocking power of IdealShake when you get one full tub of IdealShake as well as three samples, plus so much more!