If you know anything about me, you know that I love pizza, and so do my kids! We have pizza EVERY Friday together as a family, and it is the most fun tradition.
As a personal trainer for over 10 years, what I've found is that being healthy and happy requires balance and moderation. You can make health-conscious (and DELICIOUS!) meal choices throughout the week to support your weight loss and fitness goals, but you need a happy balance. That's why if you are making smart and healthy decisions during the week, I believe in having a regular, optional cheat meal (600 calories or less) each week!
So here's what I'm trying to say: If you want to eat some pizza for your cheat meal, eat pizza! Treat your treat meal like a real treat meal! Keep this meal under 600 calories, and continue to make smart food choices during the week. This cheat meal can help satisfy any cravings you may have, keep you motivated on track to hit your goals, and also be something to look forward to!
(If you're needing some delicious meal plan ideas, check out the meal plans included in my free challenge!)
That said, if you are looking for a pizza recipe to fit inside of your meal plan and not be your cheat meal, well then I've got some GREAT news for you! I came up with some absolutely delicious recipes for healthy pizza you can make right in your home! These are trainer approved AND kid approved–my three boys love their healthy pizza!
Try out one of these tasty pizzas this week and let me know what you think! Have lots of healthy toppings on hand and let your kids get creative and make their own versions!
BBQ Chicken Pita Pizza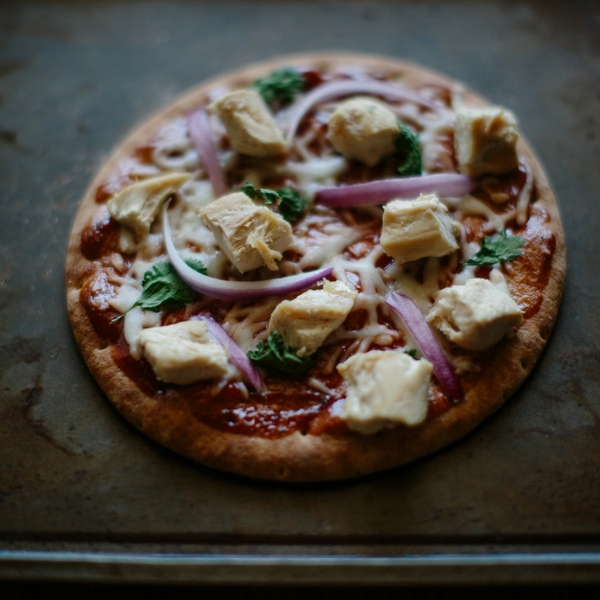 Ingredients
1 tbsp. barbecue sauce
1 whole wheat pita
¼ c low-fat mozzarella cheese
3 oz cooked chicken breast, cubed
Top with red onions and cilantro, chopped
Directions
Spread the barbecue sauce on pita. Top the pita with mozzarella, chicken breast, red onions, and cilantro.

Broil the pita on low until the cheese is melted to your liking. Enjoy!
Serves 1. Serving size: 1 pita pizza. Calories per serving: 370 / Protein 34g / Carbs 41g / Fat 7g
Pesto Chicken Pizza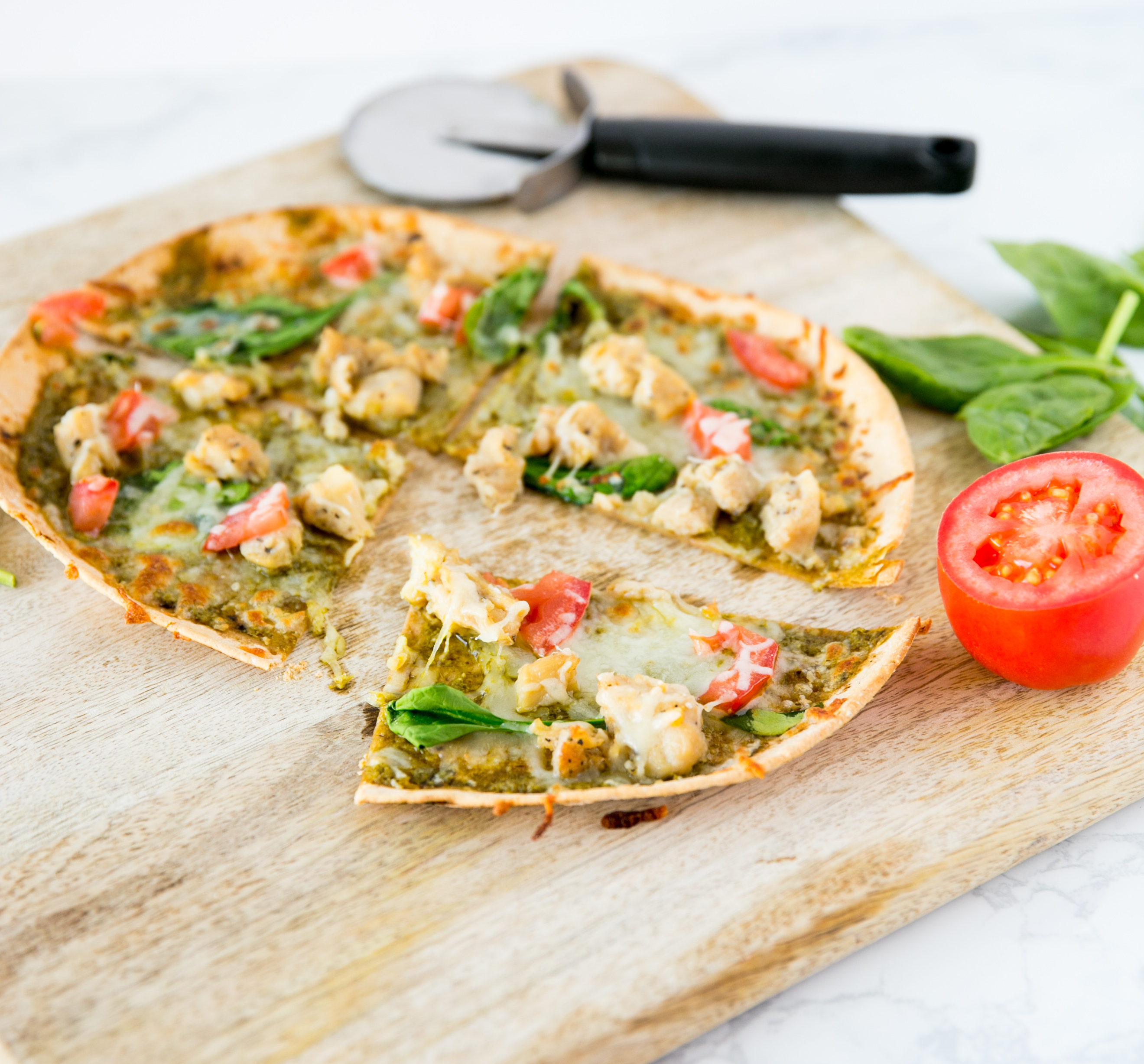 Ingredients
1 Flat Out Light Original Wrap (90 cals)
1 tbsp. pesto sauce
¼ c mozzarella cheese
¼ tomato, sliced small
2 oz cooked chicken, cut into strips
Directions
Spread pesto sauce onto wrap and top with pesto, mozzarella, tomato slices, and chicken strips.

Broil in oven on low until cheese begins to brown and bubble. Enjoy!
Serves 1. Calories per serving: 330 / Protein 34g / Carbs 17g / Fat 17g
Pepperoni Pizza Bagels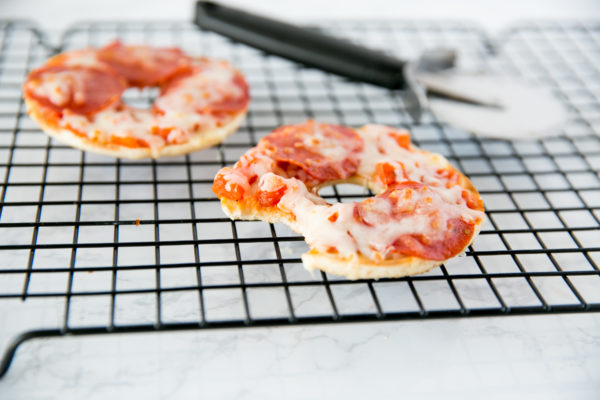 Ingredients
1 bagel thin
¼ c tomato sauce
¼ c mozzarella cheese
6 slices turkey pepperoni
Directions
Toast bagel and place on parchment covered baking sheet.

Spread tomato sauce on bagel slices and top with mozzarella and pepperoni slices.

Broil in oven on low until cheese begins to brown and bubble. Enjoy!
Serves 1. Calories per serving: 260 / Protein 15g / Carbs 30g / Fat 11g
Want MORE Delicious Recipes?
Kick your cravings and start losing weight with my FREE 15 Day IdealShape for Life Challenge. It comes complete with meal plans and workouts, so you can rev up fat burn, control your hunger, satisfy your taste buds, and see REAL results!