Happy National Pancake Day! Who doesn't love pancakes, am I right? We want to help you celebrate today and add some color and veggies into your breakfast.
There are so many delicious ways you can sneak a little more health into your meals, and beets add a lot of nutritional value!
Try these gorgeous red pancakes and let us know how you like them!
Heart Healthy Pancakes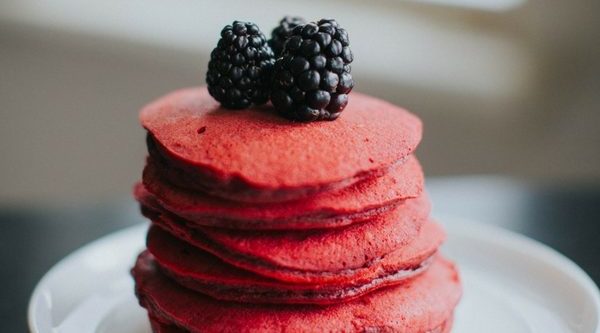 Ingredients
2 small beets, cooked and cooled
2/3 c white whole wheat flour
1 tsp. baking powder
1 large egg
1 tbsp. honey
1 scoop Vanilla IdealShake
3/4 c unsweetened almond milk
Directions
Preheat the oven to 400 degrees. Peel beets and cut into smaller pieces. Place them in a baking dish, with a couple tablespoons of water. Cover the dish with foil and bake for 20-30 minutes until they are cooked through.

Combine the flour and baking powder in a large bowl and set aside.

Blend the cooked beets and almond milk until smooth. Add the protein powder, egg, and honey and blend again until combined.

Add this mixture to the flour mixture. Mix with a hand whisk until you have a classic pancake batter consistency. Do not over mix.

Heat a skillet on medium heat. Spray your skillet with non-stick cooking spray and pour batter onto the skillet into 3"-4" pancake shapes. Cook for 2-3 minutes, and when the pancakes start to bubble, flip and cook the other side for 1-2 minutes more. The batter should give you 10 pancakes depending on how big you make them.
Optional: Top pancakes with sugar-free syrup, berries, sugar-free cool-whip…whatever your heart desires!