Taco Tuesday is a regular occurrence at my house. We've gotten creative with our tacos over the years, but this recipe takes the CAKE (and it might even be better than cake, just saying) with it's not-so-secret ingredient!
Are you ready for the secret ingredient? IdealChips are not only the perfect savory snack for weight loss, they're also great for cooking! We used the Sweet Thai Chili IdealChips on this recipe, and it was definitely a crowd favorite. Try out these Thai Chicken Tacos and let me know what you think!
Thai Chicken Tacos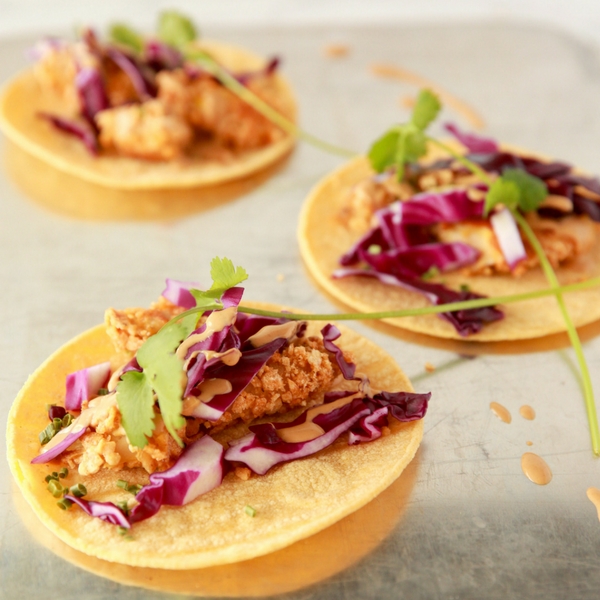 Ingredients
4 oz cooked chicken breast, cut into strips
1 egg
1 bag Sweet Thai Chili IdealChips
4 corn tortillas (50 cals each)
purple cabbage, chopped
Peanut Sauce
1 tbsp powdered peanut butter
1 tbsp rice vinegar
1 tsp olive oil
1 tbsp water
1 tsp soy sauce
Directions
1. Preheat oven to 350 degrees F.
2. Add IdealChips to plastic bag, seal, and crush into small flakes. Pour into bowl. Spray baking sheet with nonstick spray and set aside.
3. Whisk egg until smooth. Dip both sides of chicken strips into egg and then dip into chip flakes, pressing firmly to coat. Flip and repeat with all chicken strips, then set onto prepared baking sheet.
4. Bake for 15 minutes, until crispy. Add chicken to tortillas and top with cabbage and peanut sauce. If desired, garnish with cilantro. Enjoy!
Makes 4 tacos. Serving size: 2 tacos. Calories per serving: 303 / Protein 24g / Carbs 28g / Fat 10g
IdealChips: The Healthy Chip for Weight Loss
IdealChips have 10g of savory, crunchy protein to keep you satisfied and feeling full. Crush your cravings with IdealChips–grab them while they're hot!