April 2013
Utah Weight Loss Company Celebrates 10 Year Mark with Pledge to End Yo-Yo Dieting
Lindon, Utah (April 1, 2013)—Despite the popularity of exercise and diet programs, more than half of Americans are overweight or obese. As of 2012, Gallup reported that 26.2% of Americans were obese and 36.1% were overweight, while only 35.9% of Americas were at a normal weight.
If the diet industry is thriving, why are dieters struggling? The owners of IdealShape, a Utah-based weight loss company, have an answer: people aren't building a mental foundation for weight loss.
"Successful weight loss starts in the mind, and most popular weight loss programs don't address that," said Carla Meine, IdealShape CEO. "Learning what to do, nutrition- and exercise-wise, is the easy part. Figuring out how to make changes in a sustainable way is the hard part."
Carla and David Meine founded IdealShape in 2003. Carla was named one of the "30 Women to Watch" by Utah Business magazine in 2009 and is involved in several local entrepreneurship groups. David is an author and Certified Hypnotherapist specializing in weight loss.
Celebrating IdealShape's 10-year anniversary this month, David and Carla Meine have redoubled their mission to help create a shift in the way people see dieting and weight loss.
"It's taken 10 years and we're making a lot of headway," said Carla Meine. "People are finally realizing that they've been on low-fat, low-carb diets forever and keep putting the weight back on. We're finally seeing people get comfortable with what's going on at a psychological level and using mental tools to take control."
To date, IdealShape has helped more than 50,000 clients lose weight. Customers have lost up to 140 pounds on the IdealShape plan. The IdealShape team attributes this success to 'brain training' and lots of engagement with customers.
While IdealShape sells up to 400 items a day via its website—including its popular meal replacement shakes and bars—the support doesn't stop there. IdealShape offers free exercise plans, hosts weekly webinars, runs an active social media community and creates an audio hypnotherapy program recorded by David Meine.
"It's not just about pushing shakes, it's about changing lives," said Carla Meine. "We've learned that means teaching people how to create permanent, positive habits and behaviors so they don't get caught in yo-yo cycles. And it means providing support during their transition."
Last year, IdealShape launched a nationwide weight loss contest for customers and flew the year's 12 winners to Park City, Utah, to share their success stories and compete for the grand prize: a Caribbean cruise.
"Hearing the contestants tell their stories of how we helped them achieve their health and weight loss goals was a tear-jerker. It was an incredible experience, and an 'aha moment' for our employees—what we do really does matter," said Carla Meine.
With a rapidly-increasing customer base and a new book just published in January, IdealShape's mission to help people lose weight effectively is gaining traction.
"It takes a while for people to understand the role the mind plays in weight loss. It's a movement and it's going to take a lot longer, but we're feeling the shift," David Meine said.
The book, "Think: Use Your Mind to Shrink Your Waistline," written by David Meine, is available on Amazon.com.
About IdealShape:
Founded in 2003, IdealShape creates nutritional meal replacement shakes, meal replacement bars and weight loss supplements. The family-owned company is headquartered in Lindon, Utah, and has 16 employees.
To interview David Meine or Carla Meine, contact Marilyn at Marilyn@IdealShape.com. For more information, visit www.idealshape.com or www.facebook.com/idealshape.
###
Press Contact
Marilyn Hess
IdealShape Marilyn@idealshape.com 801-515-0896 
January 29th, 2013
Lose 10 Bad Habits and Watch the Pounds Drop, Expert David Meine Says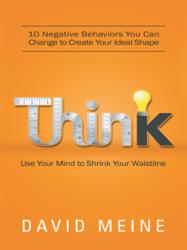 New book, Think: Use Your Mind to Shrink Your Waistline, gives the skinny on how to stop yo-yo dieting
Salt Lake City, Utah (PRWEB) January 29, 2013 — Millions of people go on diets each year, but only about five percent successfully keep the weight off, according to research from Colorado State University Extension.
The key to maintaining a healthy weight may be found in the brain instead of the stomach, says expert David Meine.
"The failure rate of weight loss plans that don't include a mental component are staggering," says Meine, whose company, IdealShape, is based on the philosophy that weight loss begins and ends with the brain.
In his new book, Think: Use Your Mind to Shrink Your Waistline, Meine introduces readers to 10 negative behaviors that, when changed, can help a person create their ideal body shape for life.
The book also pulls the covers off the science behind the brain's involvement in getting fit, giving readers the skinny on how to stop yo-yo dieting and instead, turn their weight loss goals into long-term reality.
"I wrote the book to de-stigmatize weight loss hypnosis and to explain how contemporary hypnosis can help individuals in ways that other weight loss methods cannot," says Meine.
Meine's idea for IdealShape and his complete weight loss program came after he struggled for many years to lose and keep off extra weight.
Think: Use Your Mind to Shrink Your Waistline shows readers how to change negative habits at the deepest, most permanent levels of the subconscious mind. Drawing from firsthand experiences of Meine and his clients, the book discusses why hypnosis is becoming one of the most popular new approaches to weight loss.
Learn more and download special bonus materials at www.idealshape.com/think
About the author
David Meine is the co-founder and vice president of product development at IdealShape, a wellness company that emphasizes the importance of mind over body when it comes to weight loss. Since completing an advanced degree in hypnotherapy at the Hypnosis Motivation Institute, Meine works with industry experts on developing effective ways to change the brain for positive weight loss success. Meine created the Audio Brain Training CD series, published IdealShape for Life and has motivated thousands of people as a professional speaker. Meine has seven children, ten grandchildren and lives in Utah with his wife, Carla.
July 15th, 2012
IdealShape is Ideal Family Business
Carla Meine, center, poses for a portrait with part of her staff at the IdealShape store and warehouse in Lindon on Tuesday, July 10, 2012, from left to right, Marilyn Hess, Josh Lindsay, Dane Rogers, Carla Meine, Natasha Meine, Whitney Meine, and Randy Gustman. Carla Meine owns the company with her husband David Meine and her son Skyler Meine. JIM MCAULEY/Daily Herald
"The Balancing Act – Health and Wellness Makeover"
July 15, 2012 12:30 am  •  Cathy Allred – Daily Herald
LINDON – David and Carla Meine will be appearing on national television on Monday to show what their service, IdealShape, can do to change lives. IdealShape products — shakes, supplements and brain training — are tailored to people who are overweight or obese, but can be used by anyone to aid their exercise or nutritional goals.
Success for the two entrepreneurs is strongly tied into the Internet. More than a decade ago, the couple met through an LDS singles dating website and were married a few months later, on Jan. 17, 2002. The following year, they founded IdealShape online at IdealShape.com.
Lifetime TV picked up on their weight loss product system for "The Balancing Act" reality show featuring a Health and Wellness Makeover and invited them to coach and help four women lose 50-60 pounds within a six-month period.
"We are so excited that our company is being featured on this national TV show," said Carla Meine. "These four women that Lifetime is following to lose weight have lost quite a bit of weight and are looking to finish the show in the next six weeks really strong. They were excited that our shake tasted so good and they loved using the brain training to work on the mental side of why they can lose the weight but notkeep it off."
David Meine said he will explain to the show's viewers and Makeover Ladies how to think differently about their bodies andtheir weight loss goals. Carla Meine, creator of the IdealShape meal plans,will be featured to show how to make healthier shakes and recipes.
While most people would say "Been there, done that" with the shake, the Meines would say "no, not so."
Not only is the IdealShape system a combined program of retraining the brain, supplementing with appropriate nutrients, and using the shake, it's personal for the Meines.
Their product was developed when David Meine's 65-year-old foster dad, Tom Nightingale, weighed 400 pounds. Nightingale suffered from back problems, had two back surgeries, got out of breath quickly and experienced joint pain. He often joked with family that he had lost thousands of pounds, only to gain them back again.
"It's just hard on your body, hard on your organs, to carry that kind of weight around all your life," said Carla Meine. "We made the last five years of his life better because he had taken the 150 pounds off and kept it off."
Nightingale died at 70 years old of a heart attack. What the Meines were able to develop for Nightingale gave him some of his energy and life back. The process was life changing.
"That is why we have such a cause to help others lose weight," she said. "We're more about achieving slow, steady lifestyle habits."
David Meine is a certified hypnotherapist and fondly called by his peers as the professional brain trainer of the company.
"I teach people how to cope with sabotage," he said. "It is a program that is very focused, very motivational."
He is adamant that his hypnosis is not self hypnosis, but teaches people how to calm down and relax and hyperfocus. He compares the technique to what Stephen Covey or Tony Robbins use.
"They become mesmerized," David Meine said. "We use music to relax and calm the mind."
Most of their clients listen to a motivational CD for a few minutes a day. They learn about sleep which has been shown to be key factor for those who want to lose weight, they learn how to visualize their ideal shape, and most important, they create new habits.
"We feel like it takes 28 days to create a new habit," Carla Meine said.
Customers can go online and purchase a three-month supply for themselves or the same package for a group for one-month use. There are options but the best is to use the products as a system, not separately, the Meines say.
"Some of them just use the CD, some use just the shake, some use supplements, but the most effective is if they use it all together," said Carla Meine.
As guests to the show, they will feature their meal replacement shakes, supplements and Brain Training CDs. Each product can be used separately, but together the program works to attack what defeats most people trying to lose weight in the first place — the brain.
"If the people do the work behavior at your brain level, what happens is people don't put the weight back on," David Meine said. "If you do the brain work, it stays off."
July 13th, 2012
Reality Show "The Balancing Act" features IdealShape's meal replacement shake & brain training airing Monday, July 16th at 7:00 am. EST/7:00 am. PST
LINDON, Utah, July 10, 2012 /PRNewswire-iReach/ — IdealShape, a Utah based weight loss company is excited to announce their participation on the popular morning show "The Balancing Act" on Lifetime TV. They will be making their appearance on the segment "A Lifetime of Health and Wellness" to feature their meal replacement shakes and Brain Training CDs.
David Meine, C.Ht. P.B.T, will appear as a special guest to explain to the show's viewers and Makeover Ladies how to think differently about their bodies and their weight loss goals.
Carla Meine, CEO of IdealShape and the creator of the IdealShape meal plans will also be featured to show how to make healthier shakes and recipes.
"From the day we started IdealShape, we've been striving to help our customers lose weight and live healthier," says Carla Meine, "and this experience has been so rewarding for us to help these women and have a chance to reach a larger audience."
To learn more, please visit: http://www.idealshape.com/blog/the-balancing-act/
About IdealShape
IdealShape, based in Lindon, Utah, was founded in 2003 by entrepreneur Carla and David Meine, a motivational speaker and certified hypnotherapist. The company produces a proprietary line of nutritional weight loss products, as well as teaching 'brain training' or motivational weight loss hypnosis for weight loss through an audio series and free educational webinars. The hypnosis audio programs are available for purchase via CD or iTunes download. IdealShape products are tailored toward people who are overweight or obese, but can be used by anyone to aid their exercise or nutritional goals. For more information call 800-515-0896 or visit www.idealshape.com.

News distributed by PR Newswire iReach: https://ireach.prnewswire.com
January 6th, 2011
Brain Food: A Lindon family's key to long-term fitness success
06, 2011 12:06 am  •  Kristin McQuivey – Correspondent
Carla and David Meine, of Lindon, were prompted to help a relative lose some of his 400 pounds and began a successful business as a result, IdealShape.
It all began in 2003 for them while visiting David Meine's father who joked that he had gained and lost thousands of pounds over his lifetime.
"We decided we had to do something," Carla Meine said. "David felt that most of his dad's weight problem was connected to how he saw himself."
And so, Brain Food was born.
The Meines conducted a retreat with 15 people, including David's dad. They hired a group who provided classes on changing behaviors, and David and Carla Meine provided nutrition and exercise classes. David's father lost 120 pounds and kept it off for six years until he died.
"This was the only time in his life he had kept the weight off," said David Meine. "It greatly improved the last six years of his life."
Each family member plays a role in the business. Carla Meine handles operations and nutrition, her husband David Meine does product development and technology, and son Skyler Meine, a certified personal trainer with a degree in Exercise Science from BYU, handles fitness and marketing.
"We want to help people stay in shape for life, and Brain Food plays a big role in creating those permanent changes," she said.
Since that first retreat, they have developed a unique meal replacement shake.
"We worked with scientists, and they led us to a natural hunger blocker, Slendesta," David Meine said. "It is patented and probably the best hunger blocker available. It is actually a potato extract, which releases hormones in the body that tell you you're full."
Along with the Brain Food, the family has developed what they call the IdealShape program which includes the Brain Food CD series to help people change their mind set to fitness success.
"When a person tries to make a change on the conscious level, without also making a change on the subconscious level, the mind engages in a tug of war. The subconscious mind will always win," said Carla Meine.
Her husband went to two different hypnotherapy schools in California and became certified as a hypnotherapist for weight loss. He is currently working on his advanced hypnotherapy degree and is creating the third of six CDs, the Brain Food series, which they say are the key to long-term success.
"People think of hypnotherapy as a guy on a stage that makes you cluck like a chicken," Carla Meine said. "It's nothing like that. It is retraining your mind to adopt positive thoughts and habits."
"These techniques are used in other areas of life all the time," said their son, Skyler Meine. "In sports, with finances, for self help, you have to spend time every day talking about what you want to change."
His father said he found his hypnotherapy training very interesting.
"I was the only one in the room that was not a psychotherapist," David Meine said. "These therapists are coming to hypnotherapy schools because all the studies are finding that what takes a psychotherapist six months to accomplish with a client would typically take about six weeks with hypnotherapy."
He said hypnotherapy is an effort to reprogram the brain.
"The diet industry makes several billion dollars from yo-yo dieters," said Carla Meine. "They don't want you to be successful long-term. We're all about changing that."
Their company has several clients who have lost more than 50 pounds, hundreds who have lost 10 to 20 pounds and one who has lost 140 pounds — Ryan Sullivan.
Sullivan has been on the IdealShape program for 16 months.
"For me it's been successful because I've been attacking the root of the problem," Sullivan said. "For most people it's why we overeat or why we don't exercise that is the problem. The mind training tools, they use are really helpful in addressing those issues."
Ryan has tracked his progress on his blog, nomorebacon.com.
Another part of the program is Carla Meine's blog. Ideal Cooking in Carla's Kitchen (ICCK), which is found at www.carlameine.com, where she creates nutritious recipes and meal plans.
"My son chose the acronym 'ICCK' because he said I turn icky food into tasty food," she said.
Skyler Meine trains clients in the IdealShape gym in Orem.
"There are a lot of mixed messages out there, and it is hard for people to know what to do," he said. "My whole goal is to do the research, test it, and create the best program possible for my clients. I am not gimmicky. I believe in keeping things basic and doing things people can do for the long-term."
The Meines believe in putting what is going on in your brain first.
"Where the brain goes, the body follows," David Meine added.
For more information about IdealShape's personal training, product line, and Brain Food CDs, visit www.idealshape.com.