You know those super inspirational movies with a strong female character?
You know, the ones where she reaches her goals and overcomes the odds with nothing but sheer grit and determination? #GirlPower
Well, Kristin is just like those amazing, strong female characters who you look up to and admire-but actually even better!
She lost 95 pounds with IdealShape, improved the quality of her life, and turned some heads doing it.
Basically, Kristin is a huge inspiration!
Finding Her Motivation
After coming to the realization that her two sons were growing and getting older, Kristin knew that if she wanted to be able to do everything she wanted with her family, she needed a lifestyle change.
For Kristin, her family was her "WHY", her main source of motivation.
"I want to be fit for them. I want to be healthy for them. I want to be around for them. And I wanted to do it for me."
Kristin didn't care what others or society thought, she just cared about improving her life for her and her family.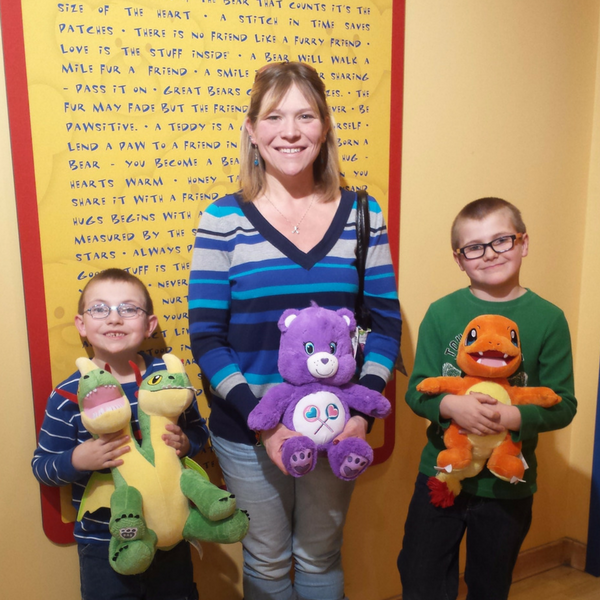 She researched so she could find the best weight loss plan that would work for her that she was going to stick with it no matter what.
For Kristin, she knew a meal replacement shake would work best for her since she wasn't much of a breakfast eater. It seemed like the most convenient and simple option.
Kristin had tried SlimFast® and Shakeology®, but didn't like the taste or big price tag. She found IdealShape and ordered the four sample packs of IdealShake (our tasty hunger controlling meal replacement shake) and was hooked! She loved the flavor options and that they kept her full.
Kristin enjoyed an IdealShake for breakfast and sometimes lunch and would use the IdealBars (delicious hunger blocking snack bars!) as snacks. She's a big fan of our yummy weight loss drink, IdealBoost, too!
Ninety-five pounds lost and about one year later, Kristin feels amazing and her example has inspired friends and family to try IdealShape products and get healthy too.
"It really does work. At 35 I feel the best I've ever felt."
Dealing With Negativity
Of course, with any weight loss journey, It's not always rainbows and unicorns. Kristin had quite a few people shame and question her new healthy habits.
Her biggest challenge was going to family gatherings and dealing with negative comments.
"It was very hard for me to listen to the negativity. I thought I was doing something good for myself and all these people are saying negative things."
With the help and encouragement of her husband, Kristin was able to ignore the negative comments and just keep pushing.
She recalls that the first two weeks were the hardest. But once she realized that the difficulty was all in her head, it became simple and easy for her.
She kept track of her weight and measurements each week and never gave up. There were days that were hard, and she gave into temptation, but she didn't beat herself up about it.
"I told myself, If you don't lose, it's better than gaining, and if you lose, it doesn't matter how much."
Making It A Lifestyle
Kristin has completely transformed her lifestyle. She never deprives herself. She's just more mindful of what and how much she eats. She enjoys burgers, fries, pizza and other treats every week with her cheat meal!
"I'm learning how to balance everything so I can have that ice cream cone if I really want to have it."
She's also trying out new workouts like Zumba and Pound! She's active with her two sons and is loving life even more.
"I'm on a whole different level of happy. It's just a totally different feeling. A whole new level of self-confidence."
We love Kristin's go-getter attitude and are thrilled with her results! She's proof that you can do anything you set your mind to.
"If you have it in your mind that you can do it, you CAN do it!"
If you're ready to start your weight loss transformation, then get the IdealPlan eBook, the complete weight loss blueprint to help you lose weight and keep it off for good! You'll get delicious meal plans, expert weight loss tips, and awesome exercises to help jumpstart your goals!