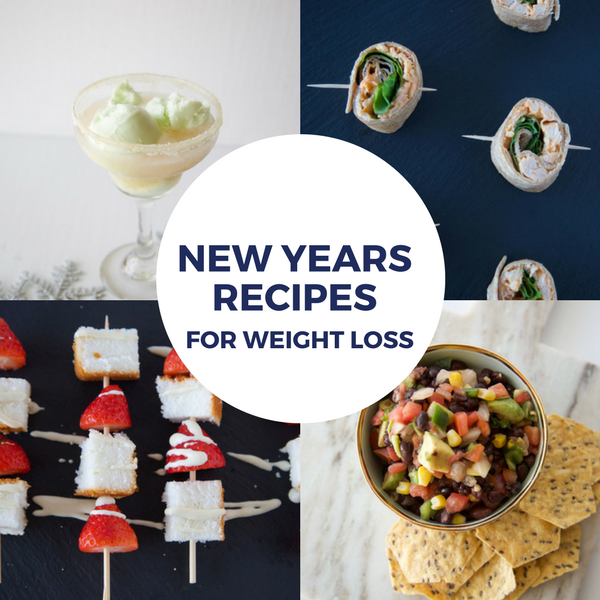 This time of year can be SO hard with all the parties and treats everywhere you turn! We all say we want our New Years resolution to be to lose weight but the second the parties hit, it's so much easier to say, "I'll start fresh next week" and just cave to all of the delicious food.
But guess what? Eating healthy doesn't have to be boring!
We want this year to be YOUR year! We want to help you finally check those goals off so we've created four fun flavor-filled recipes for your next party that won't completely derail your goals!
Free 51 Smoothie Recipe eBook
Get even more amazing weight loss recipes when you download our free recipe eBook! With 51 delicious weight loss smoothie recipes weight loss has never tasted so good!
Coconut Lime Sherbet Mocktails

Ingredients:
16 oz lemon-lime sparkling water
1 IdealBoost Packet
1 c low-fat lime sherbet
Directions:
Mix sparkling water and IdealBoost until the powder has completely dissolved.
Add ½ cup sherbet to 2 glasses and top each with 8 oz of Idealboost mixture. Enjoy!
Serves 2. Serving size: 1 mocktail. Calories per serving: 122 / Protein 1g / Carbs 27g / Fat 2g
Strawberry Shortcake Kabobs

Ingredients:
8 whole strawberries
1 slice angel food cake loaf, cut into 8 cubes
¼ scoop Vanilla IdealShake
1 tbsp. Greek yogurt cream cheese
1 tbsp. unsweetened almond milk
Directions:
Using a mixer or a whisk, mix IdealShake, cream cheese, and almond milk until smooth. Scoop into zippable plastic bag and snip end.
Layer 2 strawberries and 2 pieces of angel food cake onto each skewer (should make 4).
Drizzle onto skewers until frosting is gone. Enjoy!
Serves 4. Serving size: 1 kabob. Calories per serving: 65 / Protein 2g / Carbs 12g / Fat 1g
Buffalo Chicken Pinwheels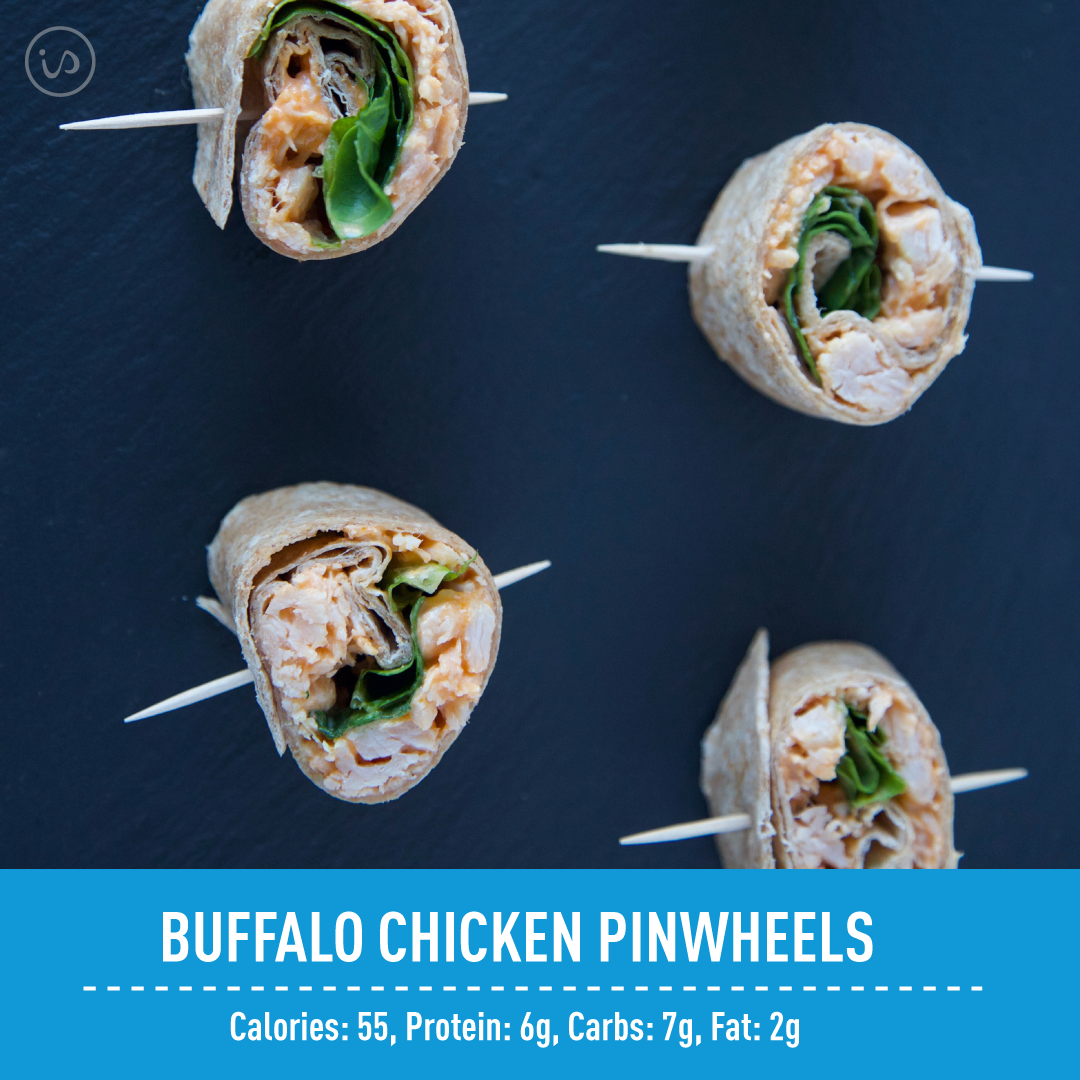 Ingredients:
1 whole wheat tortilla (100 cals)
3 oz cooked chicken breast, shredded
1 tbsp. non-fat plain Greek yogurt
1 tbsp. buffalo sauce
1 tbsp. blue cheese
½ c fresh greens
Directions:
Mix shredded chicken, yogurt, buffalo sauce, and blue cheese until combined.
Spread on tortilla. Add greens and roll up carefully.
Wrap in plastic wrap and refrigerate for at least 30 minutes.
Slice into 8 rolls and skewer each roll with a toothpick before serving. Enjoy!
Serves 4. Serving size: 2 pinwheels. Calories per serving: 55 / Protein 6g / Carbs 7g / Fat 2g
Black Bean Dip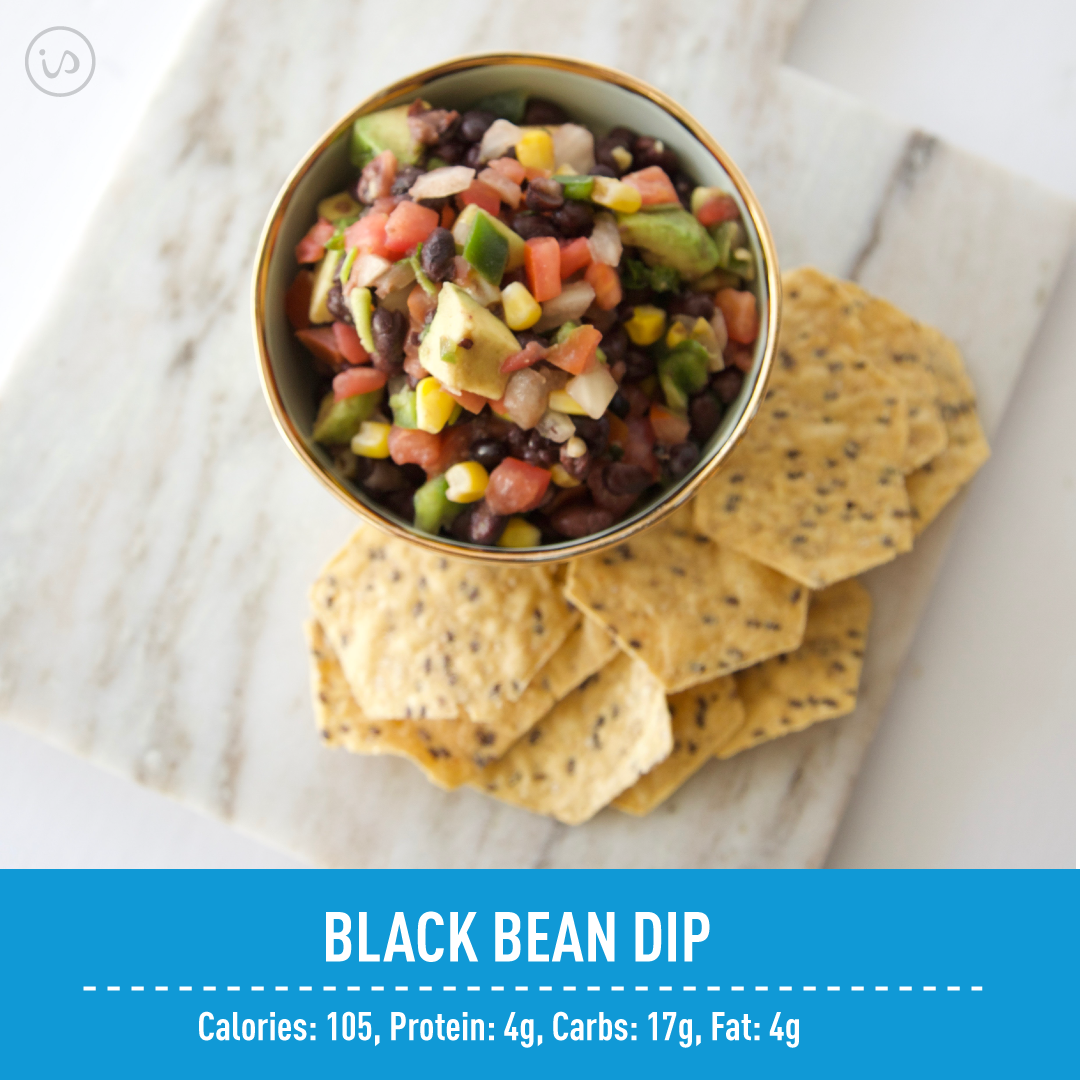 Ingredients:
1 can black beans
2 c Pico de gallo
½ c corn
1 fresh avocado, cubed
1 tbsp. lime juice
1 tbsp. minced garlic
Salt & pepper to taste
Directions:
Rinse and drain black beans.
Mix with pico de gallo, corn, and avocado.
Add lime juice and spices and carefully mix.
Serve with whole grain tortilla chips and enjoy! Serves 8.
Serving size: ½ cup. Calories per serving: 105 / Protein 4g / Carbs 17g / Fat 4g
Your guests for your next part are going to LOVE these recipes! Give them a try and let me know what you think below.