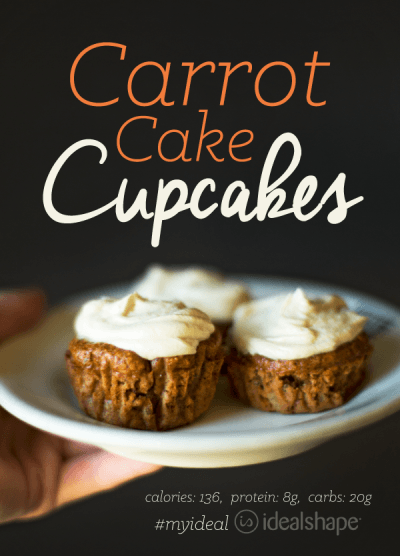 Bet you didn't know you could bake with IdealShake! Check out this yummy way to have fun with your protein weight loss shake.
Recipe:
1 cup oat flour

2 scoops Vanilla IdealShake

2 tsp cinnamon

1/2 tsp baking soda

1/4 tsp nutmeg

2 tbs flaxseeds

1/2 tbs vanilla extract

4 egg whites

8 oz jar carrot baby food

1/2 cup unsweetened almond milk

1/2 cup natural sweetener (stevia/truvia)
Frosting:
(Wait until cupcakes have cooled to add frosting)
1 cup nonfat Greek yogurt

2 tbs Peanut Butter Powder or natural peanut butter

1/2 tbs honey or agave nectar

drop of vanilla extract
Directions:
In a medium sized bowl, mix egg whites, carrot puree, almond milk, natural sweetener and vanilla. Then add dry ingredients to the wet mixture. Don't mix the batter too much or the cupcakes will not rise properly.
Spray non-stick spray in cupcake tin or use cupcake foils. Fill each cup 3/4 the way full. Bake for 12-15 minutes at 350 degrees. (Poke with toothpick, if it comes out clean, the cupcakes are done.)
—–
We know what you're thinking: baby food… but these are a surprisingly tasty, filling and healthy treat. Let us know what you think! 😉
Like this protein shake recipe? Share it!