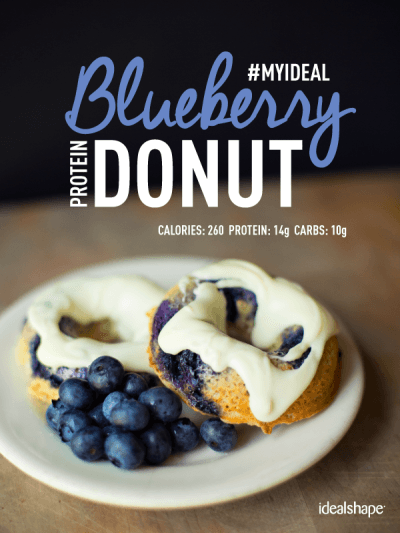 Last week's Carrot Cake Protein Cupcakes were so unbelievably good we couldn't resist another healthy baked treat: Blueberry Protein Donuts. We love adding protein to our treats because it's nutritious and filling, so you can get away with having just one. 😉
A healthy donut that happens to be delicious? Let's just say, they're so good that when Lizzy brought a batch into the IdealShape office… they were gone before anyone could blink. (Guilty.)
Whip out your donut pan and try this healthy donut recipe for yourself!
Here's the recipe:
1 scoop vanilla IdealShake
1/2 cup almond flour/meal
1 tbsp. fat-free cottage cheese
1-1.5 tbsp. coconut oil
1 egg
1/4 cup blueberries
1/2 tsp. vanilla extract
1/2 tsp. baking powder
Makes 3 large donuts or 6-8 mini donuts
One large donut (without white chocolate): 260 calories; 14g protein; 10g carbs; 2g sugar
Directions:
Mix all ingredients together (don't mix too much or donuts will not rise properly), put mixture into 3 of the donut pan holes or into 6-8 of the mini donut pan holes.
Bake at 350 degrees for 10-12 min or until toothpick comes out clean.
After donuts have cooled, dip or drizzle with melted white chocolate.
—–
And voila: you can now use "healthy" and "donuts" in the same sentence!
Like this IdealShake recipe? Share it, and maybe your coworkers will get the hint and whip up a batch too!