We are so excited about our tasty New Flavor Pumpkin Spice IdealShake! This time of year can be hard for staying on track with your healthy eating. That's why we wanted to come up with some tasty treats to help you reach your goals and enjoy yourself! Our Pumpkin Spice IdealShake will give you all fall flavors you love without the added calories.
Here's what you can expect:
•Smooth, creamy and delicious flavor with only 110 calories
•Controls hunger for up to 3 hours with our hunger-blocker blend
•11g high-quality Whey Protein
Get these delicious festive recipes below and don't forget to grab a tub of our Pumpkin Spice IdealShake to get started!
1. Pumpkin Waffles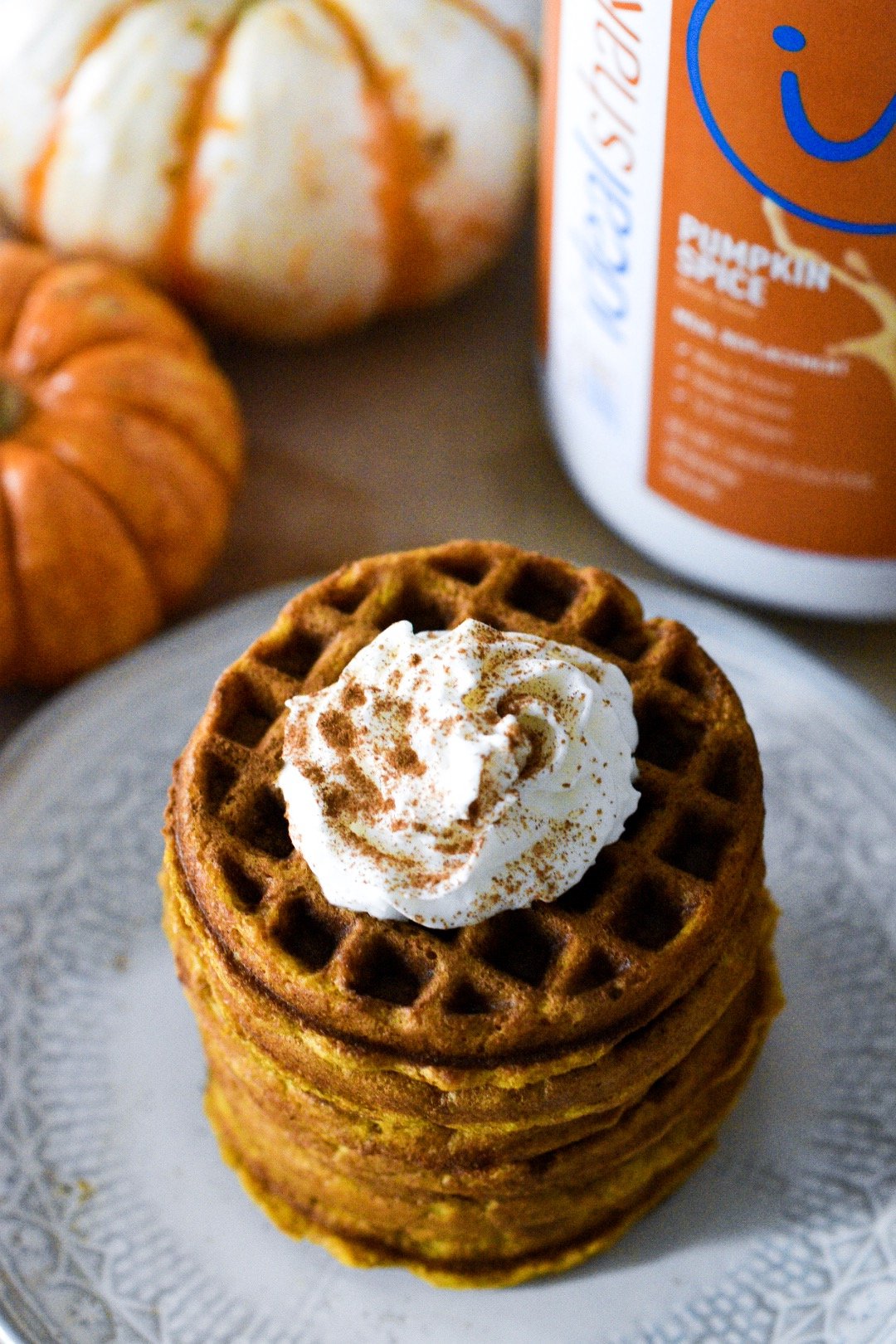 Ingredients
2 tbsp. white whole wheat flour
2 tbsp. quick oats
1 scoop Pumpkin Spice IdealShake
1/2 tsp. pumpkin pie spice
1/2 tsp. baking powder
2 tbsp. 100% canned pumpkin
1 egg
1/2 cup unsweetened almond milk
1 tsp. coconut oil, melted
Ingredients
Combine flour, oats, Pumpkin Spice IdealShake, pumpkin pie spice, and baking powder.
Add pumpkin, egg, almond milk, and coconut oil and mix until smooth.
Pour into a prepared Belgian waffle maker and remove when finished. Enjoy!
Serves 4. Serving size: 1 waffle. Calories per serving: 110 / Protein 8g / Carbs 13g / Fat 5g
2. Chocolate Chip Pumpkin Muffins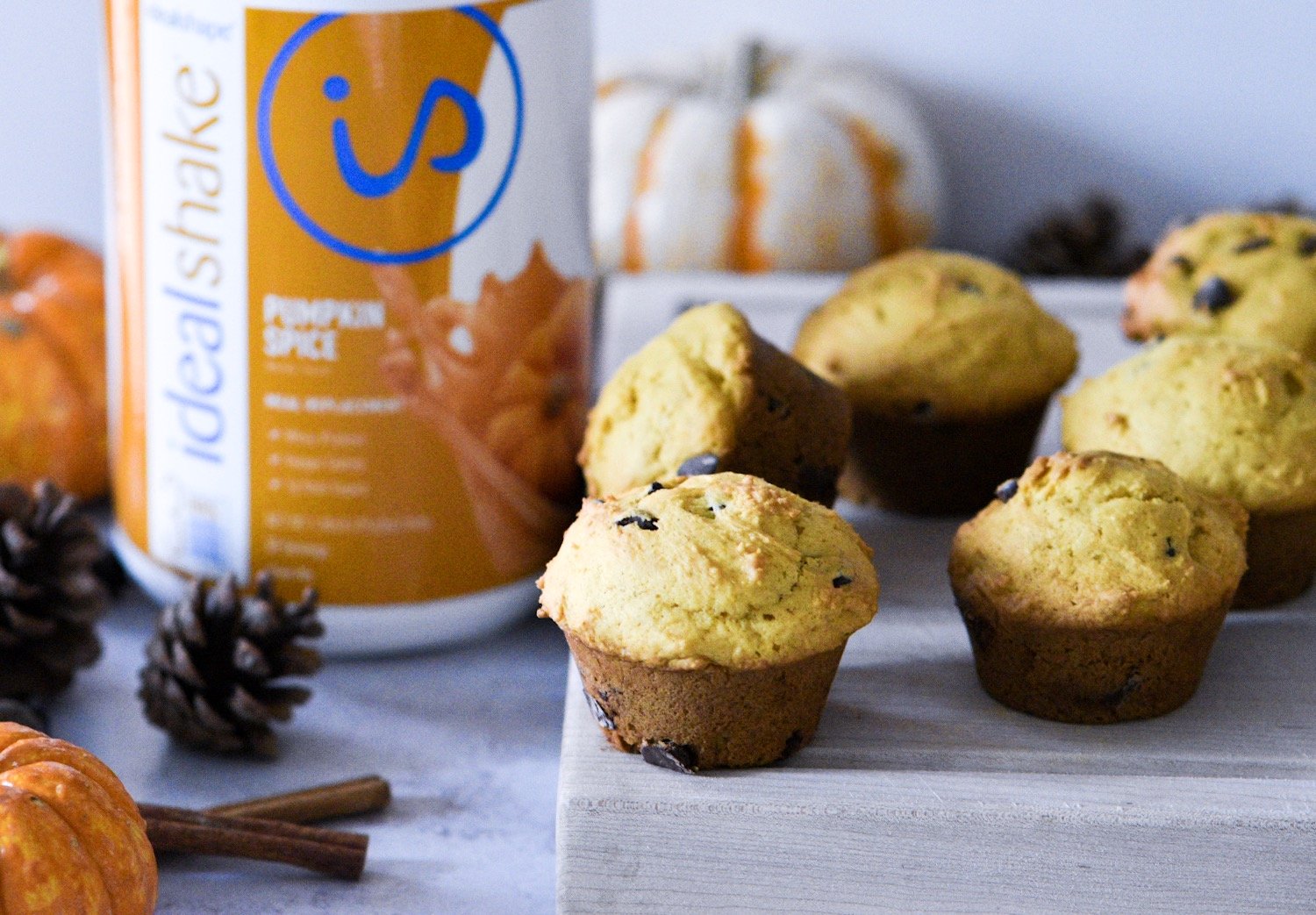 Ingredients
2 cups whole wheat flour
1 scoop Pumpkin Spice IdealShake
¾ cup erythritol
1 tsp. baking soda
½ tsp. salt
¾ cup pumpkin puree
1 egg
⅓ cup greek yogurt
⅓ cup honey
½ cup almond milk
1 tsp. vanilla extract
1/2 cup sugar-free chocolate chips
Instructions
Preheat oven to 350 degrees.

Combine dry ingredients and erythritol in a large bowl.
Then combine the wet ingredients and the egg together and slowly incorporate the dry mixture. Then add sugar-free chocolate chips.
Spray a muffin tin with cooking oil and fill with the batter.

Bake for 20-25 minutes. Let cool and enjoy!
Makes 12. Calories per muffin: 187 / Protein 6g / Net Carbs 23 g / Fat 4 g
3. Chocolate Pumpkin Milkshake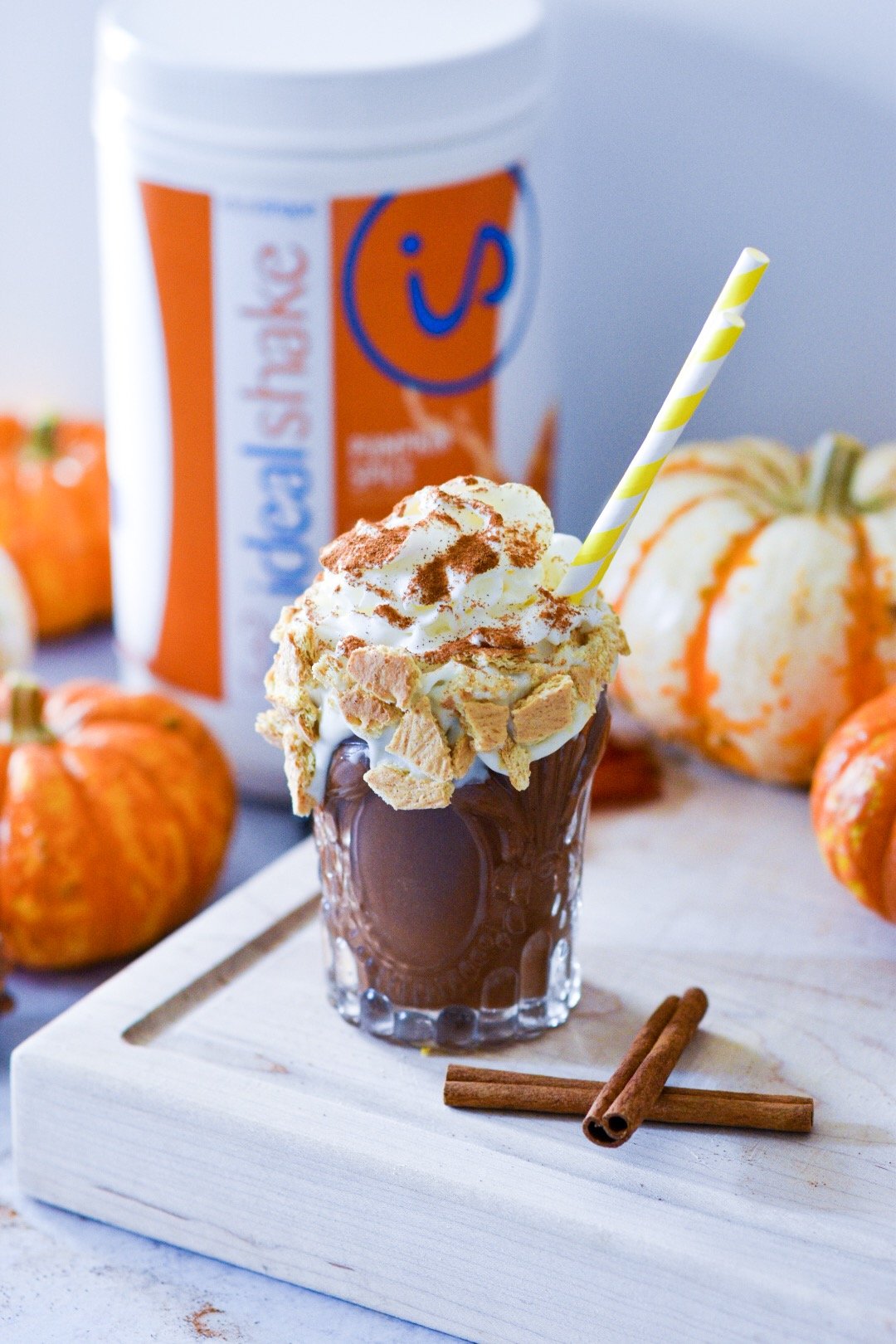 Ingredients
1 banana
1 cup almond milk
3 tbs pumpkin puree
1/2 cup halo top chocolate ice cream
1 scoop Pumpkin Spice IdealShake
1/2 tsp cinnamon
1/4 tsp nutmeg
Instructions
Blend all ingredients together and enjoy!
Serves 2. Calories per milkshake: 202 / Protein 10 g / Net Carbs 26 g / Fat 3 g
4. Chocolate Pumpkin Donuts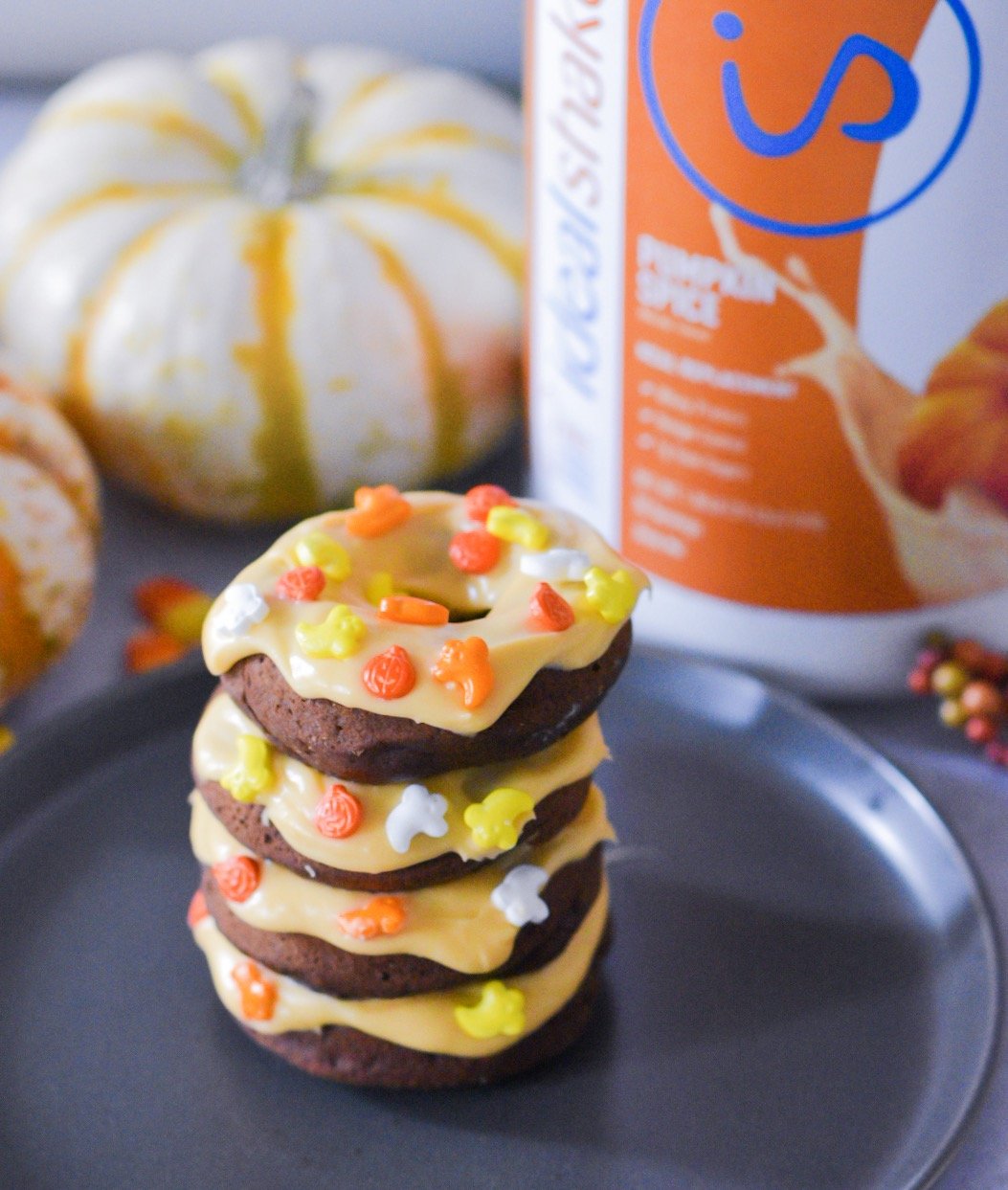 Ingredients
Donut:
1/2 cup whole wheat flour
1 scoop Pumpkin Spice IdealShake
1/4 cup cocoa powder
1/2 tsp baking powder
1 tbsp honey or agave
1 large egg
1/4 cup unsweetened applesauce
1 tbsp unsweetened almond milk
Frosting:
3 tbsp sugar-free caramel syrup
1/4 cup powdered erythritol
1 tbs almond milk
Instructions
Preheat oven to 350 degrees and spray a donut pan with non-stick spray.
Combine the dry ingredients in a bowl. Mix and add the honey, egg, applesauce, and almond milk. Stir all together until the batter is smooth.
Pour your batter into a small Ziplock bag. Close the bag and snip off a small corner. This will help fill your donut pan in a nice clean way. Fill 5 donut molds. Place in the oven and bake for 6-8 minutes.
Remove donuts from oven and allow to cool. You can use a knife to help remove the donuts from the pan if you need. Whisk ingredients for the frosting.
To assemble the donuts, frost the donuts with 1 tablespoon the frosting.  Enjoy! Best if enjoyed right away or the day they are made!
Serves 5. Calories per donut: 126 / Protein 6 g / Net Carbs 15 g / Fat 3 g
5. Pumpkin Crepes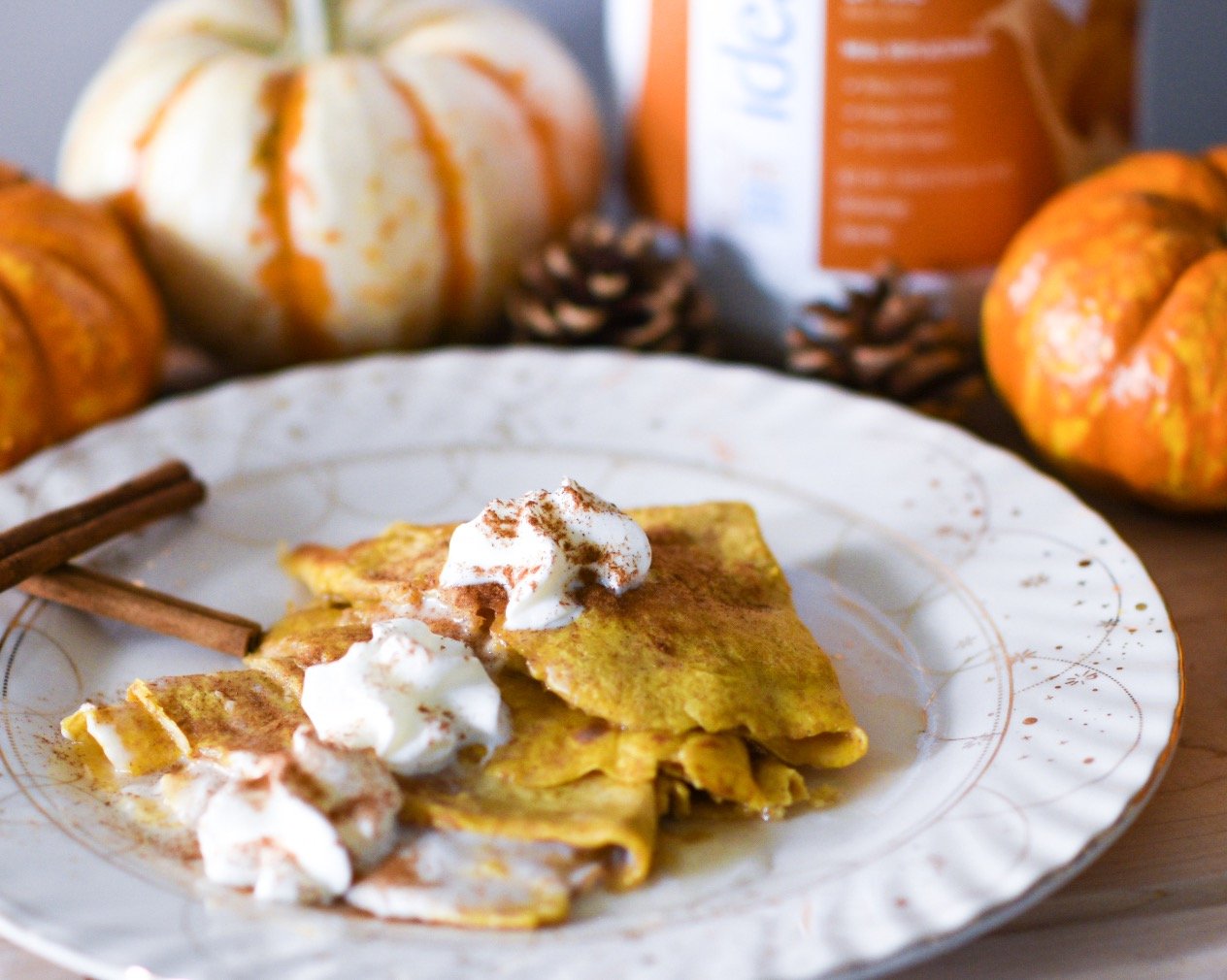 Ingredients
2 egg whites
1 egg
2 tbsp. pure pumpkin puree
1/2 scoop Pumpkin Spice IdealShake
1/4 tsp. cinnamon
1 tsp. honey
1 tbsp. almond flour
Instructions
Blend all the ingredients together until smooth.
Heat a non-stick frying pan over medium-high heat, and spray generously with coconut oil cooking spray.
Pour about 2 tbsp. of the crepe mixture, or more depending on your pan size, into the pan and spread the mixture to cover the entire pan, by rotating the pan. Leave about 1 to 2 min per side then flip over or until you see the edges of the crepe starting to brown a little bit. Once the crepe is done on one side it will also be able to slide it around and flip it over. You can use a small spatula or fork to help Repeat steps until you've prepared all the crepes. It should make about 6.
Enjoy the crepes with maple syrup or sugar-free Cool Whip!
Serves 6. Calories per crepe: 64 / Protein 5 g / Net Carbs 3 g / Fat 2 g
These recipes are a great way to satisfy your cravings and help you with your goals. Now you can have the food you love without the access calories! We hope you enjoy these tasty treats and don't forget to grab a tub of our Pumpkin Spice IdealShake!