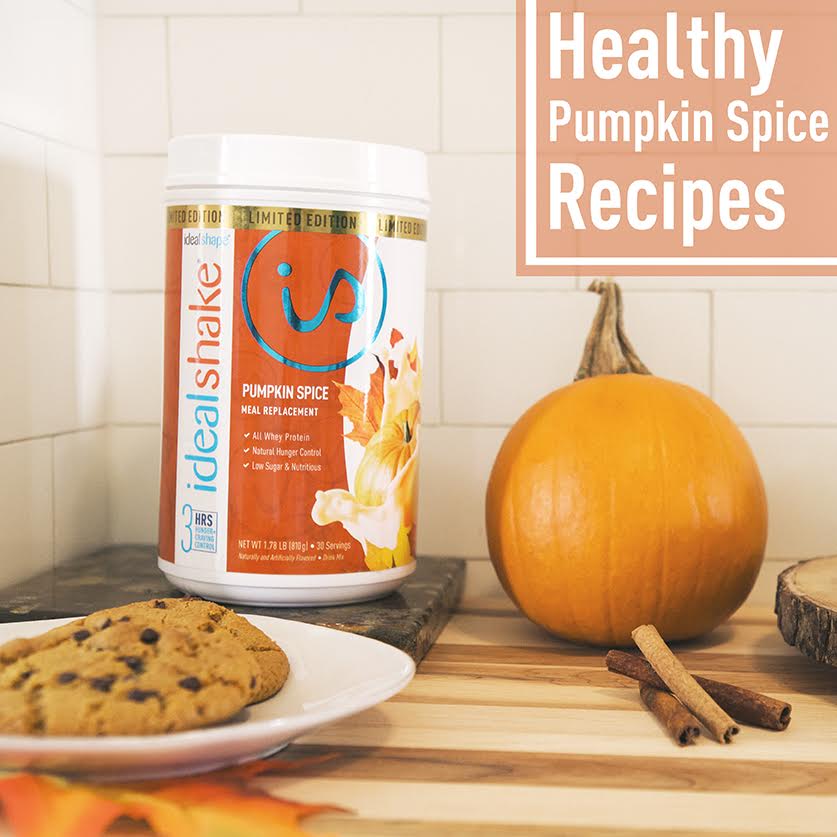 Raise your hand if one of your favorite parts of fall is pumpkin everything!
It can be tough to stay on plan and lose weight with so many tempting fall treats around. But now, with these perfectly pumpkin recipes, you can do both.
These recipes are sure to satisfy your sweet tooth. Enjoy the taste of Autumn while staying on plan and losing weight!
Pumpkin Protein Steamer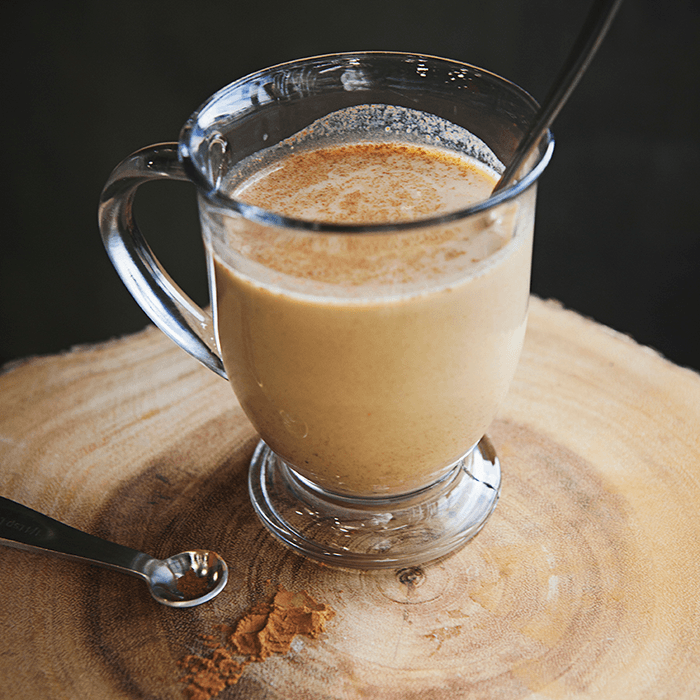 1 1/4 cup vanilla almond milk
2 T pumpkin puree (not pumpkin pie filling)
1 scoop Pumpkin Spice IdealShake
1/2 tsp vanilla
1/2 tsp cinnamon
1/8 tsp ground nutmeg
Dash of ground ginger
Heat milk over low heat in a saucepan. Stir in pumpkin puree, spices, and dry ingredients and whisk until smooth. Heat through until desired temperature is reached and the ingredients are dissolved. Garnish with whipped cream and nutmeg if desired.
Calories: 152   Protein: 22g  Carbs: 4g  Fat: 4g
Pumpkin Chocolate Chip Cookies
1/2 cup pumpkin puree
2 tablespoons honey
1 large egg
1/2 teaspoon vanilla extract
1/2 teaspoon cinnamon
1 teaspoon baking soda
Pinch of salt
3/4 cup oat flour (oats that have been blended)
1 scoop Pumpkin Spice IdealShake
1/4 cup dark chocolate chips
In a bowl, whisk together the pumpkin, honey, egg, and vanilla extract. In another bowl, stir together the cinnamon, baking soda, salt, and oat flour.
Combine wet and dry ingredients until just combined.  Do not over stir. Fold in chocolate chips. Cover and chill dough for 30 min.
Preheat oven to 350 degrees. 
Use a 1 Tablespoon sized cookie scoop to measure cookies. Bake for 6-8 min.
Makes 18 cookies.  Serving size is 5 cookies.
Calories: 222   Protein: 9g   Carbs: 34g   Fat: 6g
Pumpkin Doughnuts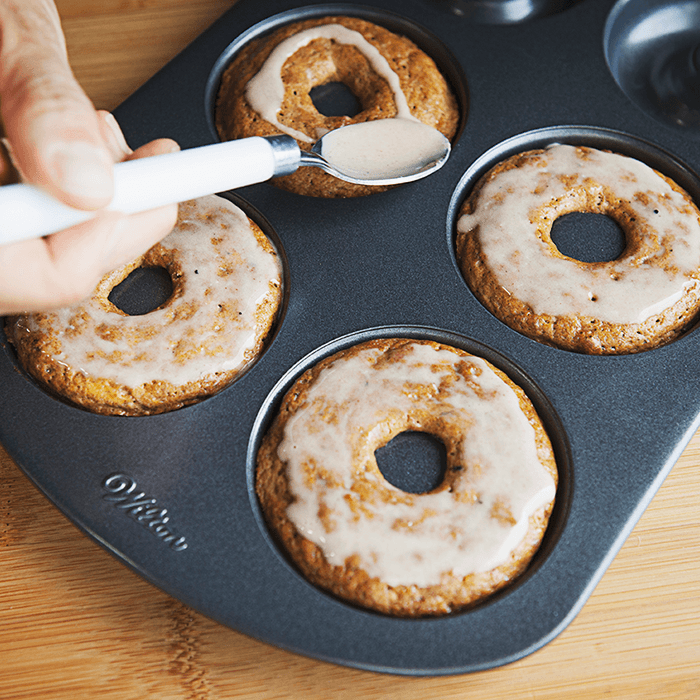 ¼ cup pumpkin puree
2 egg whites
3 tsp coconut oil
½ tsp vanilla
1 scoop Pumpkin Spice IdealShake
½ tsp baking powder
1 tsp cinnamon
Whisk together pumpkin, egg whites, and coconut oil and vanilla.  In another bowl combine the rest of the doughnut ingredients. Slowly stir the dry ingredients into the wet ingredients. Do not over stir.  Spray doughnut pan and divide batter into 4 doughnuts. Bake at 350 degrees for 8-9 minutes.
Maple Glaze for doughnuts
1 T Vanilla IdealShake
2 T unsweetened almond milk
1/8 tsp cinnamon
1/8 tsp maple extract
Makes 4 doughnuts.  Nutritional info is for all 4 doughnuts
Calories: 313   Protein: 22g   Carbs: 20g   Fat: 18g
Use new Limited Edition Pumpkin Spice IdealShake in any of these recipes for a delicious fall treat or snack. Or for a quick and satisfying (and just as delicious) fall snack, shake up Pumpkin Spice IdealShake with milk or water.