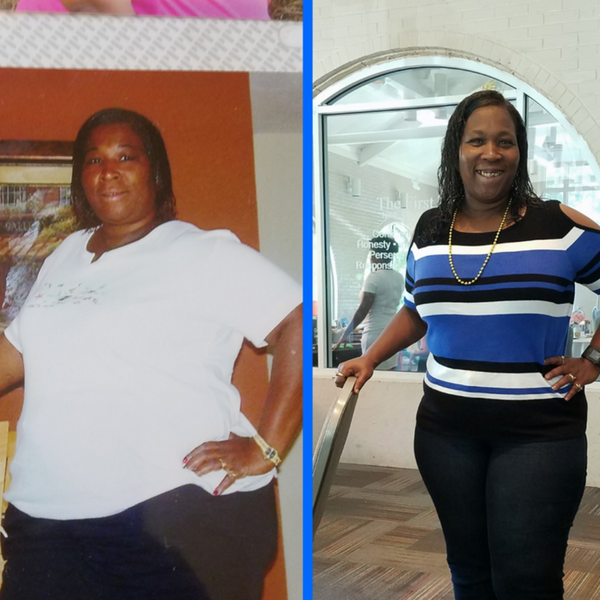 Reesa Carr has been on her weight loss journey and achieved some absolutely amazing results.
Yes, she's lost weight. From 375 lbs to 215 lbs, to be exact. She's also lost over 150 inches.
But even MORE than that, she's gained confidence, energy, happiness, self-love, and so much more.
We had the chance to catch up with Reesa and do a fun little Q&A to find out a little bit more about her incredible journey. Hopefully you can feel inspired and motivated as you learn more about Reesa and realize that YOU, too, can change your life and achieve real results.
Q: When did your journey start?
A: October 2015
Q: What made you want to make a change?
A: I got tired of looking & feeling the way I did. I wanted something different for myself. I also wanted to be able to do things with my grandbaby who was just born in 2014. I wanted to live longer and live a happy healthy lifestyle. Now I am.
Q: What tips do you have for others starting out?
A: Remember it's a lifestyle change and it doesn't happen overnight. It takes a lot of dedication and hard work. It won't be easy, but it's worth you. YOU are worth it!
Committing to a healthier lifestyle is just that, a commitment -a commitment to yourself and it's a big one that will take a lot of work. "Change Your Mind". Adapt the 100% mindset because it's all in your head. Realize that you have the power to change your life by changing your mindset.
We all have the ability to choose our paths, reach our goals, and build exceptional lives. The challenge is in BELIEVING you can and setting attainable goals. If you fall off track, remember you are always one meal away from getting back on track.
Q: What have been some of the biggest obstacles you've had to overcome?
A: One of my biggest obstacles was not eating my favorite foods: cheeseburger, fries and pizza. So I started with fries and only ate 5 of them instead of the whole box. Then I left fast food alone altogether.
Second was working out; no one likes to work out right? Wrong, I accidentally found the exercise I love to do, which is Zumba. I tell everyone to find the workout you love to do. I had to modify some workouts due to a bad knee, but I didn't let that hinder me. I feel that obstacles are made to be overcome
Q: What are some of your go-to, favorite meals?
A: My favorite meals are grilled chicken, greens, cabbage, fish, spinach, IdealShakes, eggs, and fruits
Q: What are some go-to supplements that have helped?