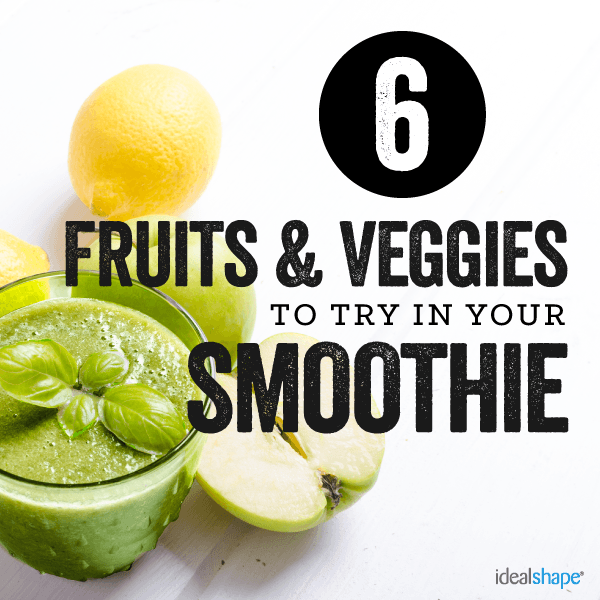 One of my favorite parts of spring is all the fresh produce coming into season. It's no secret that eating more fruits and vegetables is essential to staying healthy, including maintaining a healthy weight.
In-season produce is extremely affordable, especially if you buy your groceries from a farmers market. But one of the biggest mistakes people make when buying fresh produce is letting it go bad before they have a chance to eat it.
If you own a blender, that never needs to happen! One of the best ways to use up produce before it goes bad is to put it in a smoothie. Smoothies also make it possible to include more fruits and vegetables in your daily diet.
Here are six fruits and vegetables that are in season now and perfect for my favorite waistline-approved smoothies!
Oranges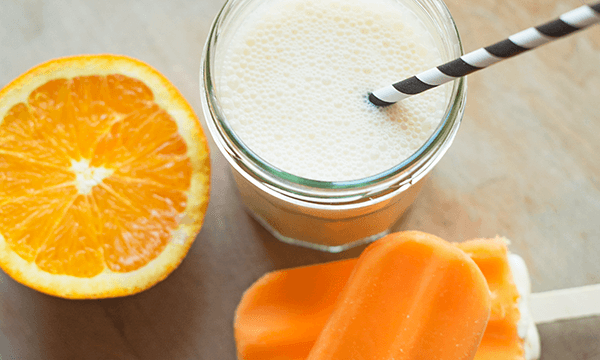 Oranges are packed full of vitamin C which helps to boost your immune system and fight off viruses. It is also a great antioxidant that fights cell-damaging free radicals. Consuming orange juice may even be more effective than simply taking Vitamin C on its own.
Try popping a few peeled orange wedges into your smoothie, you'll get a lot more fiber incorporated into your smoothie than if you just added juice!
Kale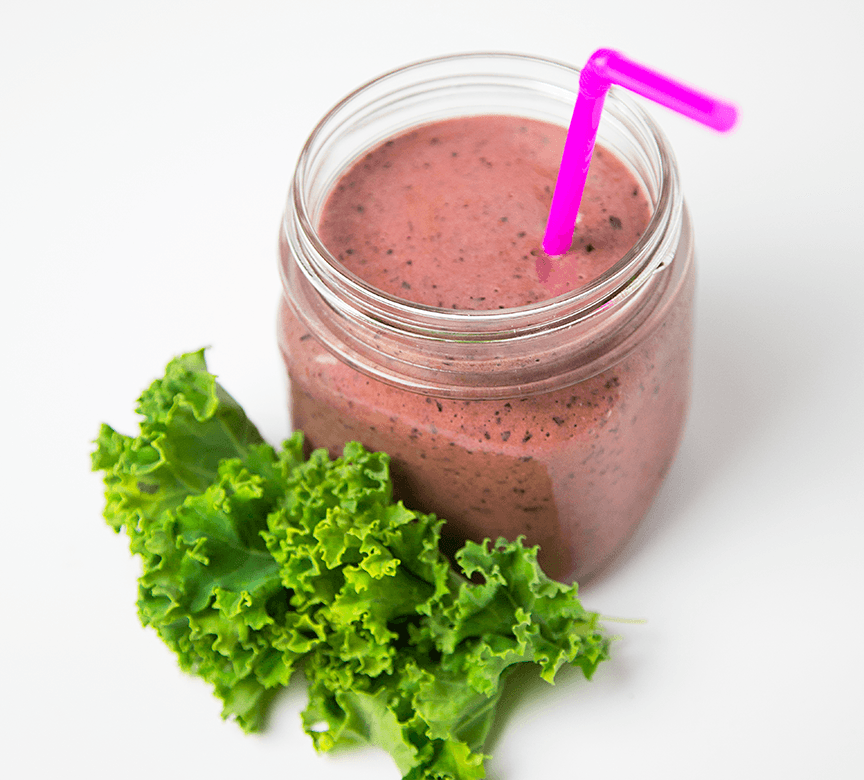 If there is one dark leafy green that should win veggie of the year, it's Kale. You might be sick of hearing all the hype, but kale has become a popular super food for a reason. It's packed with vitamins and nutrients.
Kale is king of the veggies that offer vitamin K, a vitamin that is essential to proper blood clotting. It is also high in vitamin A, Vitamin C, manganese and copper among others.
Try this kale and blueberry smoothie recipe from our Smoothie Book and find out what all the fuss is about!
Blueberry Kale Protein Smoothie
Calories: 237 | Protein: 18g | Carbs: 38g
1 Scoop Vanilla IdealShake Mix

1/2 Cup Greek Yogurt

1/2 Cup Blueberries

1 Cup Kale

1/2 Cup Pineapple
Add ice, blend & enjoy! (Add water for consistency)
---
Mangoes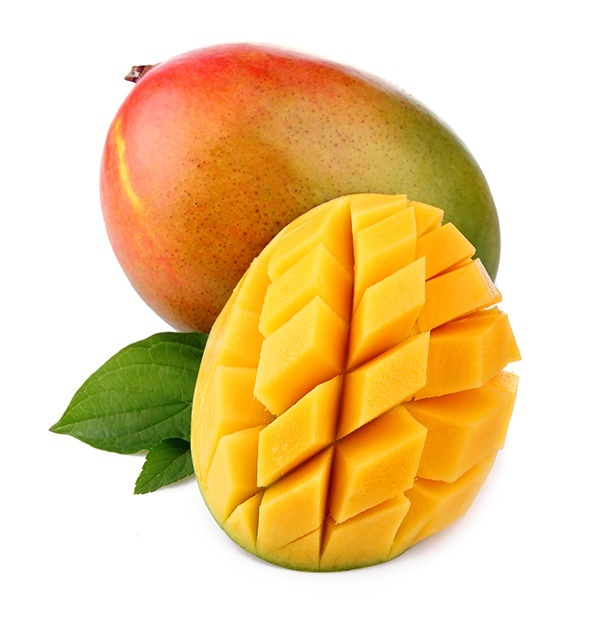 If you've noticed that every grocery store is overflowing with mangoes right now it's because they're in season! If you have ever eaten a mango straight off the pit you know first hand that they are packed with fiber.
They come in a many different varieties but the most common ones that you will see in the United States are the Ataulfo and red mangoes.
A fresh, ripe mango is sweet, juicy and delicious – the perfect addition to a fruit smoothie!
Strawberries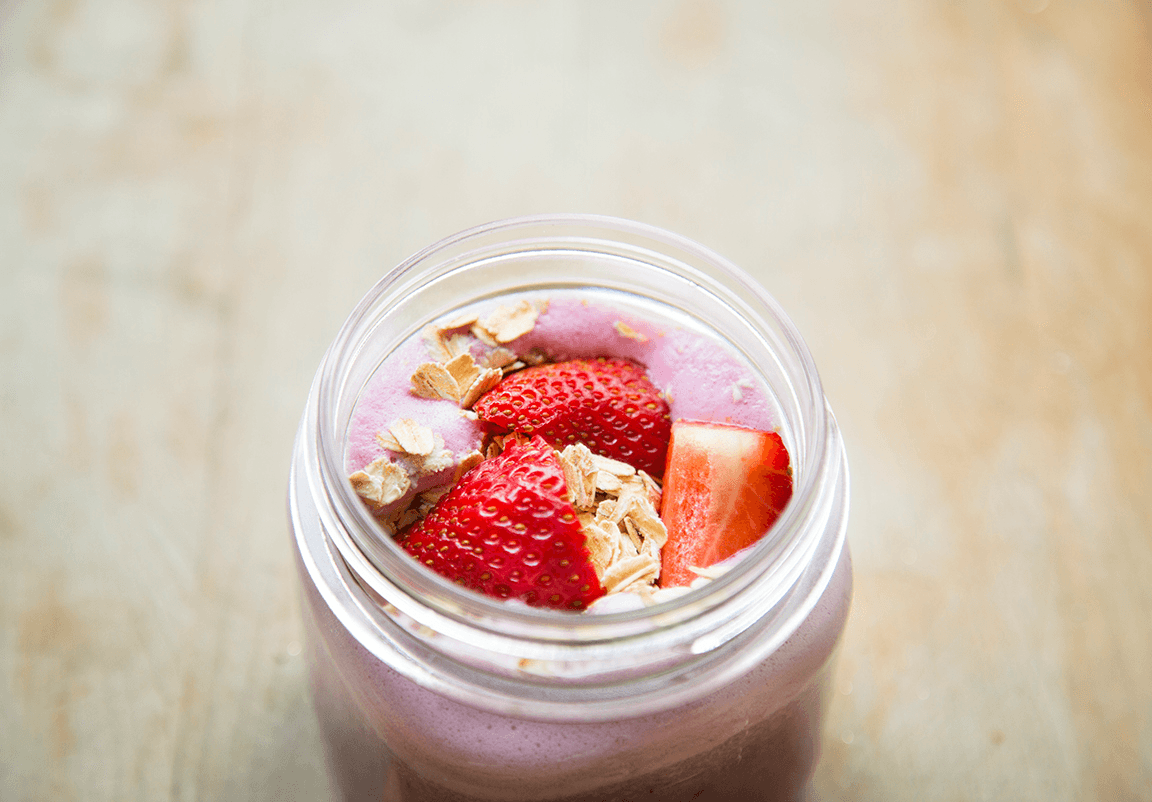 Probably one of the most iconic warm weather fruits, strawberries pack a healthy punch. They are a great source of antioxidants – in fact, they made it into the top 30 best foods for antioxidants in the US.
Maybe one the most surprising benefits of strawberries is that they're proven to help regulate blood sugar.
Strawberries that might seem too ripe to eat on their own work great in a fresh and fruity smoothie.
Spinach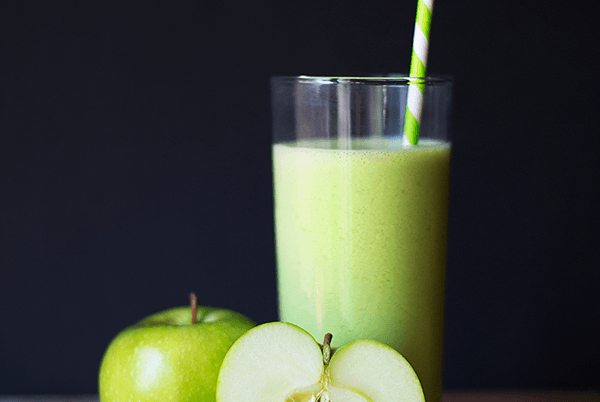 Spinach is another one of those dark leafy greens packed with vitamins and minerals but unlike kale it might seem a little more approachable. It has a very similar nutritional profile to kale without the reputation of being "roughage-y."
Baby spinach is mild and tender but it doesn't have the longest shelf life. Try pairing it with a stronger tasting fruit like mango or strawberries if you don't want your smoothie to "taste green."
Pineapple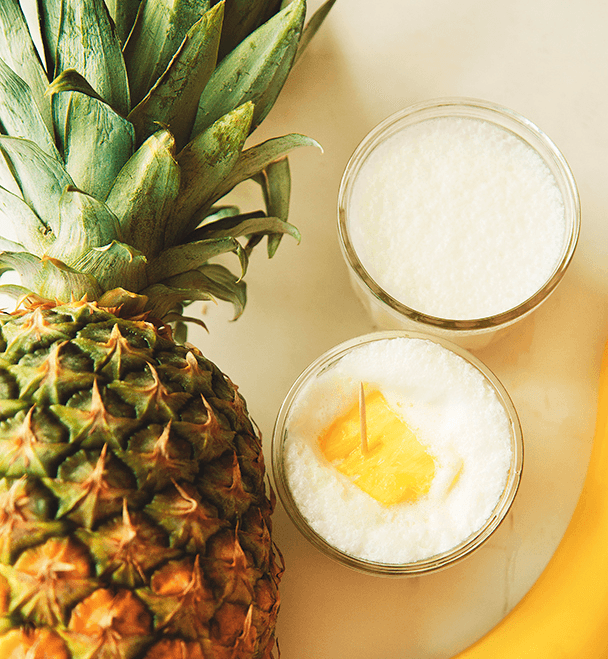 Currently in its peak season, pineapple has many benefits besides making you feel like you're on a tropical vacation. In South American countries pineapple has been used for many years to improve health.
What makes pineapple so potent? An enzyme called bromelain which is used to treat tendinitis and other inflammatory issues.
Avoid adding canned pineapple to your smoothie as it is often packed in a sugary syrup. Adding fresh ripe pineapple to this Piña Colada smoothie makes it one of my favorites!
Piña Colada Protein Smoothie
Calories: 229 | Protein: 13g | Carbs: 22g
1 Scoop Vanilla IdealShake Mix

1 Cup Unsweetened Almond Milk

1 Cup Diced Pineapple

1/2 Cup Shredded Coconut (Unsweetened)
Add ice, blend & enjoy!
---
These are just a few of the delicious fruits and vegetables that are in season. If you walk around your local farmers market you'll be able to get a pretty good idea about what is in season in your area.
If you're adding IdealShake to your smoothies for weight loss, the Vanilla and Strawberry shake flavors make terrific bases for fruit and green smoothies.
Want more smoothie ideas and inspiration? Get a copy of our free smoothie recipe eBook! Click here or the banner below to get yours.