You can't have Valentine's Day without some serious treat yo'self going on! I don't know about you, but my favorite treat is cheesecake. Sadly, cheesecake doesn't really go well with weight loss. It's chock full of sugar and carbs and fat that I'm trying to cut out!
Lucky for us, we can indulge in these seriously delicious skinny cheesecake recipes using the IdealShake Cheesecake flavor! YUM! You better believe I'm going to make a few of these this Valentine's Day. Tell me what you're going to try in the comments!
Skinny Mini Raspberry Cheesecake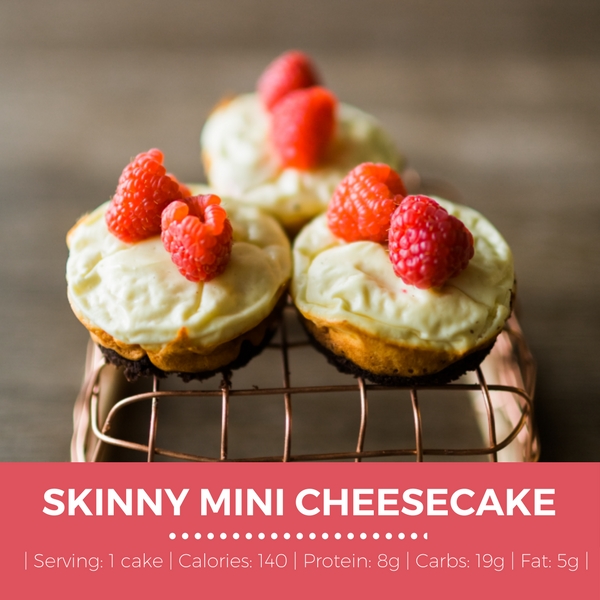 Crust
4 full chocolate graham crackers
1 tbsp honey
1 tbsp coconut oil
Cheesecake
2 tbsp Greek yogurt cream cheese
1 cup nonfat plain Greek yogurt
1 scoop Cheesecake IdealShake
1/2 cup baking stevia
1/2 package sugar-free white chocolate pudding mix
1 large egg
Directions
Preheat the oven to 350 Degrees F and spray 6 muffin tins with nonstick cooking spray.
Blend graham crackers into crumbs. Mix with honey and coconut oil and press down into muffin tins to create crust. Set aside.
In a mixing bowl, combine all cheesecake ingredients until smooth. Pour on top of crusts and bake for 20-25 minutes.
Remove from the oven and let them cool. Add 2 raspberries to the top of each mini skinny cheesecake & enjoy!
Serving size: 1 mini cheesecake. Calories per serving: 140 / Protein 8g / Carbs 19g / Fat 5g
Make These Recipes & More with the Cheesecake IdealShake
Grab a tub of Cheesecake IdealShake while they're still in stock! Make these delicious recipes & curb your hunger for up to three hours with the tasty weight loss drink, Cheesecake IdealShake. YUM!
Skinny Cheesecake Fruit Dip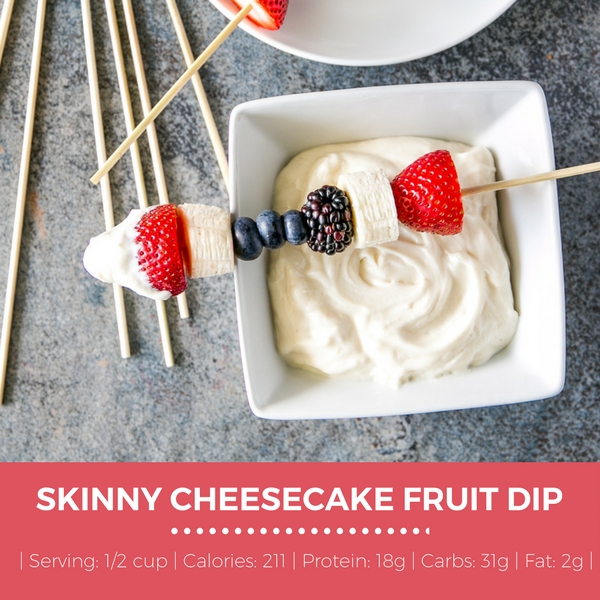 Ingredients
1/2 cup non-fat plain Greek yogurt
1/2 scoop Cheesecake IdealShake
2 tbsp sugar free cheesecake instant pudding powder
2 tbsp unsweetened almond milk
Directions
Combine all ingredients together in a bowl and mix until smooth.
Enjoy right away with fruit, or chill until ready to use. Dip with assorted fruit kabobs!
Serves 1. Serving size: ½ cup. Calories per serving: 211 / Protein 18g / Carbs 31g / Fat 2g
Skinny Raspberry Cheesecake Snack Bites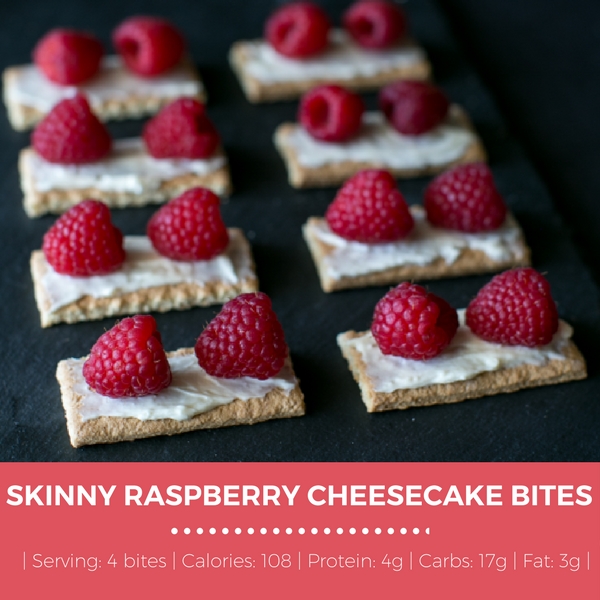 Ingredients
2 full sheets of low fat graham crackers
2 tbsp Greek yogurt cream cheese
1 tsp unsweetened almond milk
1/4 scoop Cheesecake IdealShake
1/4 cup fresh rasphberries
Directions
Break graham crackers into smaller pieces.
Whip cream cheese and Cheesecake IdealShake powder together until smooth.
Spread onto graham crackers and top with fresh raspberries. Enjoy!
Serves 2. Serving size: 4 bites. Calories per serving:108 / Protein 4g / Carbs 17g / Fat 3g