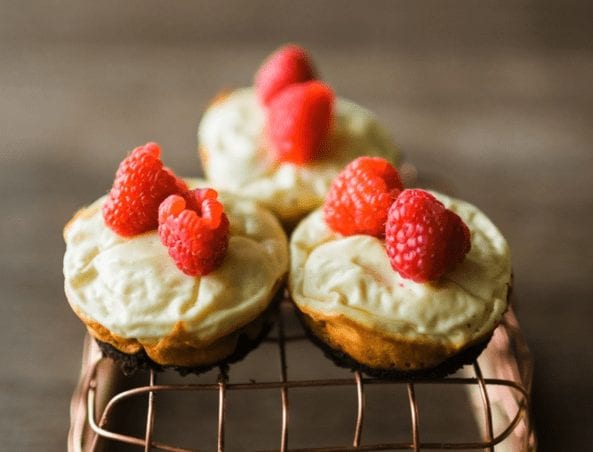 Skinny Mini Raspberry Cheesecake
Crust
4 full chocolate graham crackers
1 tbsp honey
1 tbsp coconut oil
Cheesecake
2 tbsp Greek yogurt cream cheese
1 cup nonfat plain Greek yogurt
1 scoop Vanilla Idealshake
1/2 cup baking stevia
1/2 package sugar-free white chocolate pudding mix
1 large egg
Directions
Preheat the oven to 350 Degrees F and spray 6 muffin tins with nonstick cooking spray.
Blend graham crackers into crumbs. Mix with honey and coconut oil and press down into muffin tins to create crust. Set aside.
In a mixing bowl, combine all cheesecake ingredients until smooth. Pour on top of crusts and bake for 20-25 minutes.
Remove from the oven and let them cool. Add 2 raspberries to the top of each mini skinny cheesecake & enjoy!
Serving size: 1 mini cheesecake. Calories per serving: 140 / Protein 8g / Carbs 19g / Fat 5g