Once a year we find ourselves running around the kitchen for hours pulling our hair out as we try not to burn the turkey, whipping up more side dishes (mashed potatoes, jello, stuffing, etc.) than we can count, running to the store for last-minute ingredients, all while entertaining family and friends.
Then we eat that meal in about 15 minutes and pass out on the couch or floor after! 🙂 (Does this sound familiar to anyone else? No? Just me?)
We do it every year!
Thanksgiving is an absolutely wonderful time to eat the tastiest foods, hang out with friends and family, and reflect on all of the things we're grateful for. It's such a fun holiday!
But guess what? For those trying to maintain their weight loss goals, Thanksgiving can get a bit tricky, especially since some of these dishes we prepare can be packed with calories.
You can eat lots of food that TASTES good and still achieve your goals and not fall off track.
A few simple changes can make all of the difference! Almost any recipe can be made healthier and just as tasty!
Give these recipes a try for your next Thanksgiving feast. You'll LOVE them!
Whole Grain Stuffing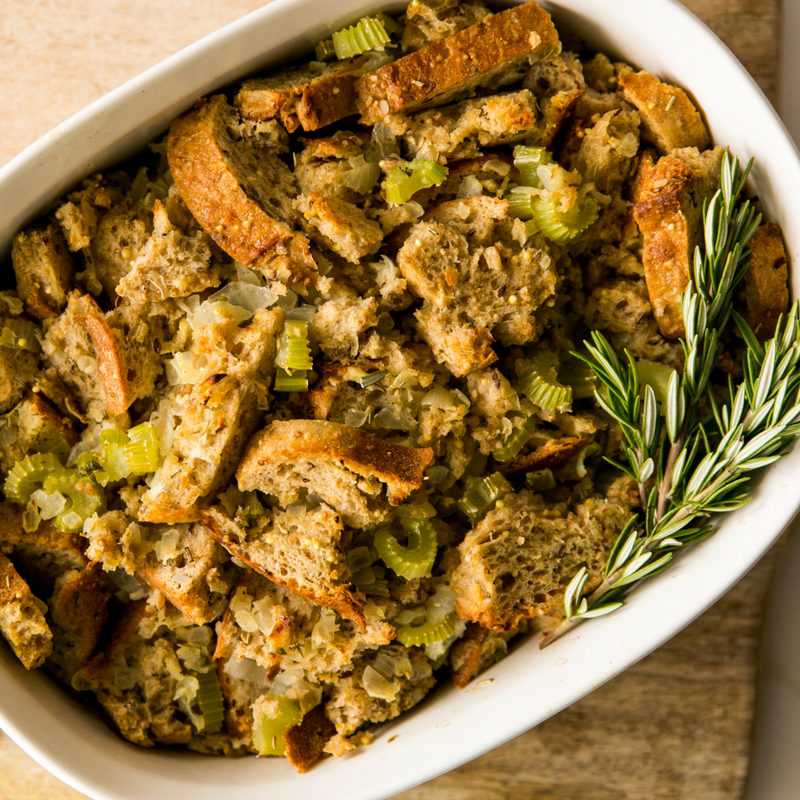 Ingredients:
1 loaf whole grain bread
3 tbsp. olive oil
1 c chopped celery
3 tsp. minced garlic
1 onion, finely chopped
1 tbsp. chopped sage
1 tsp. rosemary
2 ½ c chicken or vegetable broth
salt & pepper to taste
Directions:
Tear bread into large pieces and let sit out 8 hours or overnight to dry.
If short on time, bake bread in the oven at 325 degrees and toss until bread is dry but not toasted.
Saute celery, garlic, and onions in olive oil until vegetables have softened.
Add all spices to the mixture and cook for a couple more minutes.
Preheat oven to 350 degrees and transfer bread to bowl and add veggie mixture and broth.
Sprinkle salt and pepper to taste.
Gently mix until combined.
Add to a square baking dish and bake for 40 minutes.
Bake for additional time if a crunchier top is desired. Enjoy!
Serves 12. Serving size: ½ cup. Calories per serving: 145 / Protein 6g / Carbs 23g / Fat 5g
Roasted Butternut Squash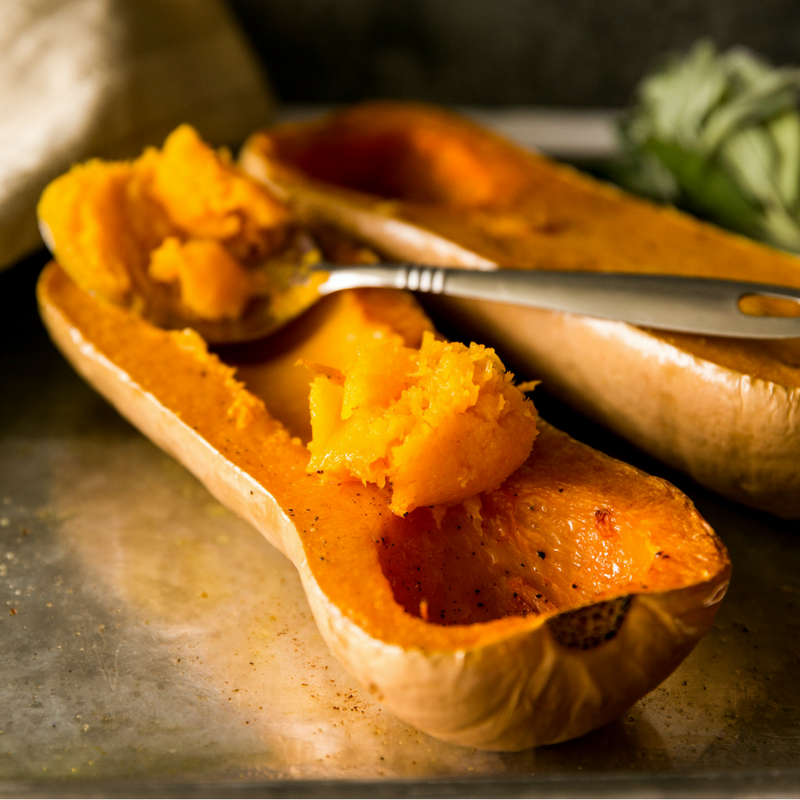 Ingredients:
1 medium butternut squash
2 tbsp. extra virgin olive oil
salt and pepper to taste
Directions:
Preheat oven to 400 degrees.
Cut butternut squash in half and remove seeds.
Coat in olive oil and salt and pepper.
Place butternut squash skin side up and bake for 40 minutes.
Remove from heat and spoon out butternut squash to serve. Enjoy!
Serves 4. Serving size: ¼ of the squash. Calories per serving: 115 / Protein 1g / Carbs 13g / Fat 7g
Mini Pecan Pies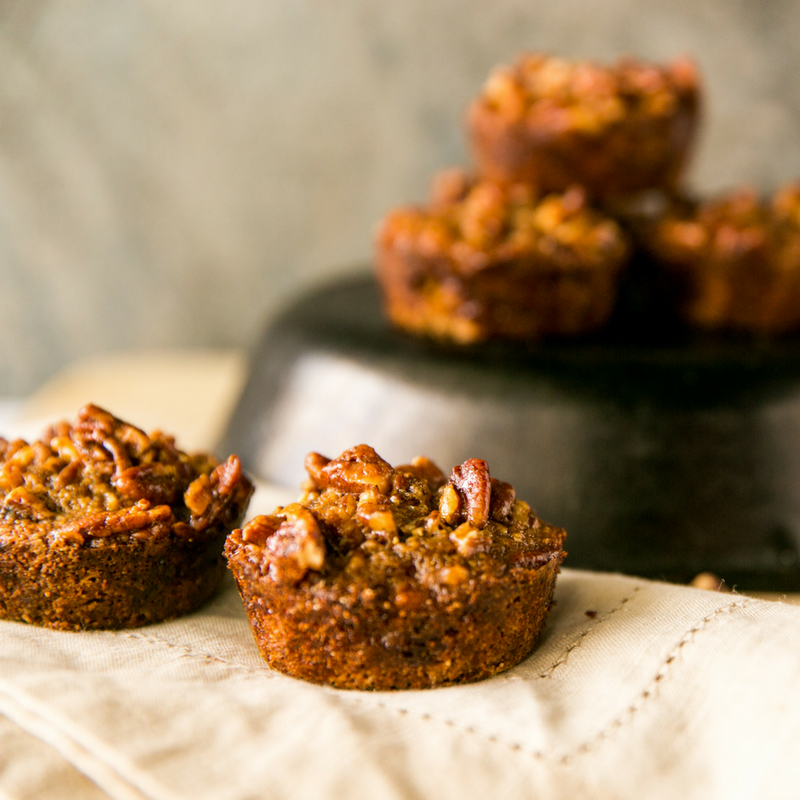 Ingredients:
Crust
½ c almond flour
¼ tsp. salt
2 tbsp. coconut oil, melted
1 tbsp. honey
Filling
2 tbsp. coconut oil, melted
¼ c coconut sugar
1 tbsp. pure maple syrup
1 large egg, beaten
½ tsp. vanilla extract
pinch of salt
1 c chopped pecans
Directions:
Preheat oven to 350 degrees.
Mix all crust ingredients together and press down into the bottom of 8 greased muffin tins. Set aside.
In a saucepan over medium heat, mix coconut oil, coconut sugar, and maple syrup until smooth.
Let cool for a couple of minutes and add egg, vanilla, and salt; stir well.
Top each crust with filling and bake for 25-30 minutes or until set. Enjoy!
Makes 8 mini pecan pies. Serving size: 1 mini pecan pie. Calories per serving: 240 / Protein 4g / Carbs 13g / Fat 21g
Cauliflower Mashed "Potatoes"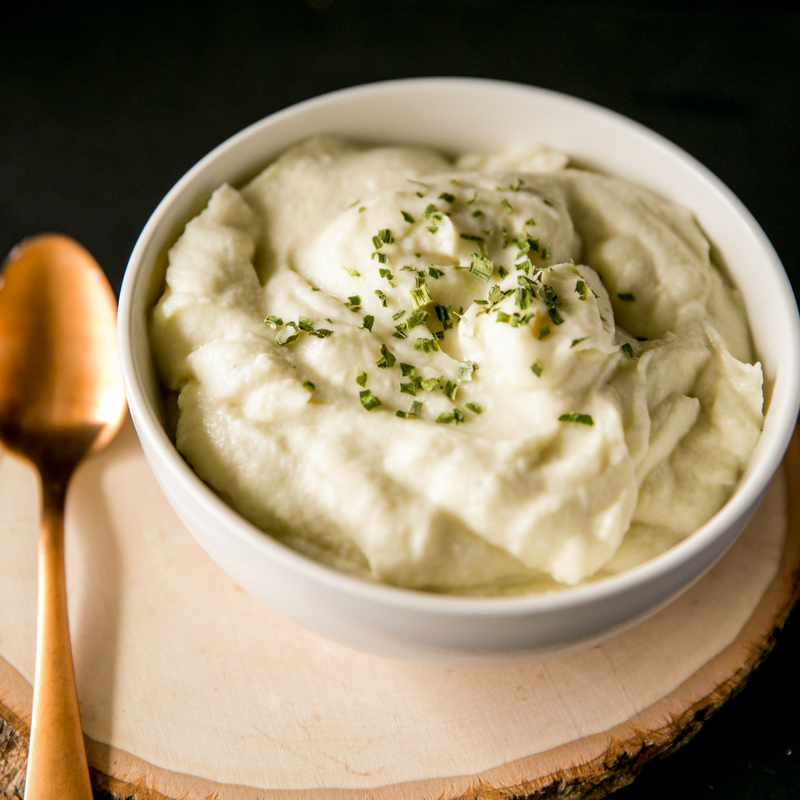 Ingredients:
1 medium head of cauliflower
2 tbsp. Earth Balance Natural Buttery Spread
3 tbsp. low-fat milk
2 tsp. minced garlic
1/2 tsp. salt
pepper to taste
Directions:
Wash and cut cauliflower into florets.
Bring a pot of water to boil and add cauliflower.
Cook for 10-15 minutes or until soft.
Drain cauliflower and add to a blender or food processor along with butter, milk, garlic, salt and pepper.
Blend until smooth and creamy. If desired, garnish with chives and enjoy!
Serves 4. Serving size: 1 cup. Calories per serving: 92 / Protein 3g / Carbs 8g / Fat 6g
Enjoy Your Thanksgiving!
At the end of the day, one bad meal isn't going to be a train wreck for your goals. Just like one good meal isn't going to give you asix-pack.
It's all about balance!
Making these small changes into a lifestyle will help you finally lose that weight! If you plan on trying any of these recipes out, let us know what you thought!
I hope you have a wonderful Thanksgiving!
Lose Weight the Healthy Way!
Need help making and sticking to your New Year's Resolutions? Fad diets won't help you live a healthy lifestyle, but with the IdealPlan, you will be well on your way to the health you've always dreamed of. Lose weight & keep it off with healthy meal plans, workouts designed for weight loss, and a supportive online community to keep you motivated.