Gravy-drenched drumsticks, buttery mashed potatoes, and gooey pecan pie – mmm, they are all scrumptious around the holidays…until you think about what they might do to your waistline.
If you are feeling some fear about the upcoming holiday feasts, let me reassure you that it is 100% possible to enjoy your fall favorites, without sabotaging any progress you have already made. All you need is a little bit of know-how!
Most of us have a Thanksgiving Day routine.
We eat until we're stuffed, then fall asleep on the couch, and wake up in the fourth quarter of some football game. Right?
Well instead, if you are looking to make your Thanksgiving meal align more with your weight loss goals, here are some tips you can implement to approach it a little differently this year.
1. Eat Before the Big Meal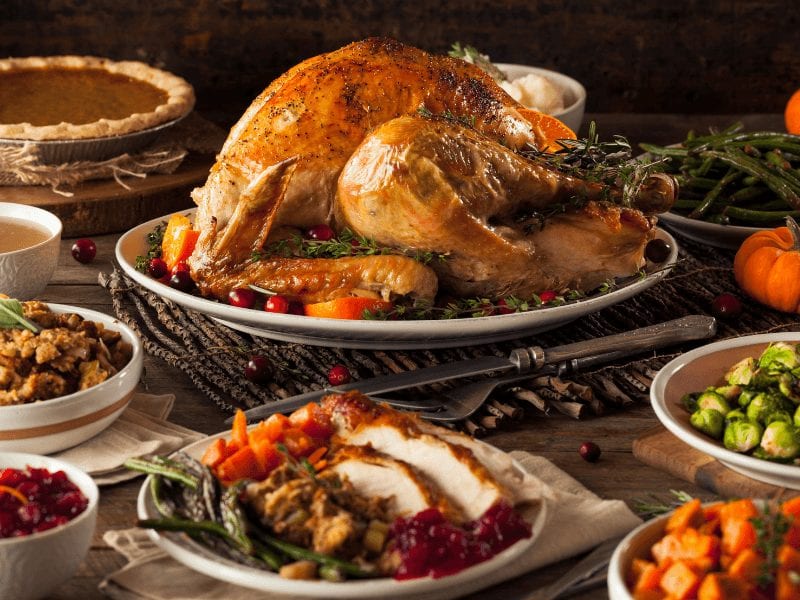 On Thanksgiving, many people may forgo breakfast to "save room" for a feast in the evening.
While this might make sense to avoid packing on pounds this holiday season, eating a small meal in the morning has been shown to give you more control over your appetite.
Connie Diekman, a Registered Dietician and former president of the American Dietetic Association (ADA), says, "Eating a nutritious meal with protein and fiber before you arrive takes the edge off your appetite and allows you to be more discriminating in your food and beverage choices."
You might be just like me, though; you love how much effort everyone puts into making one big feast, and want to try everything.
However, to resist these ravenous feelings, start your day with a small but satisfying breakfast, such as an egg with a slice of whole-wheat toast, or an IdealShake meal replacement shake.
These options are calorie-controlled and will help you stay on track during the indulgent holiday dinner.
2. Dress to Impress
Hey there, pretty girl, this tip is for you.
Save those stretchy sweats, oversized sweaters, and other comfy clothes for another occasion.
Instead, break out a form-fitting garment, like skinny jeans or a curve-hugging dress.
At least for me, when I am dressed to impress for Thanksgiving dinner, I feel a little less sloppy and a little more proper, and a little more in control about how much I eat, and how fast I eat it.
If you're wearing something slightly snug, you'll be less likely to overeat because you will start to feel uncomfortable more quickly. If you can make it through the day without having to undo the top button of your pants, consider yourself in good shape.
3. Join the Clean-Up Crew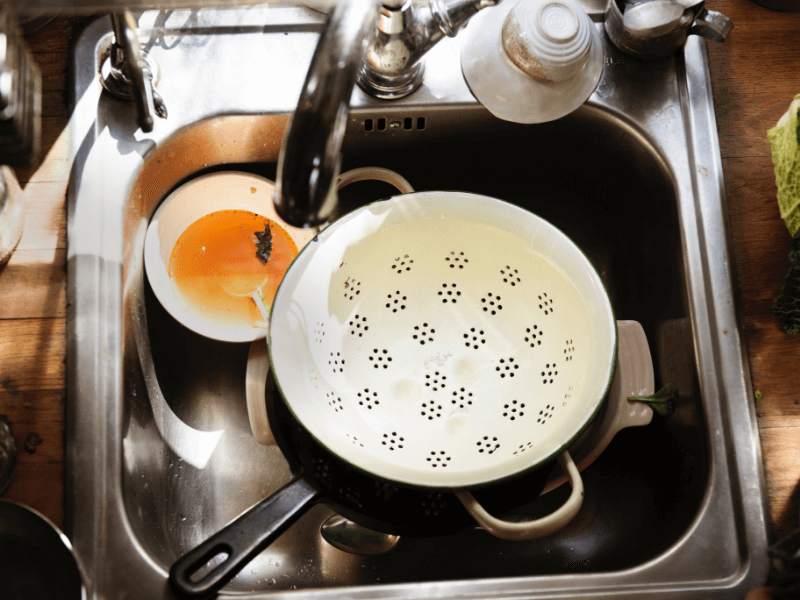 As comfortable as the living room couch may sound after a hearty meal, offer a helping hand in the kitchen!
One hour spent clearing the table, sweeping the floor, and washing dishes can easily burn about 100 calories.
Not only will you feel happy, but so will your host!
4. Draw a Clear Finish Line
Once you've consumed your fair share of food, reach for what you might call your "meal ender".
Be picky about this, as you want your last bite to be something satisfying that appeases your cravings so you won't continue snacking long after meal-time is over.
Whether your last bite is your favorite pumpkin pie or a slice of fluffy cornbread, cross your finish line by sucking on a strong mint, brushing your teeth, or even reapplying your lip gloss.
This will help those tasty flavors disappear, and may even make certain foods taste bad, so you'll be less tempted to pick at whatever food is still in front of you.
5. Lighten Up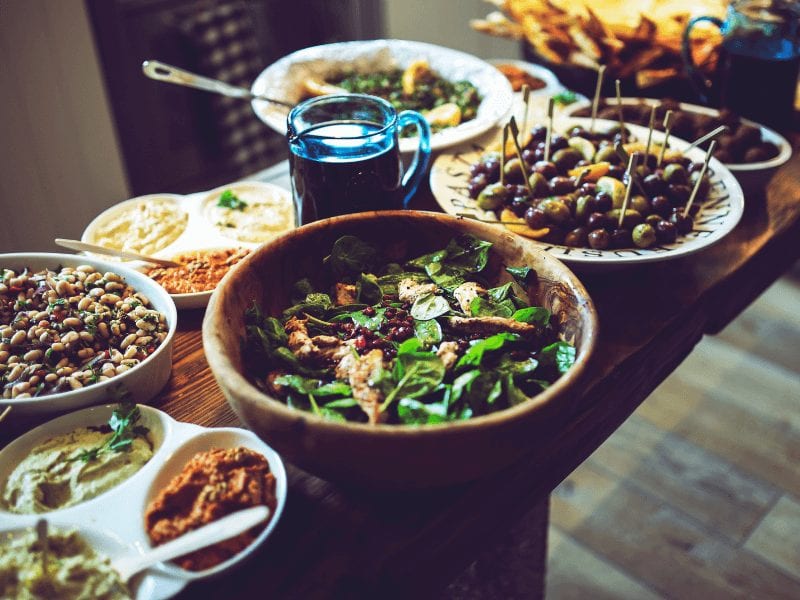 This tip leads us in a few different directions. One way is lighter portions; the other is lower calorie ingredients.
First, lighter portions. Whether you are doling out your own portions, or you're at the mercy of someone else passing out plates piled high with "a little bit of everything", knowing which foods you should be eating more of (and which you should only enjoy a few bites) will help you make the best possible choices. Start by filling up on veggies, then turkey breast, and leave what appetite you have left for starchy sides.
Second, lower calories. If you are hosting or bringing a few dishes to share, make your recipes with less fat, sugar, and calories. Some suggestions for your Thanksgiving Day cooking include:
Use fat-free chicken broth to baste the turkey and make gravy

Use sugar substitutes in place of sugar or purees

Reduce oil and butter wherever you can

Try plain yogurt or fat-free sour cream in creamy dips, mashed potatoes, and casseroles
6. Drink Water
The quickest (and easiest) festive season suggestion: drink plenty of water, both before and during your meal!
Our minds often interpret thirst for hunger, so filling up throughout the day will curb cravings, keep you feeling full, and prevent you from overeating.
7. Beware the Sneaky Calories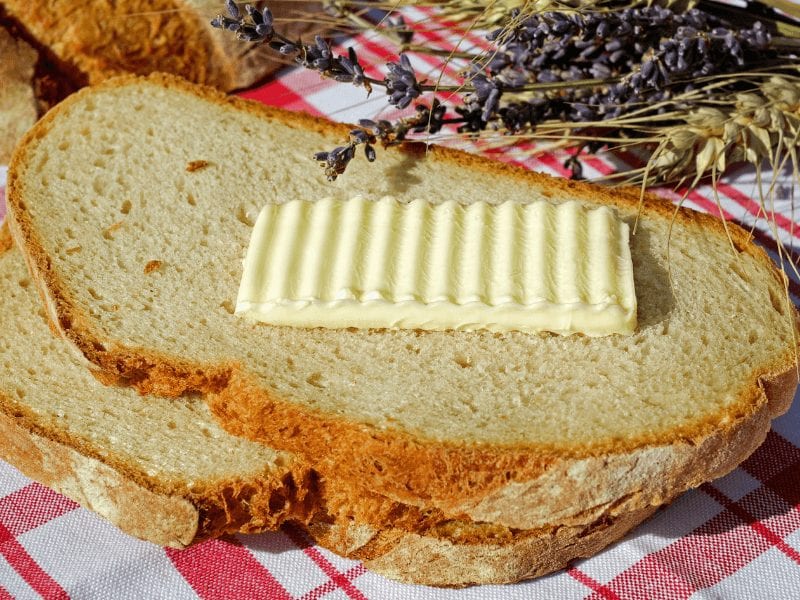 This includes veggies, dressings, and drinks.
Unless you prepared them, that fresh-out-of-the-oven pan of green beans or homemade ranch dressing could easily be loaded with sneaky ingredients like margarine or sugary sauces.
Not to mention, a scrape of butter on your dinner roll or a dollop of whipping cream on your apple pie.
All of these are great ingredients, but it'll help you if you put maybe one spoonful on top instead of two.
8. Get Your Groove On
Let's be realistic. This time of year is for celebration!
Between busy schedules and so many extra temptations, this is a good time to strive for weight maintenance instead of weight loss. If you shift to this mindset, you will be ahead of the game.
That said, "eat less and exercise more" is the winning formula to prevent weight gain during the holidays.
Prior to your buffet, create a calorie deficit by taking a walk early in the day and then again after dinner.
You can also play a game of family football in grandma's backyard, or shoot hoops with your kids outside.
It doesn't have to be something overly active, but anything to get you moving is a terrific way for you and your family to get physical activity, and enjoy the beautiful fall weather.
9. Scoop on the Sides…But Sparingly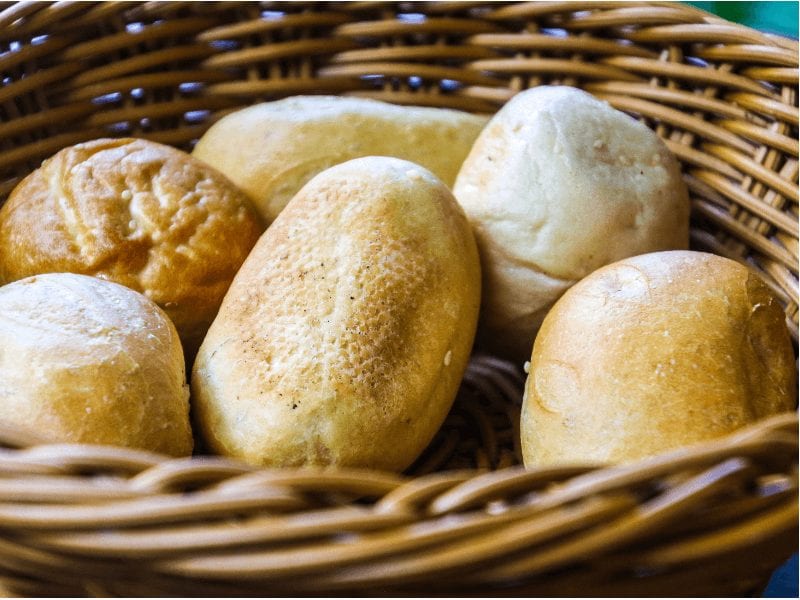 Can't limit yourself to one small scoop of those buttery spuds? Don't worry, me either.
How about those yummy little bread crumbs baked with sage, onion, cranberry, salt, pepper, and celery? #WorthIt.
Or Grandma's flakey, homemade rolls? Yep, forget it –  I'm a goner.
But before you sit down at the dinner table and serve yourself more than you need, arrive to your dinner party with a few favorites that you plan to indulge in.
Thanksgiving dinner is a big meal, and it can be a lot to consume in one sitting.
However, if you place skinless white turkey meat on your plate first, because it's relatively low in calories and high in protein which keeps you fuller longer, then you can choose your "special" sides that you only see around the holidays.
The trick is to keep their servings to a half cup.
Want those buttery spuds or even the flavorful yams? Go for it! Just be sure your serving looks similar to half the size of a baseball.
10. Take the Road to Recovery
If you find yourself feeling stuffed and sluggish after your Thanksgiving feast, take heart.  You enjoyed Thanksgiving!
It's a time to be with your family and friends and a really important holiday for us to enjoy being together, but it's also important to get your mind right.
Do not associate holiday celebrations with food guilt. If you eat more calories than you planned, just get back on track the next day.
Stay hydrated, especially if you consumed something super salty. Eat balanced meals and snacks that contain all three macronutrients (carbohydrates, fats, and protein), and get the leftovers out of sight.
Moving extra food into the freezer will help you return to your normal healthy eating routine over the next few days.
Track your calories, calm your stress with daily physical activity, and surround yourself with positive mantras. Some of these might be, "progress, not perfection," or "tomorrow is a new day."
Also in the famous words of Taylor Swift, just "Shake it off!"