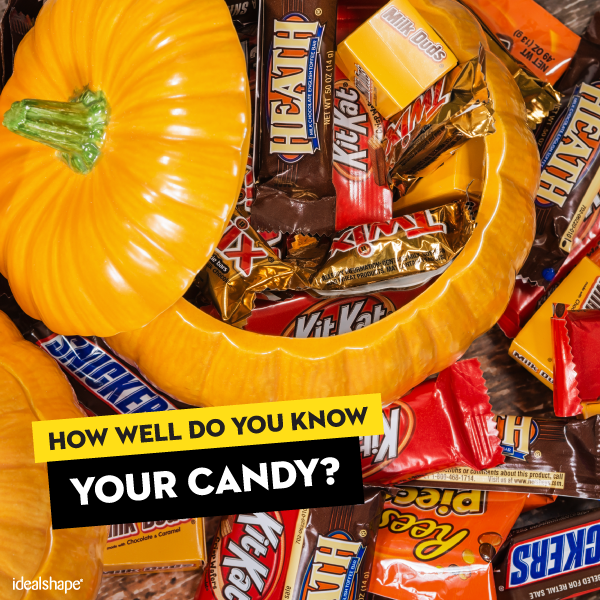 Halloween is just around the corner and while we hope you have plans for a killer costume and rocking party, we also hope those plans include a way to fight off one of Halloween's most frightening features–the CANDY!!!
It's hard to go anywhere without running into a piece of the bite-size bliss. It's everywhere you go, just watching waiting for your willpower to crumble. The small size of most Halloween candy seems to trick us into believing that it's okay to eat a few pieces without much of a consequence. It's easy to justify because it's tiny and there can't be that many calories in it. Right?
Wrong! Every piece of those spooky sweets work against you and your weight loss goals. And, even the fun size versions have a lot more calories than you might think.
Sometimes all you need to battle your Halloween sweet tooth is the right information that will make you think twice before you pop one of those tiny temptations into your mouth. Try taking our Halloween candy quiz in the link below to see just how well you know your candy!
Test Your Halloween Candy I.Q.
Click the link below to see how well you know your Halloween candy nutrition!
Hopefully, you learned something that will help you keep your Halloween candy cravings in check this season. Remember that a little (keyword, little) treat every now and then isn't going to kill you or completely sabotage your weight loss goals. Pick a few favorites to savor and put the rest out of sight to keep them out of mind. 
A Healthy Sweet Treat Alternative
If you're still hungry, instead of denying yourself what you're craving, replace it with a healthy weight loss bar instead!
We all know how things go when you deny yourself the treat you really want (I'm talking to you empty-bag-of-candy) but when you replace it with something else that's just as delicious you can scale back the cravings so they don't eat you alive.
IdealBar is our delicious, hunger-blocking weight loss bar that will help you do just that.
With the candy bar-like taste and only 140 calories, you'll feel satisfied and confident in your nutrition decisions!
Unlike candy, this snack will help you lose weight. Plus, you'll feel full for hours so you can kick your cravings to the curb!