We are so excited to be introducing our NEW Vegan IdealShakes. Whether you're vegan or not these shakes are a healthy and delicious way to reach your goals.

To show you, we made 4 Vegan recipes using our new Vegan Vanilla Chai and Mocha Idealshake. They are super tasty and perfect for fall, check them out below!
1.Vegan Cinnamon Roll Energy Balls with Vanilla Icing


INGREDIENTS
3/4 cup rolled oats
1 scoop Vegan Vanilla Chai IdealShake
1/4 cup almond flour
1 Tbsp ground Cinnamon
1/2 cup peanut butter
1 tsp Vanilla extract
1/4 cup sugar-free maple syrup

Vanilla Icing
2-4 Tbsp Almond Milk
1 cup powdered Erythritol
1 tsp vanilla extract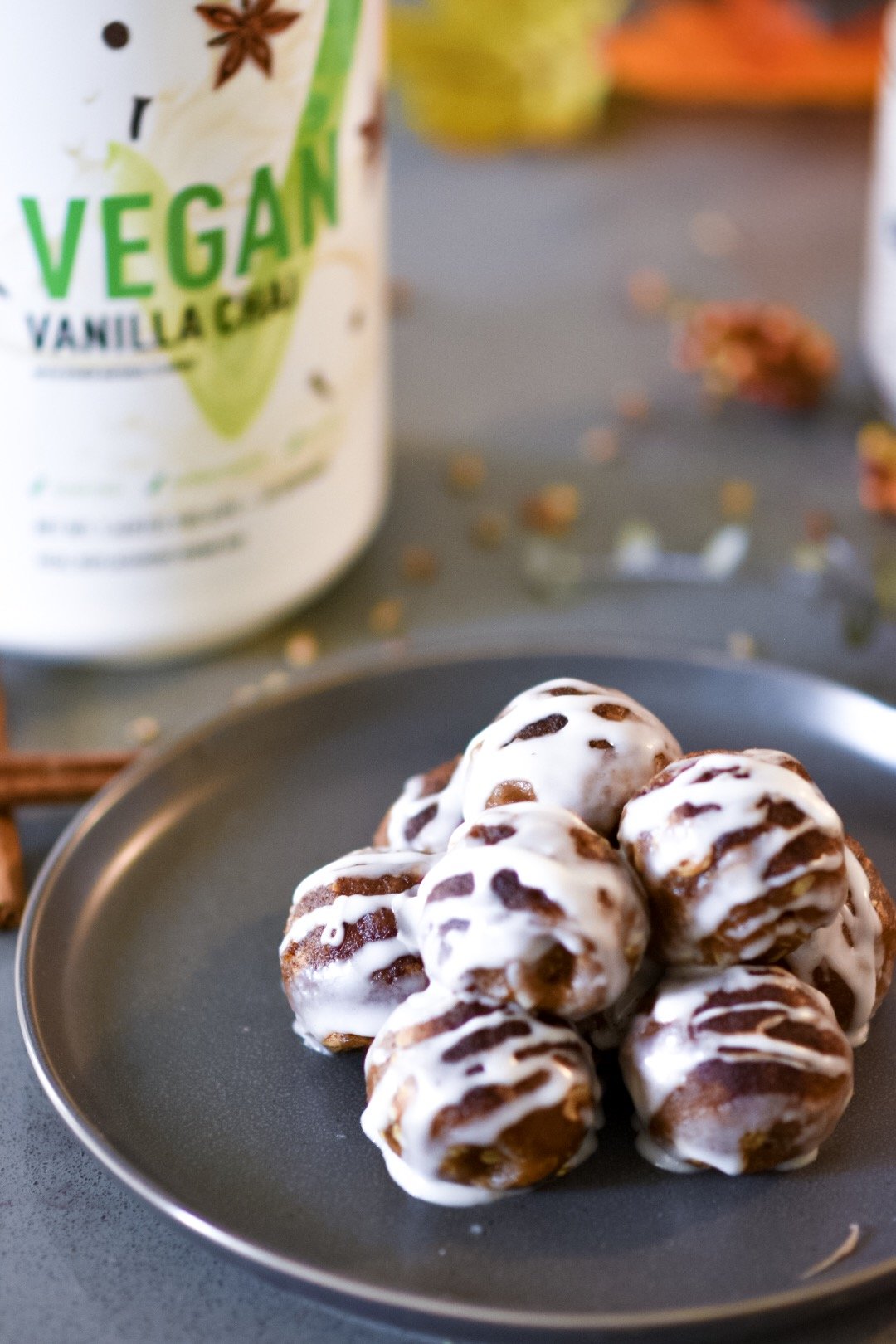 INSTRUCTIONS
1. Mix together dry ingredients, set aside.
2. Warm peanut butter in the microwave for 20-30 seconds. Mix with maple syrup and then add dry ingredients.
3. Form into 20 balls. Sprinkle cinnamon onto each ball. Mix together almond milk, vanilla extract, and powdered erythritol. Drizzle over each ball. Enjoy!
Calories per ball: 66. Protein: 3 g. Net Carbs: 4 g. Fat: 4 g.
2.Mini Caramel Apple Cheesecakes

INGREDIENTS

Filling
1 scoop Vanilla Chai IdealShake
8 oz Vegan low-fat Cream Cheese
½ cup vegan low-fat plain yogurt
1 Tbsp lemon juice
¼ cup erythritol
1 tsp cornstarch
Crust:
½ cup almond flour
¼ cup pecans
3 tbs coconut oil
4 tbs brown erythritol
Apple topping:
1 green apple
4 tbs brown erythritol
1 tsp cornstarch
1/4 water
1 tsp cinnamon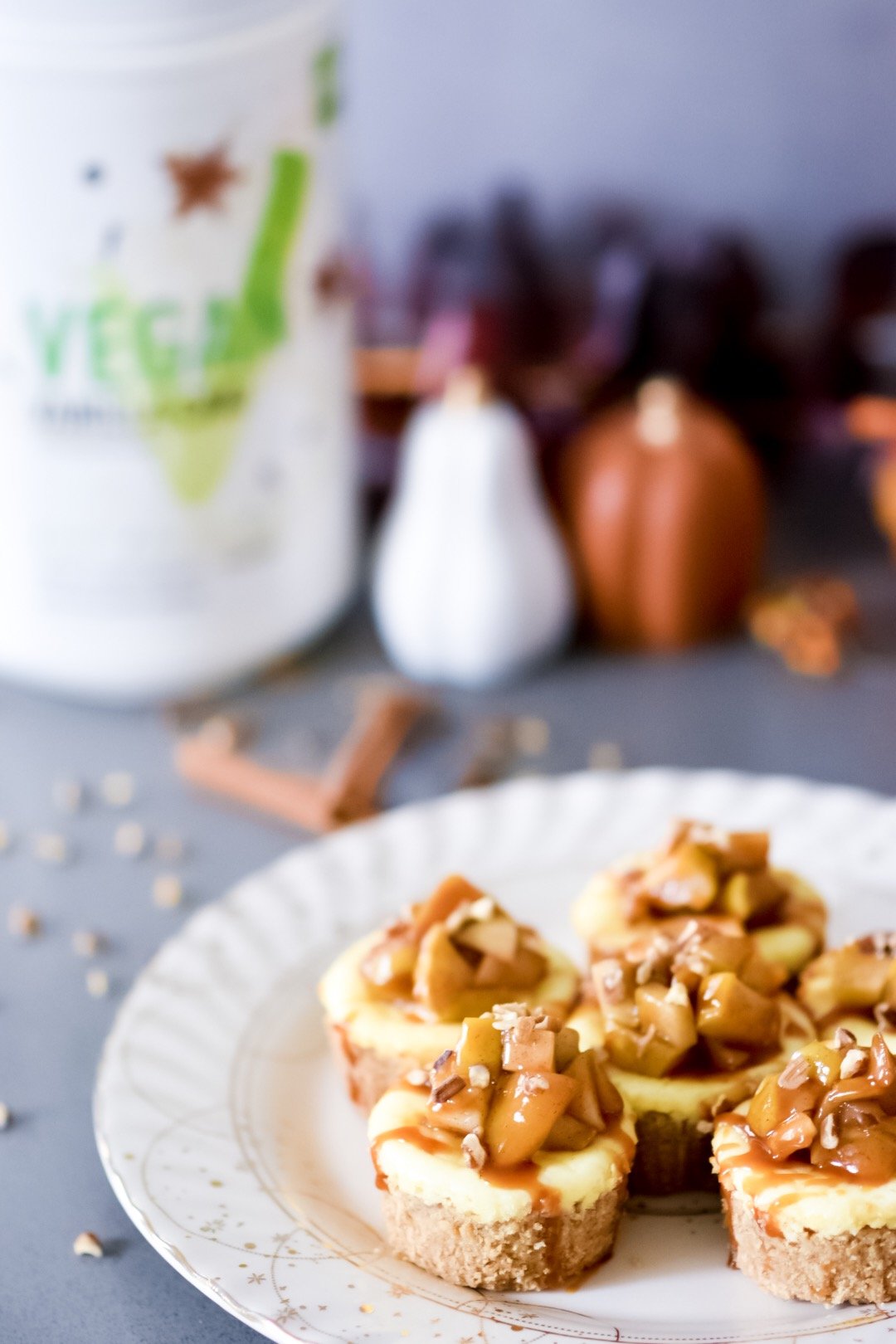 INSTRUCTIONS
1. Preheat the oven to 350 degrees.
2. Chop apples into small cubes. Put into a small casserole pan and mix water, brown erythritol, cornstarch, and cinnamon with the apple cubes. Set aside.
3. Mix the ingredients for the crust in a food processor. Be careful to not over mix.
4. Put liners on a cupcake pan and press the crust into the liners.
5. Beat the filling of the cheesecake together until smooth.
6. Pour filling over the crust. Place both the apple mixture and cheesecake into the oven for 25-35 minutes. Take the cheesecake out and let it cool. When it has cooled, place in the fridge for 2-4 hours. Top the cheesecakes with apple mixture. Enjoy!
Makes 8 mini cheesecakes. Calories: 185. Protein: 3 g. Net Carbs: 9 g. Fat: 14 g.


3.Vegan Mocha Rice Krispies

INGREDIENTS
1/2 cup peanut butter
1 scoop Vegan Mocha IdealShake
1/4 cup sugar-free maple syrup
3 cups vegan rice puffs
INSTRUCTIONS
1.Heat peanut butter in the microwave for 30-60 seconds.
2. Mix in maple syrup then add IdealShake.
3. Mix in the rice puffs until fully combined.
4.Chocolate Mocha Waffles

INGREDIENTS
1 Vegan Mocha IdealShake
1 tbs cocoa powder
1 1/2 cups whole wheat flour
¼ tsp salt
1 1/2 cup unsweetened almond milk
2 tsp baking powder
3 tbsp coconut oil (melted)
INSTRUCTIONS
1. Mix all ingredients in a medium-size bowl and heat your waffle maker.
2. Coat the waffle maker with cooking spray and pour about a 1/3 cup of batter into the waffle maker. Wait until it is cooked thoroughly and enjoy!
Makes about 5 regular sized waffles or 10 mini waffles. Calories: 243. Protein: 7g. Net Carbs: 27 g. Fat: 10.
We hope you give these fun recipes a try. They're a great way to have the food that you love while reaching your fitness goals. If you want to try them out, grab a tub below!