Meet some amazing women, Kelly and Heather! These two awesome ladies had the exact same advice: Don't Quit. Read below to learn how they achieved their incredible results. 
Kelly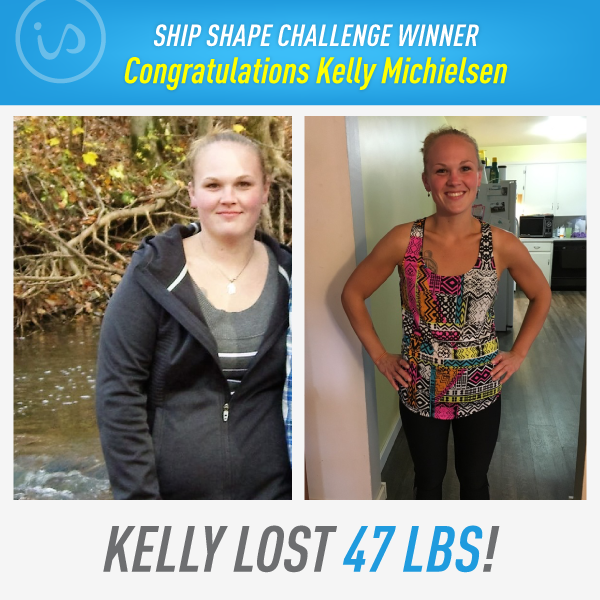 Kelly, a 26-year-old account manager, always felt like the "big girl." And always being the big girl made it hard for her to have a positive outlook and mood. It didn't just affect how she saw herself, but how she saw others as well.
"I couldn't really find the good in anybody else because I could never find it in myself," Kelly shares.
Kelly's weight was preventing her from truly being herself.
"I felt like I couldn't really be myself. I was too busy trying to fit in," Kelly says.
Finally in October 2015 Kelly decided it was time for a change. She was sick of feeling depressed and held back physically and emotionally. She was done with wearing big clothes and hoodies to cover up her insecurities.
One of Kelly's friends invited her to try Beachbody's 21 Day Fix. Although she was interested, Kelly found the price of their shakes too hard to swallow. So she started looking for other options and began searching for a meal replacement shake that could meet her needs.
That's when she found IdealShape!
"I found IdealShape, decided to give it a try, and fell in love!" Kelly says. "I was going to try it for a month and see what happened and return it if I didn't see a change. Well after a month I lost about 15 pounds and felt great!"
Because it was Kelly's first attempt to lose weight, she wasn't sure what to expect. But when she lost 10 pounds in the first two weeks she was blown away! Even though she had only set a goal to lose 10 – 15 pounds Kelly knew she could do more.
With the help of IdealShape, Kelly lost 47 pounds!
Every pound she lost only increased her motivation to keep going despite the fact that she knew it would be easier to give up. She missed the treats she used to occasionally indulge in. And although she had given those foods up, they were still around making the temptation all the more difficult.
"There's so many times when you're trying something new and you just want to stop because it's so much easier to not do something that difficult," Kelly shares. "But really, in the end, when you see a change and you see results, the outcome is just incredible."
Instead of giving up, Kelly found a strategy that worked for her! She started drinking an IdealShake for breakfast and dinner so she could control her evening cravings.
"I would make a dessert shake so it felt like I was cheating even though I wasn't. Actually, It felt a lot like cheating!" Kelly jokes.
Kelly didn't just overhaul her diet though, she also started exercising which helped her achieve her amazing results. She joined the 12 week IdealShape Up Challenge and exercised every day after work. Instead of coming home to relax on the couch, Kelly would work out ASAP to keep her motivation going.
The biggest change that Kelly has noticed is by far her own mood and attitude. Not only is she more confident, she's happier too!
"I used to be really depressed and upset and angry all the time and now I'm always smiling."
Heather
25-year-old nurse, wife, and mother of one, Heather, grew up active and athletic. Not only was she a volleyball player, she loved working out. When she injured her knee and had to give up both it began a long journey of weight gain.
"My weight gain started nearly 10 years ago when I started having major knee issues that required surgery, dropping out of club volleyball and having to regain strength in my knees," says Heather. "Ever since then, I haven't been able to work out the same."
Although she couldn't work out like she used to, Heather tried hard to stay active and keep her weight under control. But when she was pregnant her weight took a turn for the worse. The pounds started to pile on and c-section delivery didn't help matters either.
Heather wasn't going to give up though. She was determined to find a solution that worked for her but nothing seemed to fit the bill.
"I had tried working out with a trainer. I had tried joining Weight Watchers. I think the big thing was I was never consistent with it," Heather reveals.
A busy schedule and all the stress of being a nursing student caused Heather to hold onto her weight. She struggled to find time to prepare healthy meals and exercise the way she knew she should.
"I didn't make time for it. I mean I was super busy, but looking back, it's all about making choices," Heather shares.
Then, one year ago, Heather finally made the choice to take control of her body and her weight!
"After I finished nursing school, I decided I was going to make an attempt again to lose weight," Heather says.
That's when she began researching meal replacement shakes and discovered IdealShake!
Heather started out by cutting down on carbs like bread, pasta, and sweets and replacing one meal a day with IdealShake. Then she added high-intensity interval training and weightlifting to her schedule.
Heather never expected to see any results.
"I felt so stuck in a 'fat suit.' I honestly thought that I would NEVER be able to get out of that body. I had given up all hope," Heather says.
So it came as a surprise when the pounds started falling off! She had finally found the system that worked for her. Everything started to come together.
With the help of IdealShape Heather has lost 85 pounds!
This time around, Heather didn't let her crazy nurse's schedule stand in her way. IdealShake was the convenient tool she needed to fit into that lifestyle. She also used IdealBoost as her nightshift secret weapon. it has just the right amount of caffeine to help her get through long night shifts.
"I use IdealBoost instead of coffee. I'm really sensitive to caffeine so it's enough for me to have the pick-me-up I need," Heather says.
It wasn't always easy for Heather. With a newborn in tow and a new job as a nurse, her weight loss journey was challenging. But she never gave up and she stuck with it in order to achieve incredible results!
Heather's advice is simple: Don't Quit!
"Every decision matters so stick with it, whether you see the results right away or not," Heather says. "Don't stay stuck in your comfort zone, push yourself to new places. It was so hard, but it was so worth it in the long run!"
Congratulations to these incredible women! They both shared the same motto that helped them get through it all: Don't Quit. You certainly can't argue with their results.
Finding a routine that worked for them was key. If you feel like quitting, then try switching things up. Find a routine and a strategy that will support your goals!
For Kelly it was drinking a dessert shake for dinner and joining the 12 Week IdealShape Up Challenge.
For Heather it was finding products like IdealShake and IdealBoost that worked with her busy life and committing to it.